Strengthen employer brand. Grow your talent pipeline.
Easily enable employees to create and share content about the company's culture and its people, as well as distribute open job positions at scale.
Learn how recruiting teams rely on EveryoneSocial for: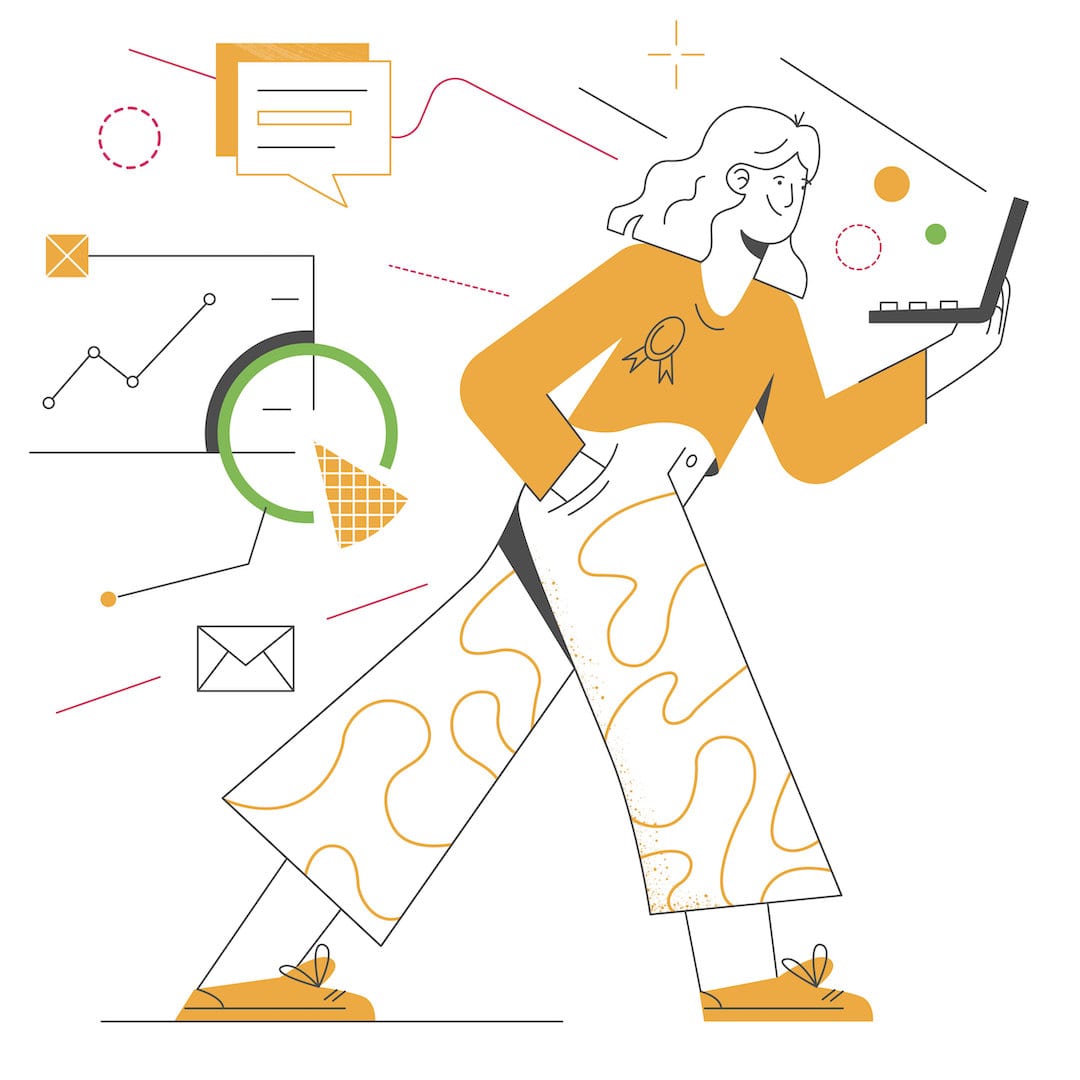 Enablement
Culture takes all of us.
Regardless of one's position — at HQ or on the frontline — EveryoneSocial is where engaged culture and community grows.
It's social with a purpose.
We've all got a lot of work to do, but we can still enjoy ourselves. EveryoneSocial is about enhancing employees' experience and increasing overall engagement.
Advocacy is just one click away.
Enable all your people to engage with company content and amplify its reach by sharing content to their social networks via EveryoneSocial.
A holistic platform to engage everyone.
Build a stronger internal community and brand that drives work culture and allows everyone to get to know eachother — no matter where employees are.
Dive Deeper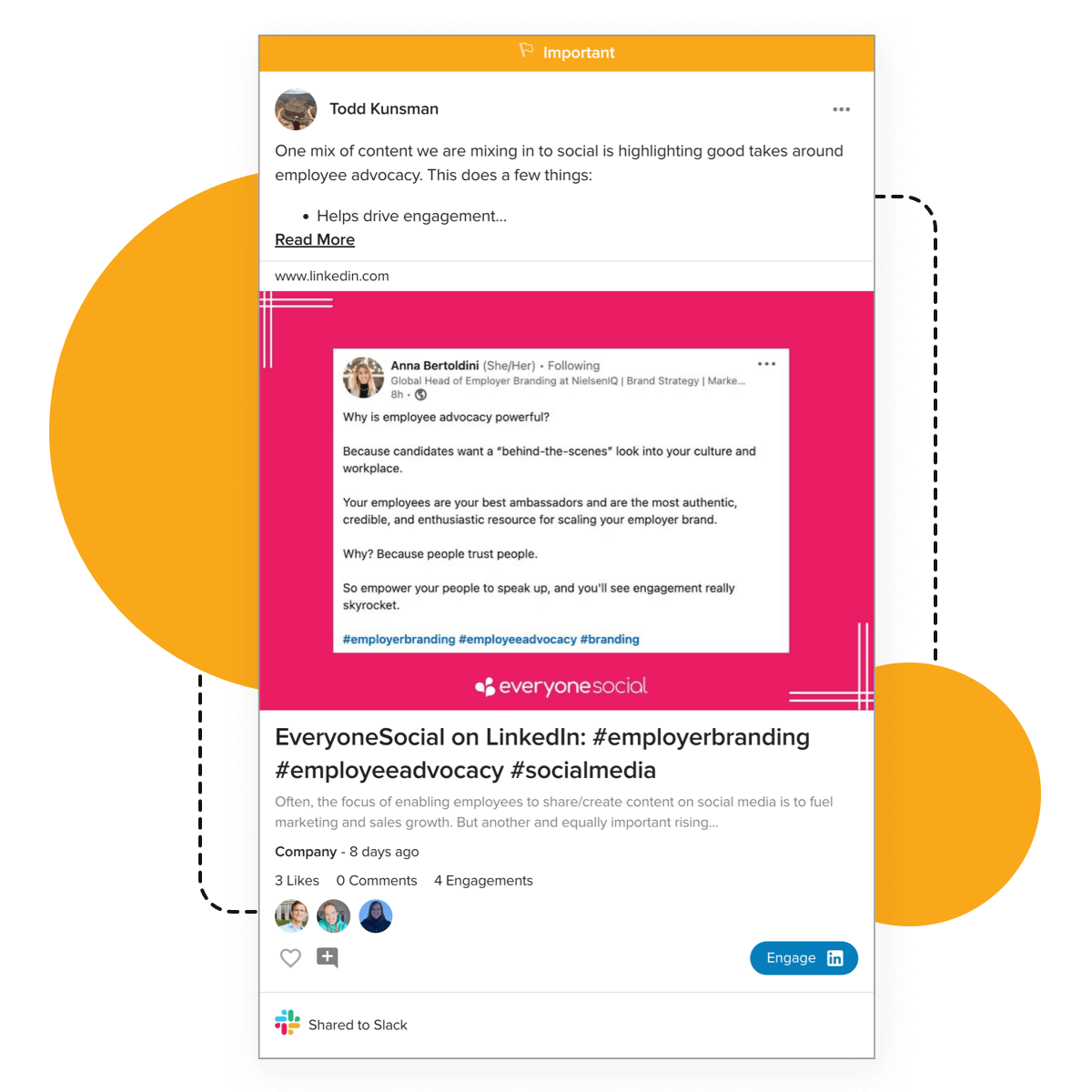 30%
30% of consumers find job posting content from employees the most relevant and useful. Job postings perform wonderfully on social and are some of the highest engaged with content shared from EveryoneSocial.

Recruiting
Amplify recruiting at a fraction of the cost.
The top candidates you want to attract are on social media, and EveryoneSocial has all the tools you need to get their attention.
Your social recruiting command center.
There's a reason why the world's largest social network uses EveryoneSocial so that its global recruiting team can easily share and engage on social media.
Increase engagements and job applications.
Newsflash: People want to hear about your job openings! They especially want to hear about them from people they know — ones they're already connected with on social media.
Everyone can play a part.
It doesn't matter which department an employee is in or what position they hold, they can amplify open jobs to build recruitment pipeline. EveryoneSocial makes this easy and efficient, and you'll be blown away by the results.
Dive Deeper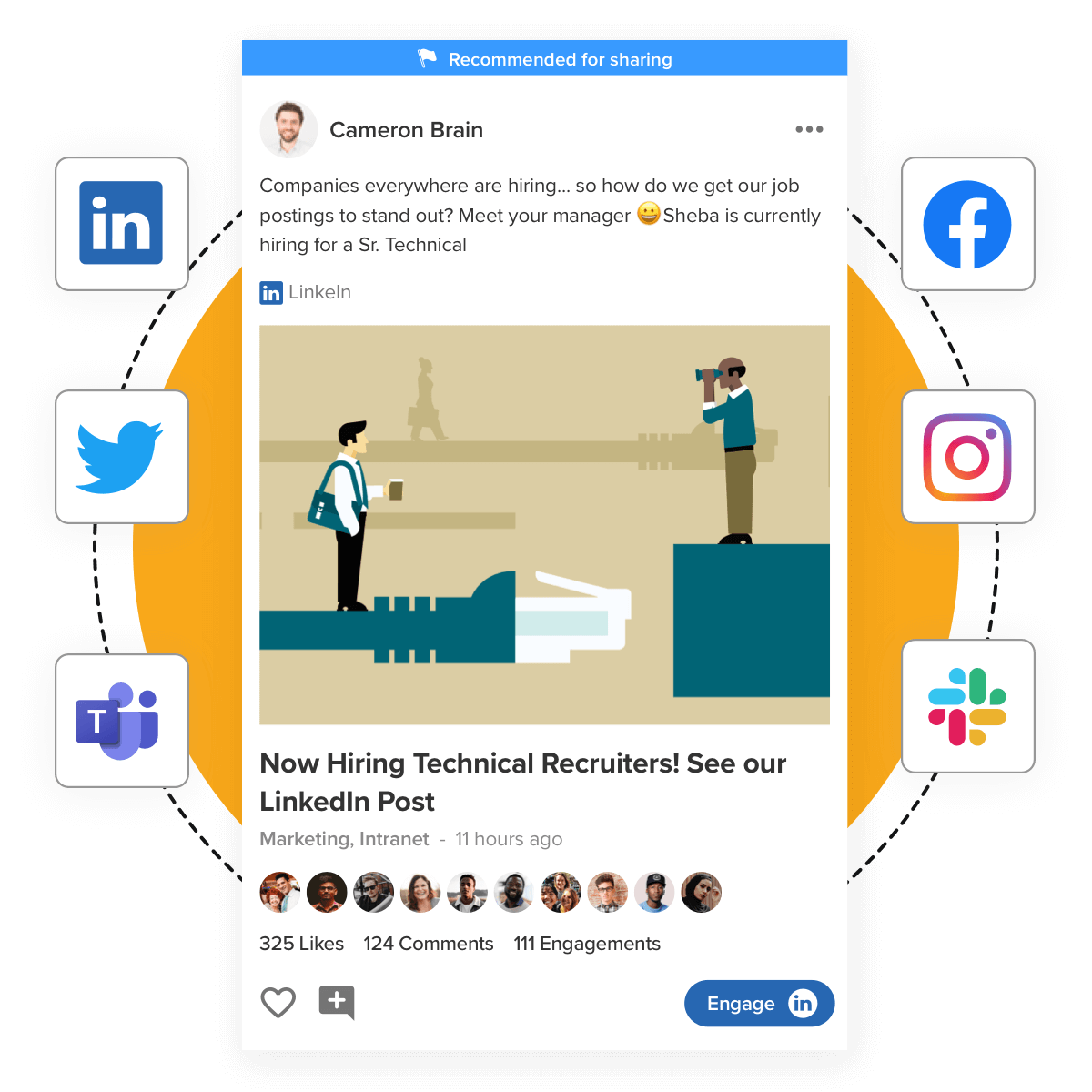 +25%
Employee productivity is 25% higher for
companies that enable their people to use
social for work.
Employer Brand
Put your people first.
Your people are your brand. With EveryoneSocial, every employee now has the tools to proudly represent their company with their social networks.
A window into your workplace.
EveryoneSocial enables your people to share what it's like to work for your company, which helps build a positive reputation that extends far beyond your employees.
Push content, capture content.
Effortlessly push employer branding content to your people and even capture content they create, such as an office walk-through filmed on their phone.
Scale employer branding ROI.
EveryoneSocial's simple but powerful sharing tools will increase employee morale, lower hiring costs, and amplify brand trust.
Dive Deeper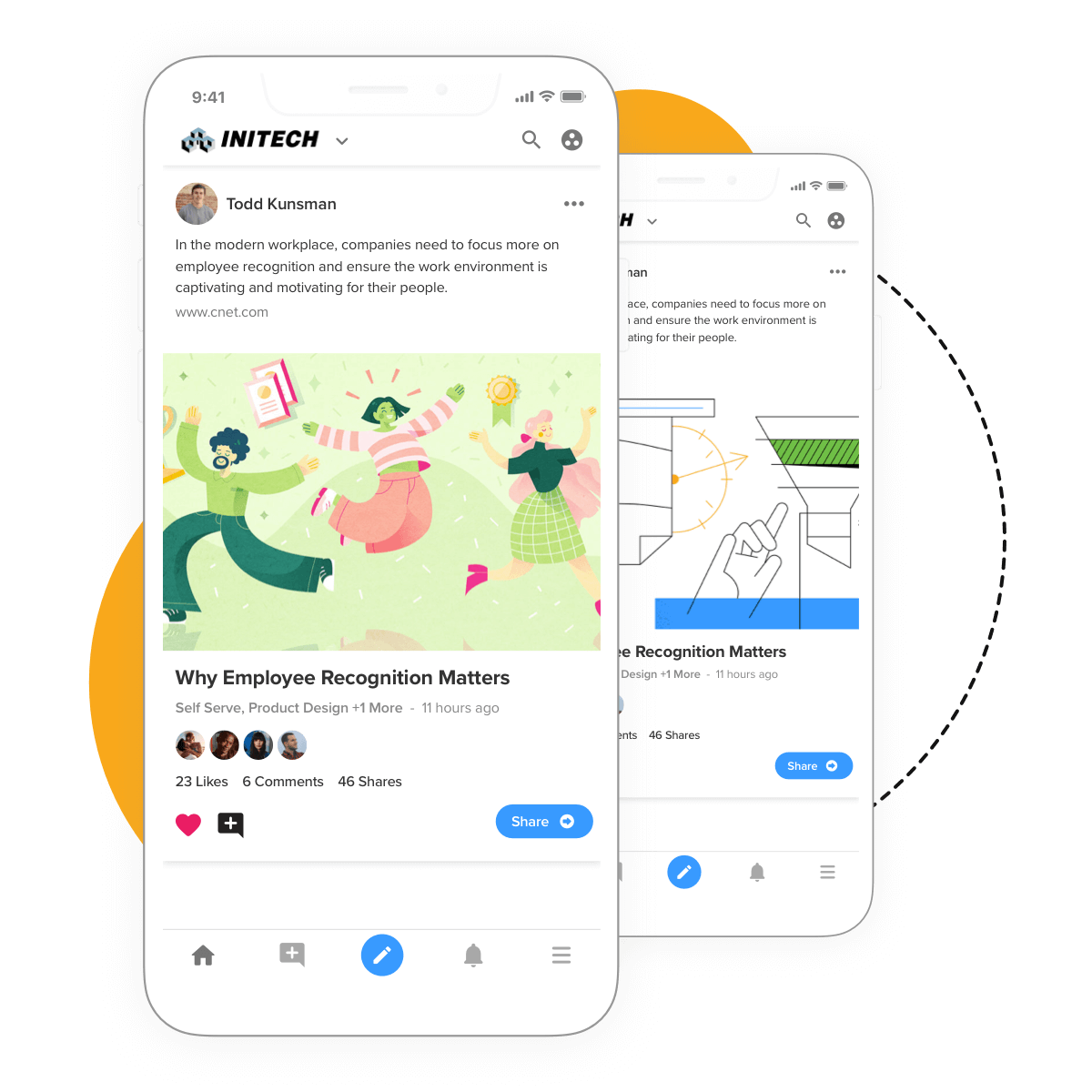 79%
79% of applicants use social media in their search for a job.
Recognition
Take shout-outs to a whole new level.
EveryoneSocial allows you to call out and highlight any employee, regardless of where they're based or what they do.
Introduce yourself with internal content.
EveryoneSocial is the perfect platform for new employees to introduce themselves with a selfie or short video. Not all content in the platform needs to be shareable!
Highlight people across the organization.
EveryoneSocial provides everyone in the organization with an easy way to recognize a co-worker and the great things they do.
A dash of gamification.
Fully customizable leaderboards and points allow you to run contests and campaigns with some or all of your people. Let the games begin!
Dive Deeper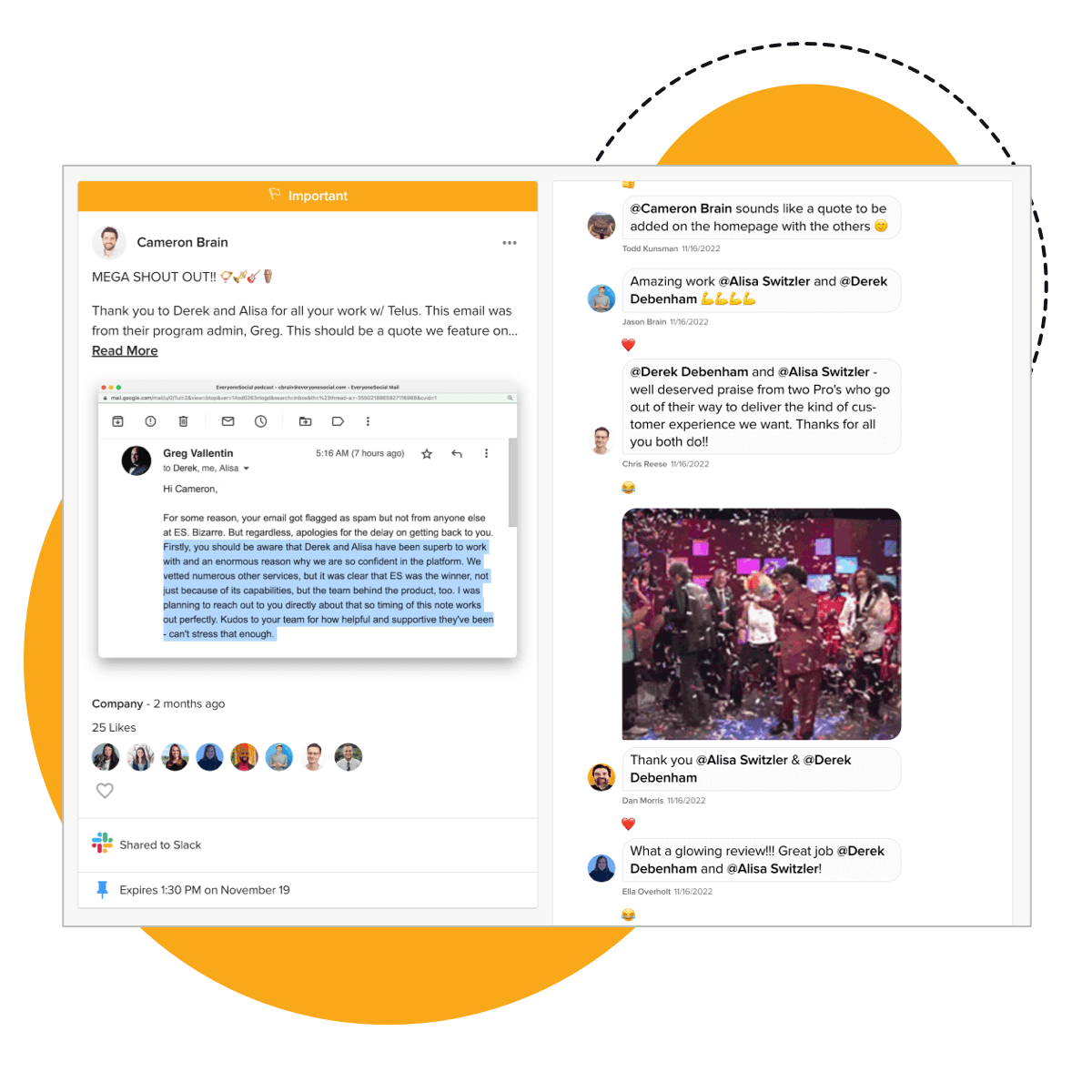 Ready to see what EveryoneSocial can do for your employer brand? Schedule Your Demo
You may unsubscribe from any communications or withdraw your consent at anytime. For more information please review our Privacy Policy and User Terms.
Resources for recruiting teams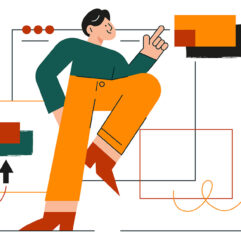 Social media is so key to companies' success today that many of them include it as part of their onboarding…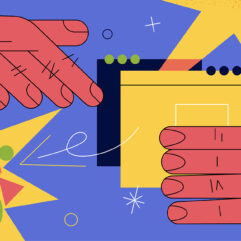 Social media is a place where employer branding content thrives, and it's the most effective way to share your company…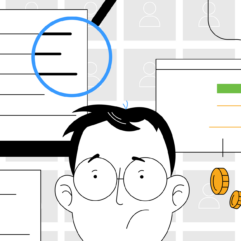 The average cost per new hire is $4,700, according to the Society of Human Resource Management. But many employers estimate…