Impact of Employee Influencers
An Analysis of How Employee Advocacy Has Evolved and Expanded
Employee advocacy doesn't look the same as it did when EveryoneSocial launched in 2012. It's expanded and evolved, so the software solutions that help organizations optimize their social-sharing programs have done the same.
We examine the state of employee advocacy today by delving into everything from which industries activate employee influencers to exactly what kind of content people share at work. Dive in below ↓
Want a printed copy of this resource?
Fill out the form to download your exclusive copy of this guide (with bonus content) to take offline and distribute to your team or executives. Otherwise, keep scrolling to read the content below!
1
What Do Employees Think of Social Media at Work?
These information pieces are great data points for admins of a program, executive leaders who need some convincing, or for those interested in a program but want more info. This data was gathered from customers over a two year period.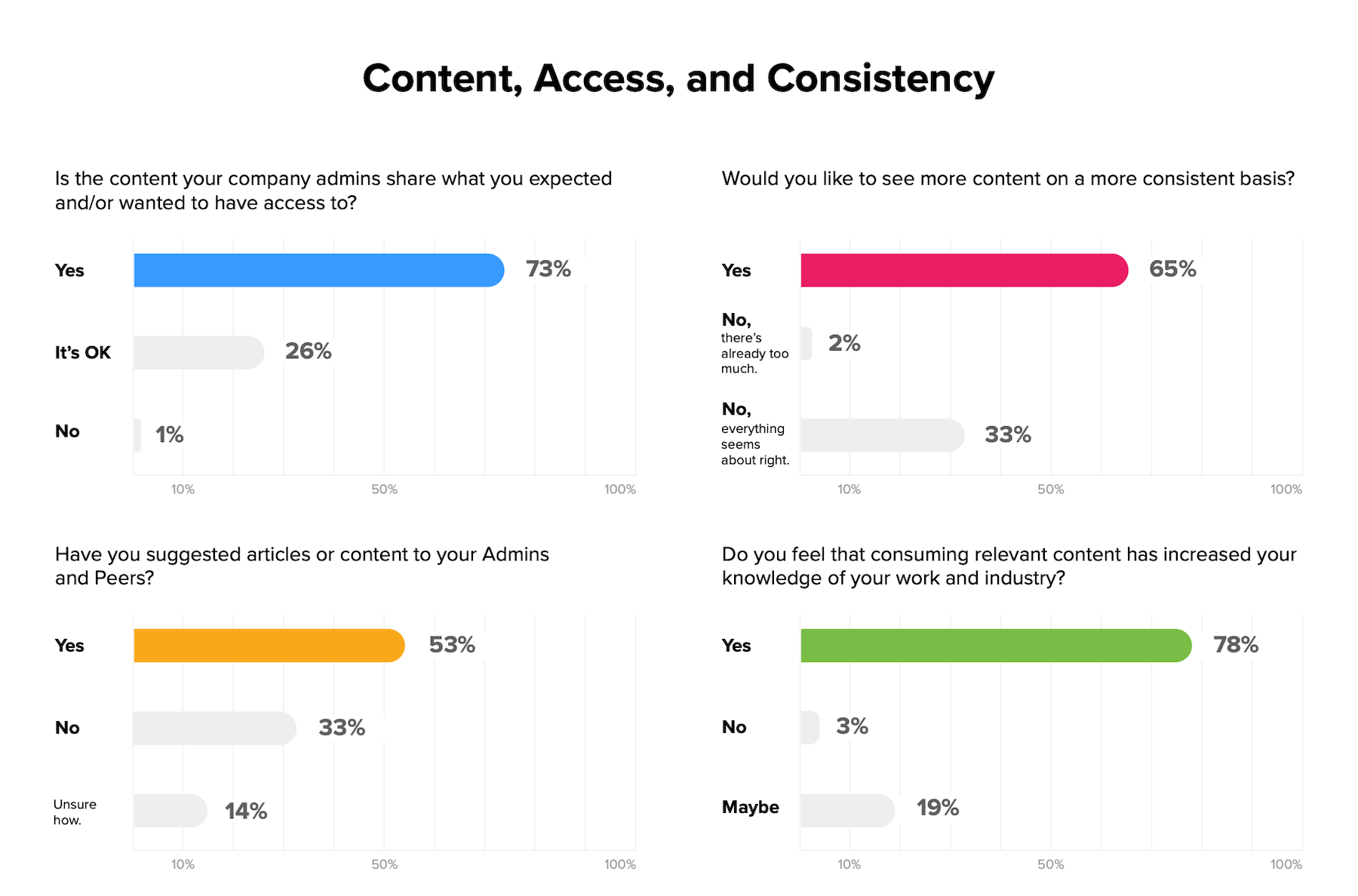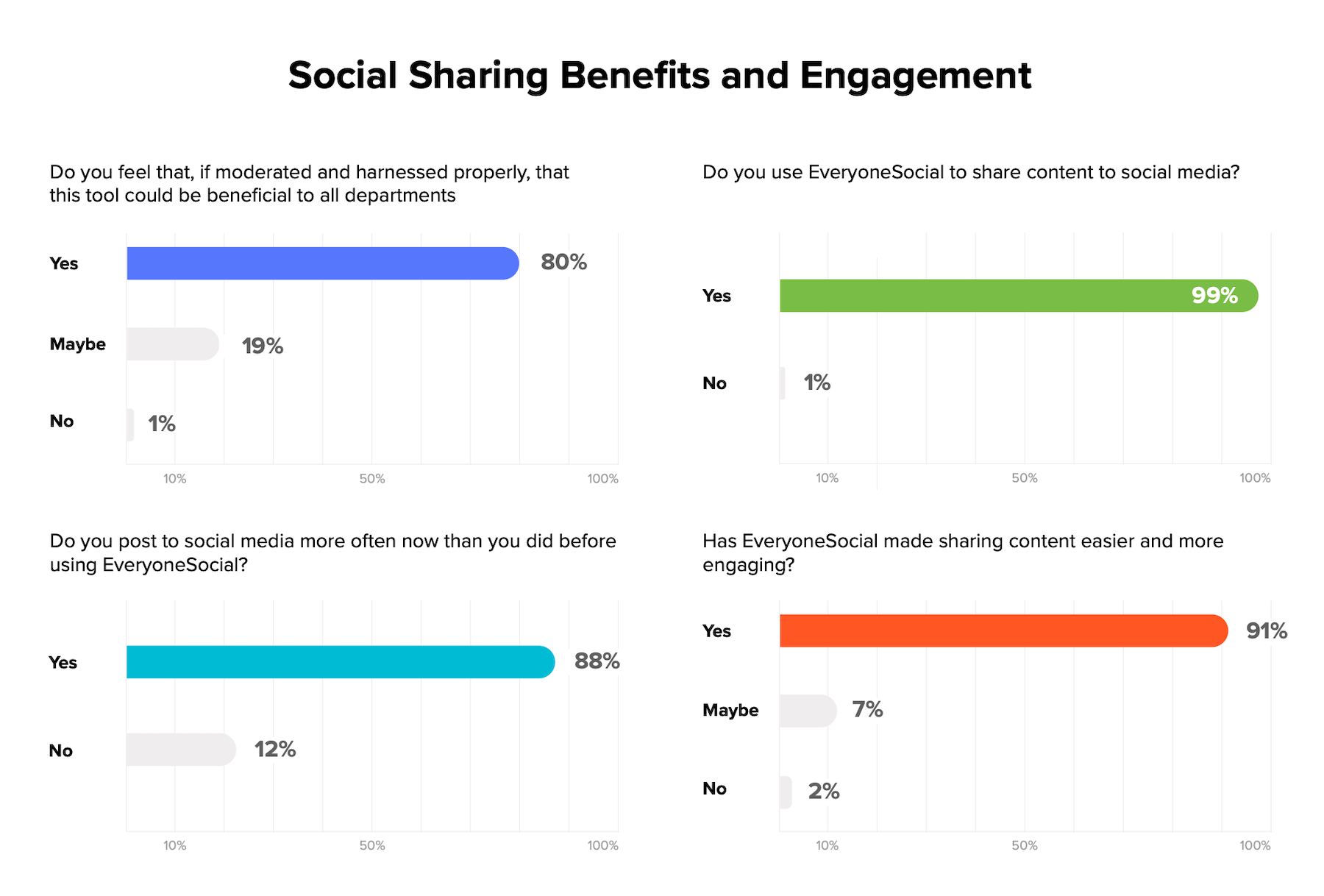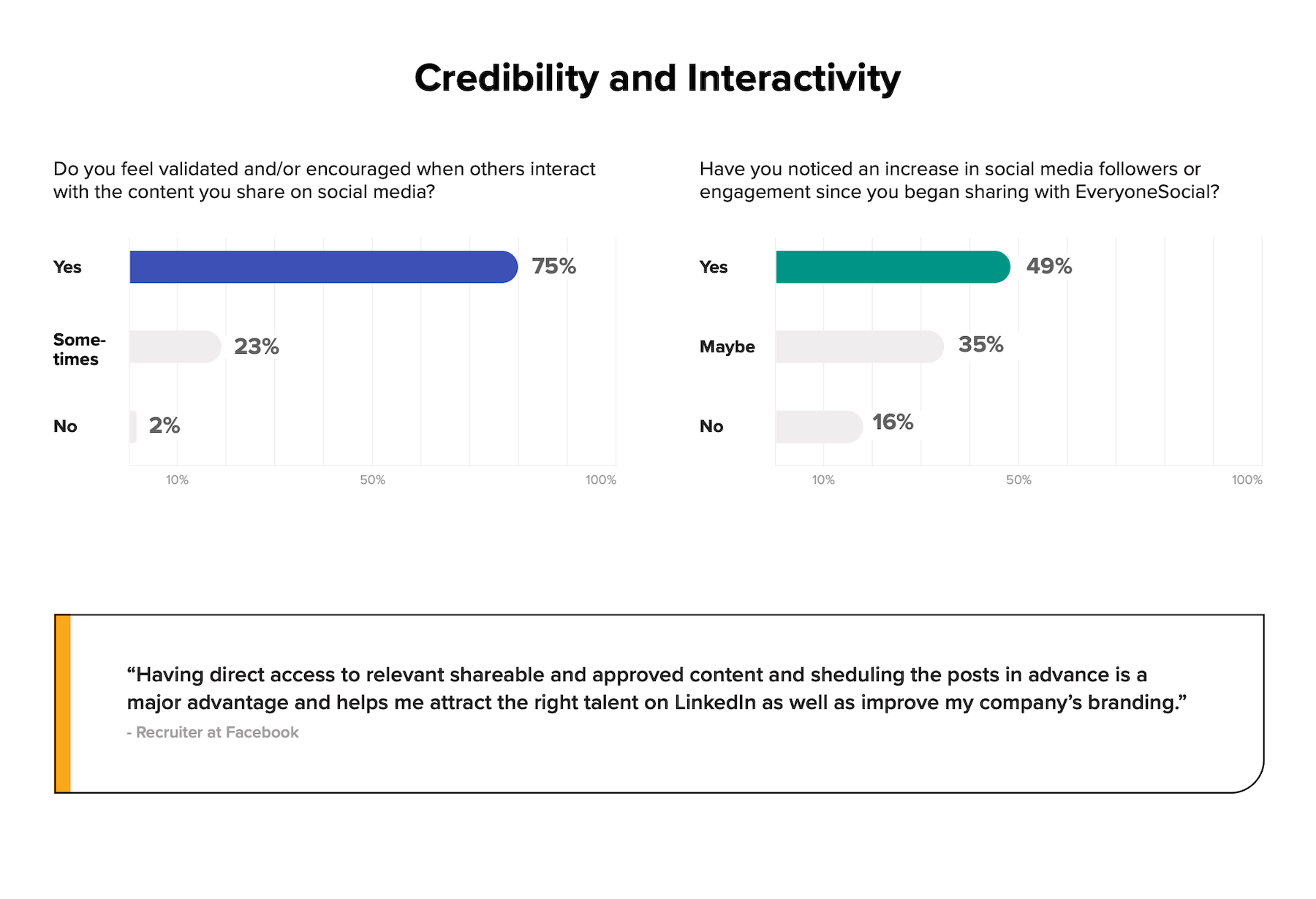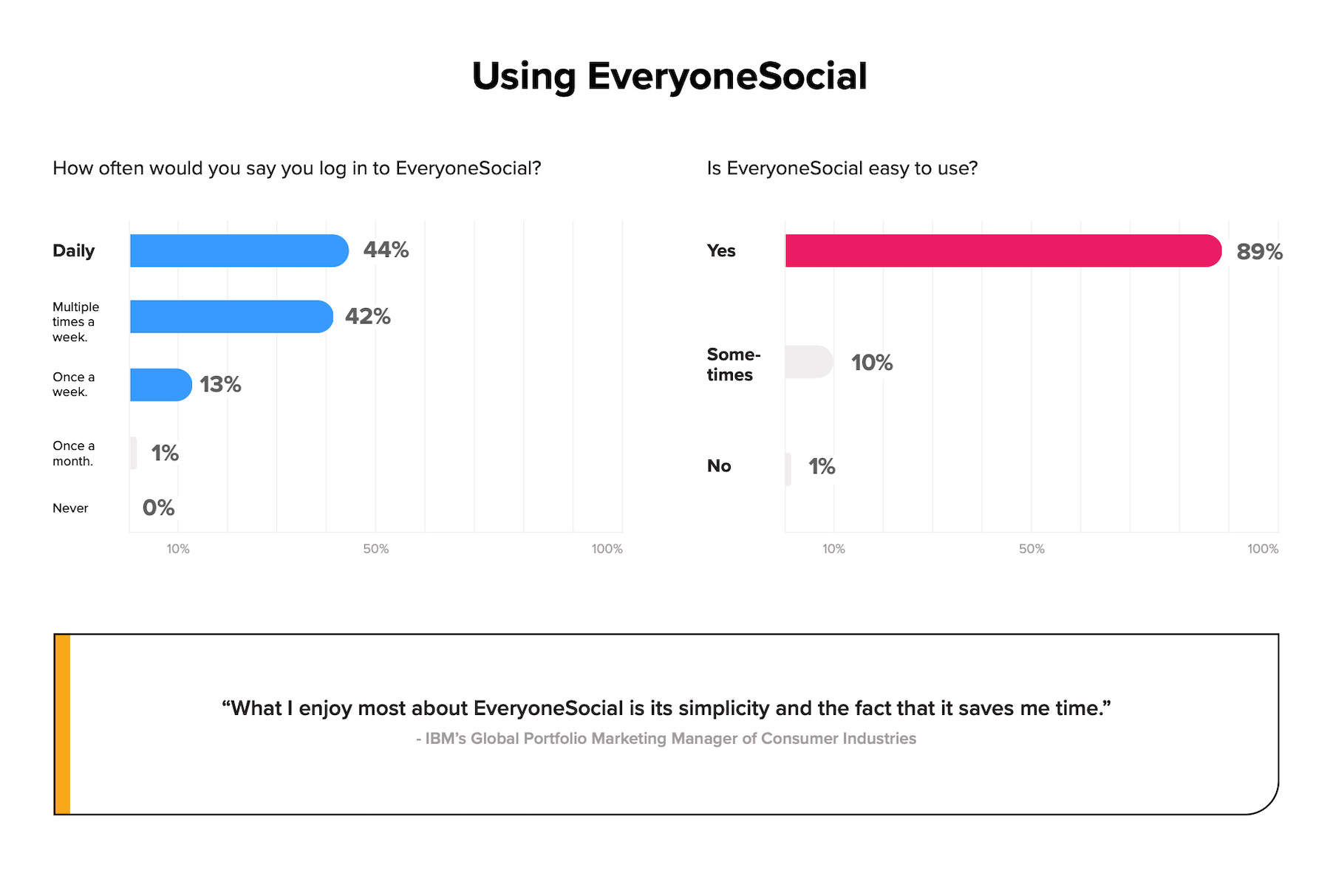 2
How Much Time Do Employees Spend on Social Sharing?
Nearly 60% of employees that participate in formal advocacy programs spend at least five hours per week using social media for work.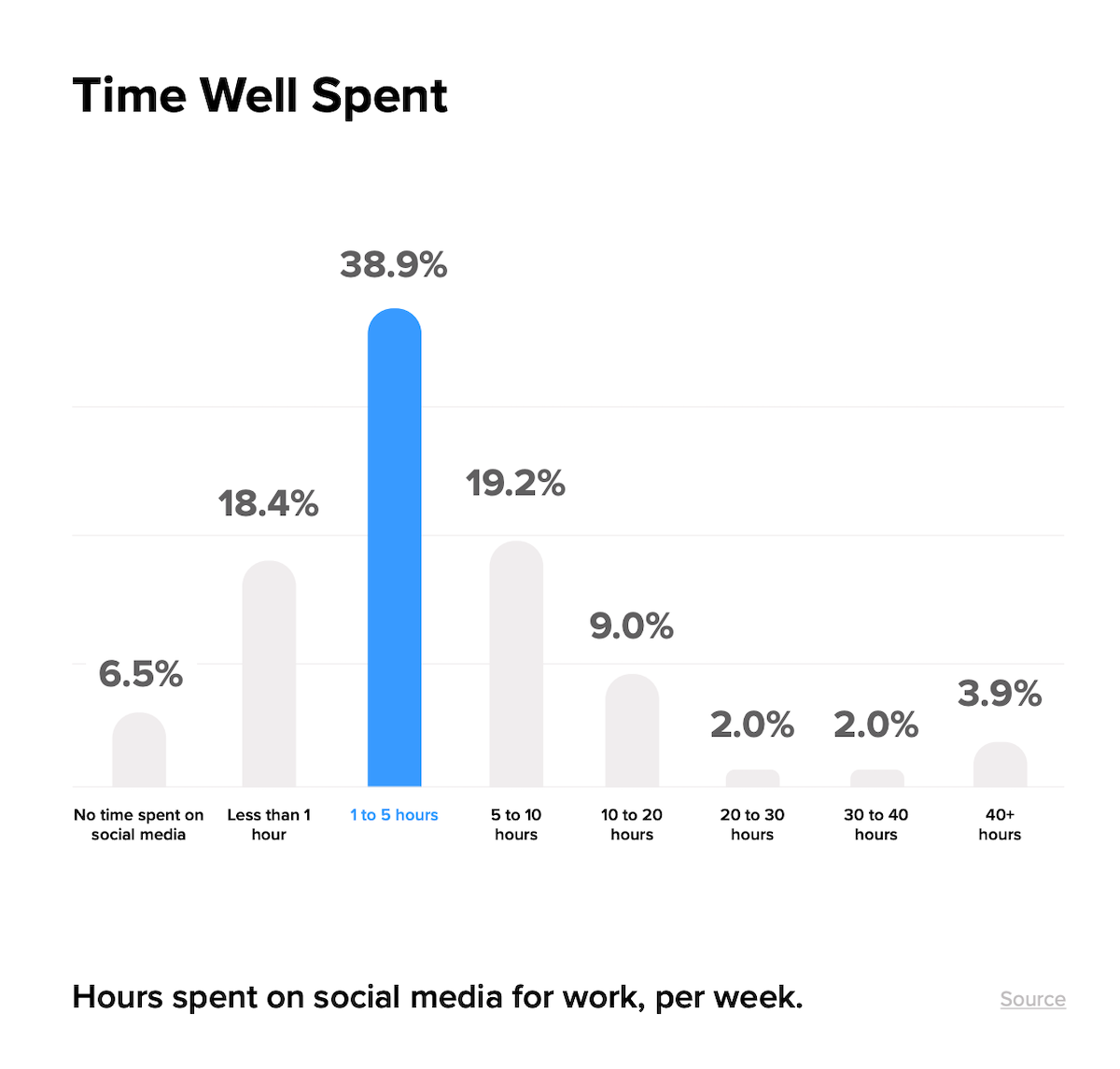 3
What Are The Benefits of an Employee Influencer Program?
Why Do So Many Companies Invest in Employee Influencers?
Marketing
90%
90% of employees using EveryoneSocial report sharing more content.
561%
Activating employee influencers results in 561% greater reach.
7x
Leads generated via an advocacy program convert seven times better than paid ads.
71%
People are 71% more likely to make a purchase based on a social media referral.
31%
Nearly 31% of high-growth organizations have an employee influencer program — more than double the average of low- to medium-growth companies.
25%
Employee productivity is 25% higher in organizations that enable their people to use social media at work.
Check out our case studies:
Sales
48%
Social selling programs drive increased pipeline, better win rates, and up to 48% larger deals.
64%
64% of participants in formal advocacy programs like EveryoneSocial credit them with attracting new business.
45%
45% of social selling program owners credit their program with developing new revenue streams.
27%
27% of organizations with social selling programs report a shortened sales cycle — twice that of companies without one.
EveryoneSocial helped digital sellers to establish themselves as thought leaders, increase organic sharing and engagement, influence conversations, generate new leads, and drive more sales.- IBM Digitization Specialist, Digital Sales Acceleration
Recruiting & Employer Branding
30%
30% of consumers find job-postings shared by employees to be the most relevant, useful kind of content.
68%
68% of Millennials use social media to evaluate an employer's brand, 12% more than Gen-Xers and 20% more than Boomers.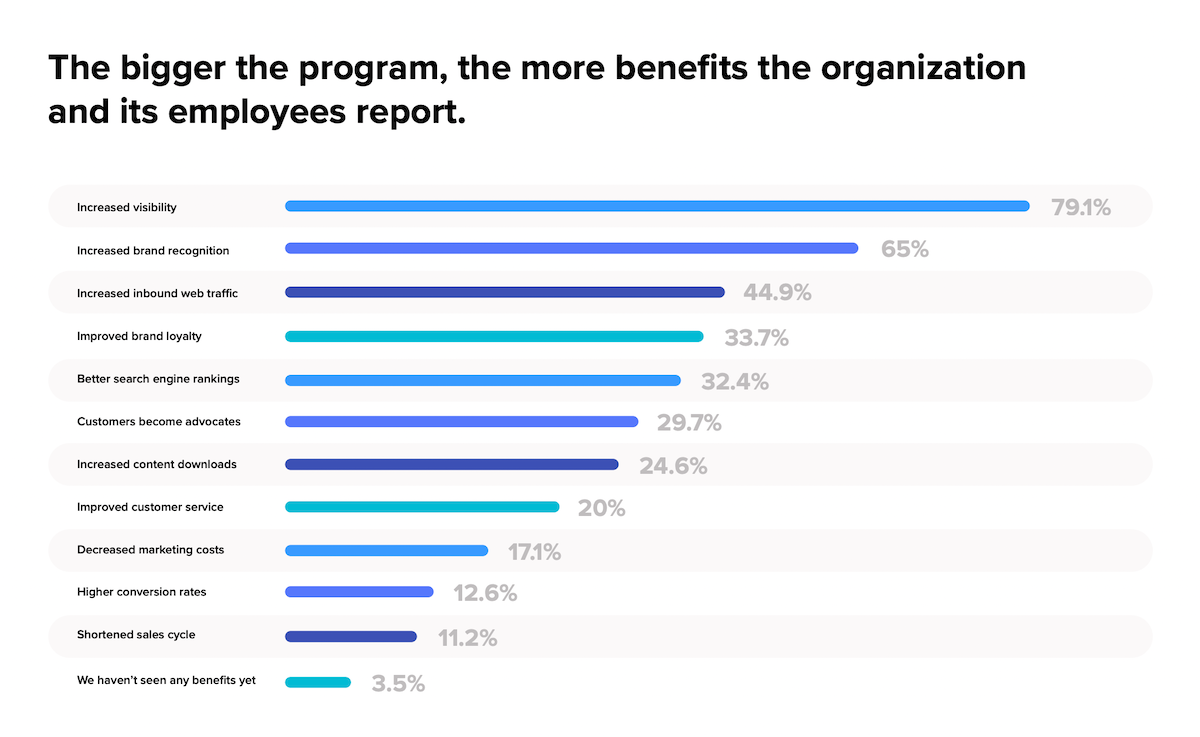 4
What Kind of ROI Do Employee Influencers Generate?
Employee Influencers and Paid Ads
In 2021, companies spent more than $100 billion on social ads. And it's no wonder this number is so high since ad costs increase while their effectiveness decreases.
Luckily, employee influencers can reduce your paid ads costs. How?
They acquire followers, drive clicks, and generate engagement at a fraction of the cost of paid ads. After all, employee influencers are people — not brands.
They organically and authentically reach your target audience, enhancing your retargeting efforts.
They provide insight into what content people engage with, allowing you to improve your ad strategy.
EveryoneSocial clients generated more than $200 million in media value over the first half of 2021 alone by activating employee influencers.
Value of a Single Employee Influencer
Employees have an average of 1,000 social connections, so with 1,000 people sharing content, your employees have a combined potential average reach of 1,000,000!
On average, an employee influencer program with 1,000 active participants generates $1,900,000 in advertising value.
Plus, active employee influencers grow their social networks up to 10% per year, further increasing your brand's reach and influence.
What can EveryoneSocial do for you? Use our ROI calculator to find out.
Start Calculating
!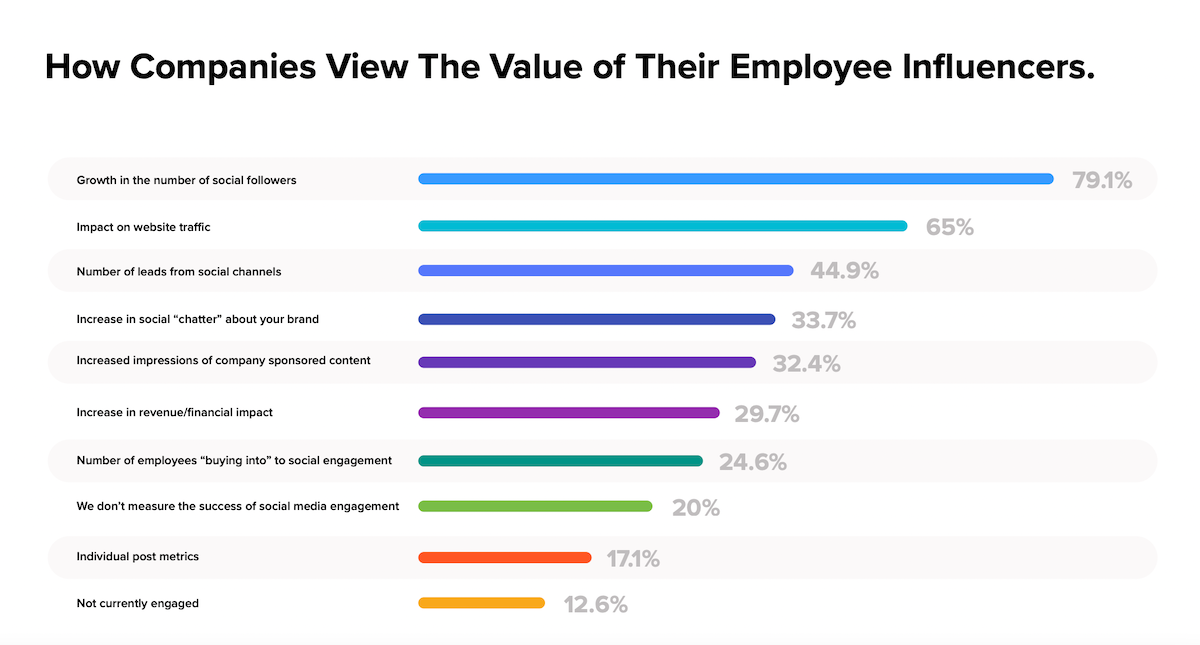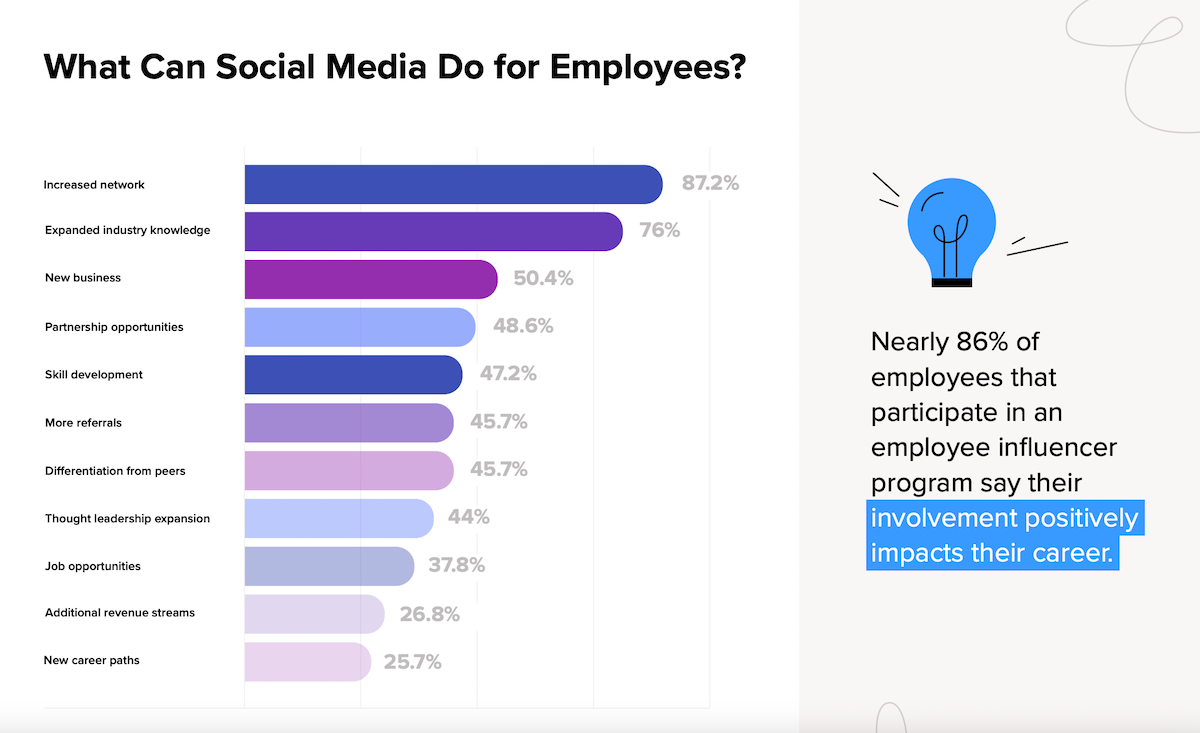 5
What Companies Activate Employee Influencers?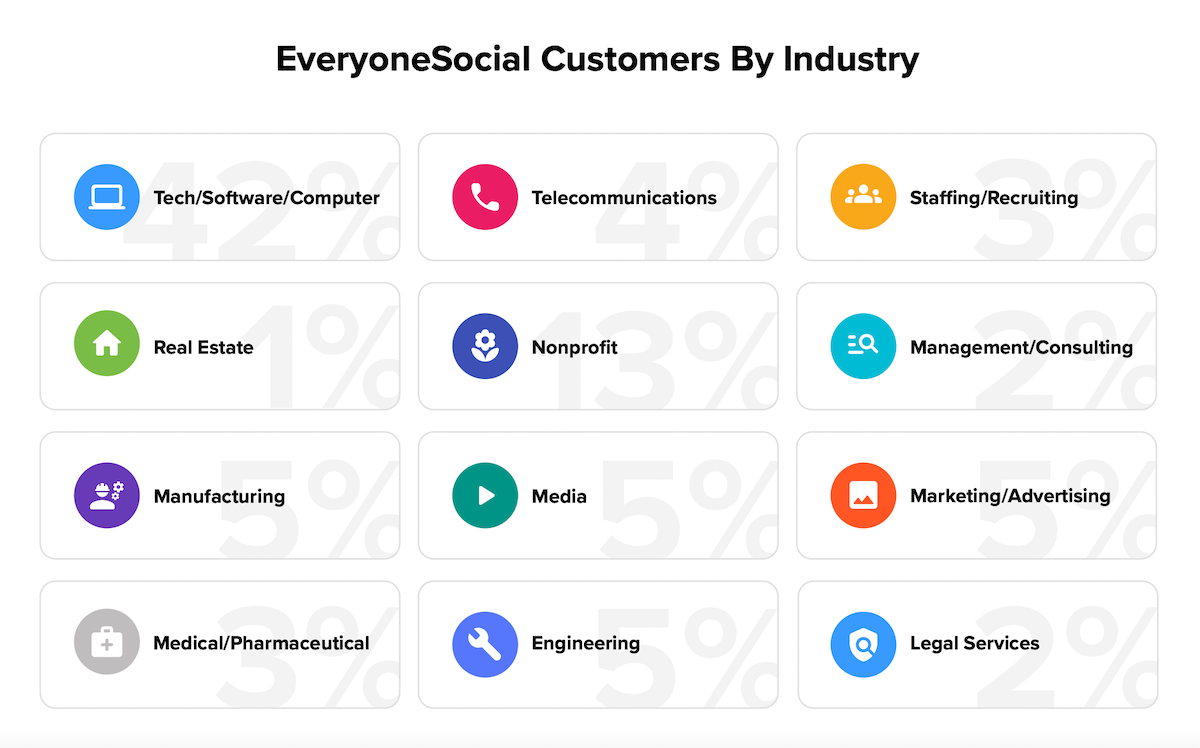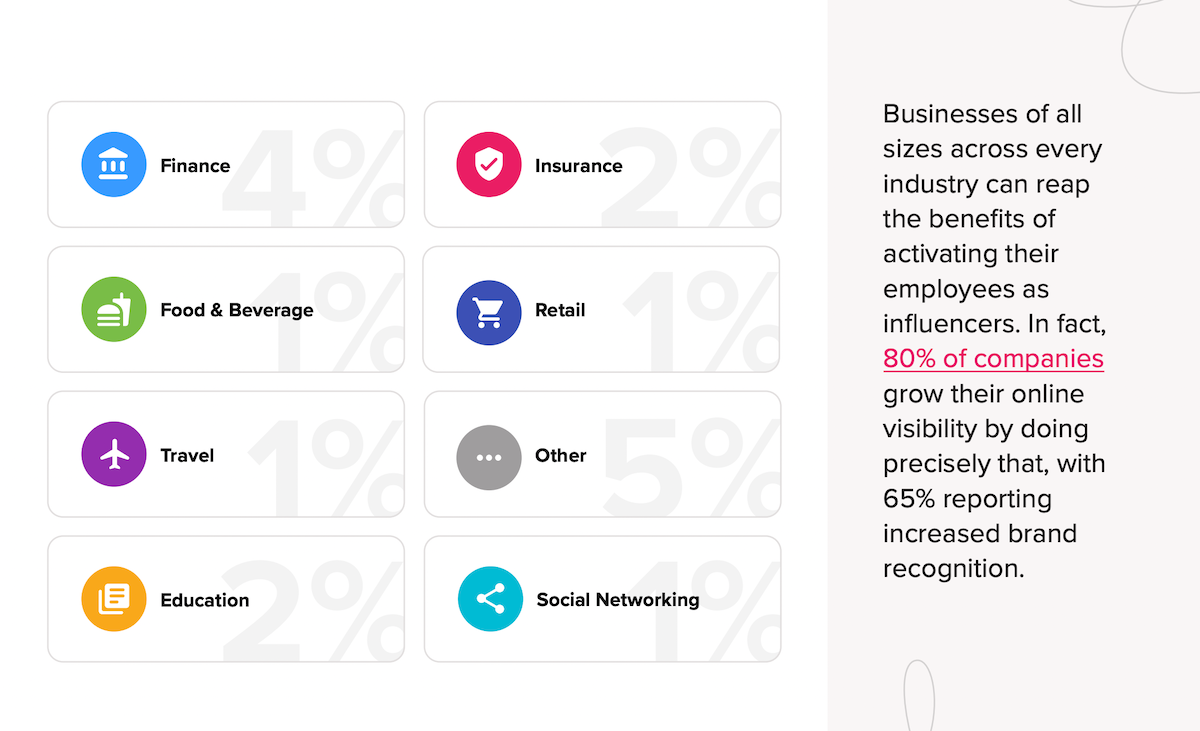 6
What Kind of Content Do Employees Tend to Share?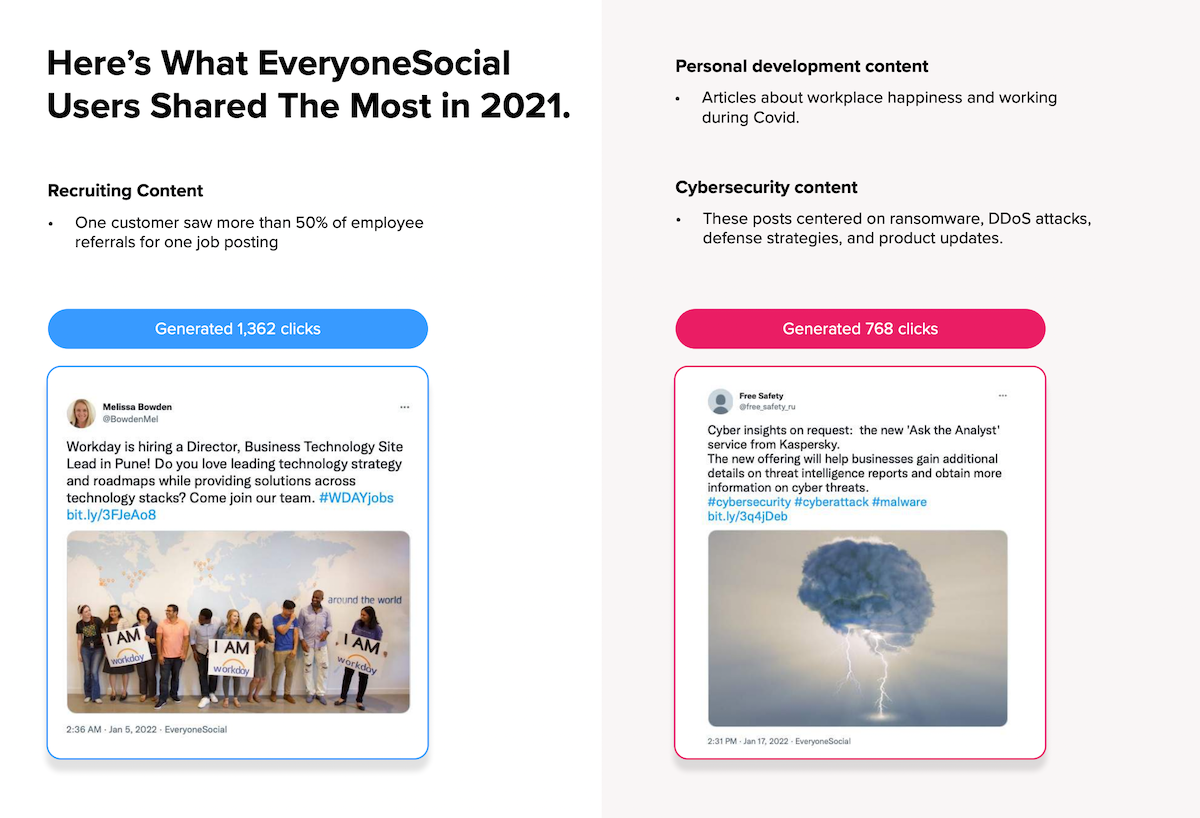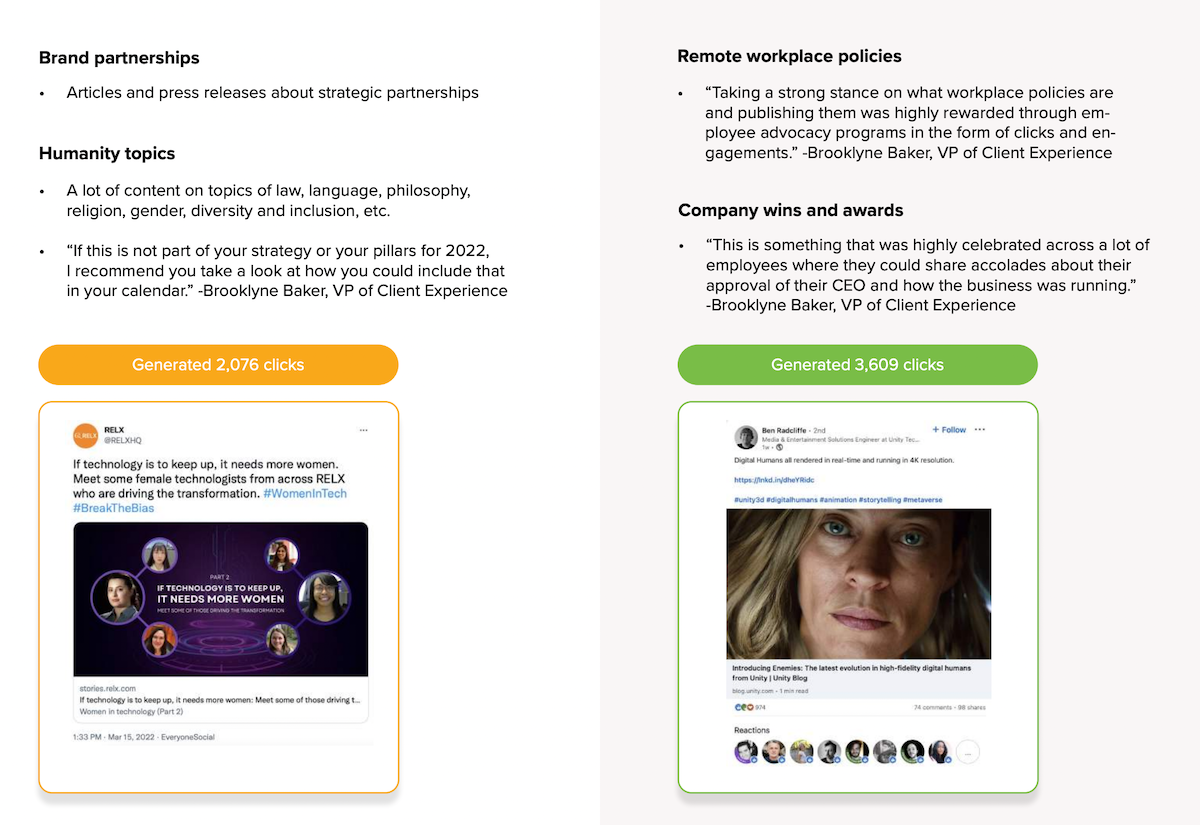 7
How Do You Motivate Employees to Become Influencers?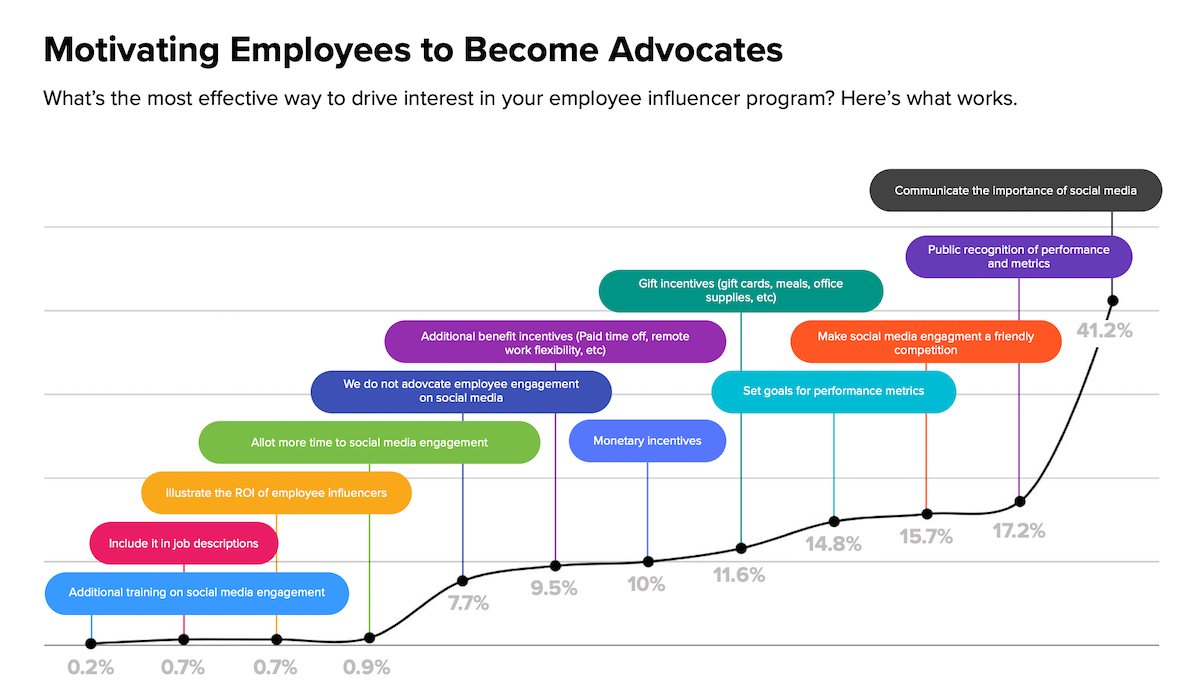 Employee influencer programs perform best when organizations have social media rules in place and workers are trained in how to engage professionally online. However…
And when employees are properly trained in social media, it pays off for the organization as a whole.
Research shows that high-growth companies have a higher ratio of employees trained in social media.
Firms with greater than 20% revenue growth have more than 45% of employees trained in social media.
Companies with revenue growth between 10% and 20% have nearly 30% of employees trained in social media.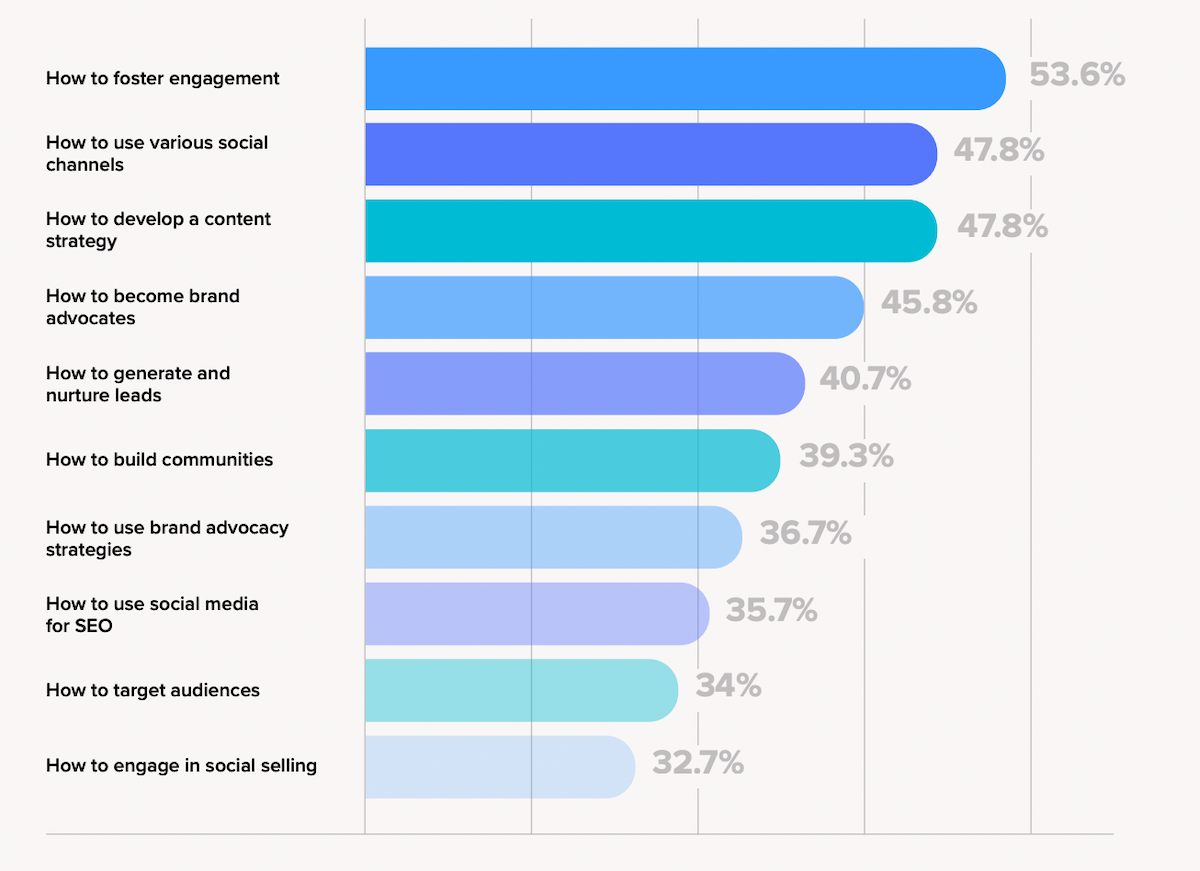 8
Who Manages Employee Influencer Programs?
When it comes to which department operates the company's advocacy program, here's how it breaks down: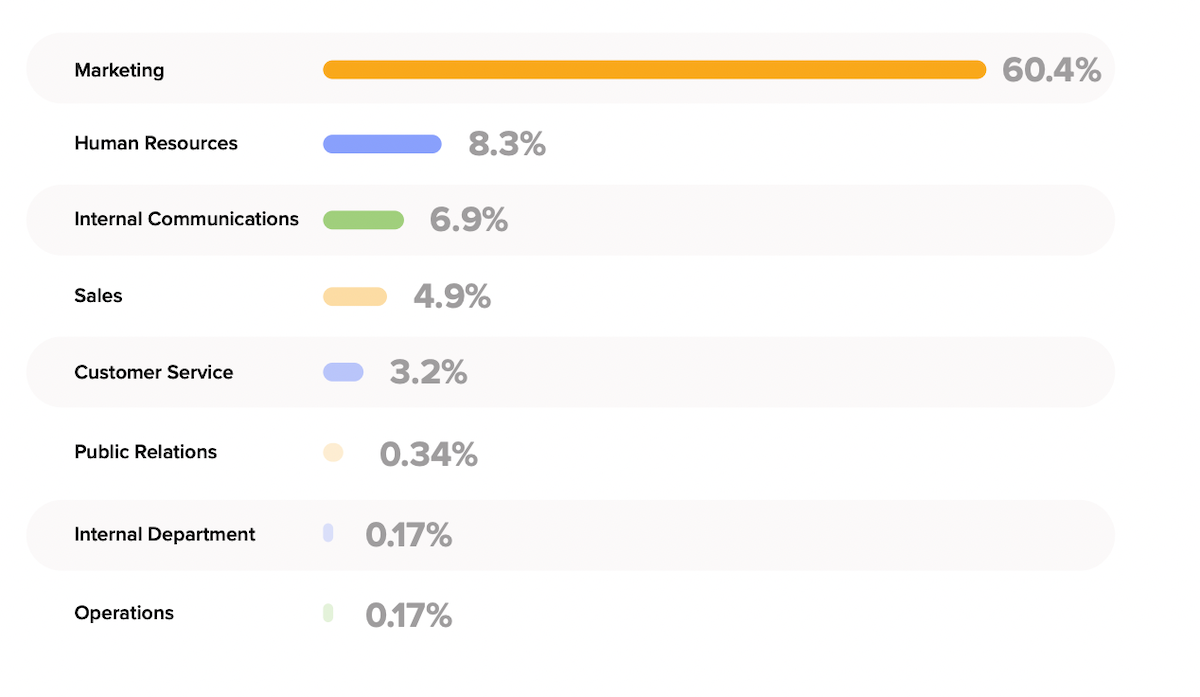 Nearly 45% of the people who manage their companies' advocacy programs are more than just program admins — they consider themselves fellow advocates. This suggests they're truly invested in social-sharing initiatives and leading their teams by example.
31% of participants are advocates only, while 19% say they're just program managers.
Want to learn more? Let's talk.