If your organization is becoming a social business and values the digital experience, then you are well aware of the value of employer branding online.
Over the last few years this idea has become so popular and necessary, that companies are now hiring people to specifically manage employer brand.
But it makes sense as the employee experience and work culture demands have shifted with new generations of workers.
Below I'm going to dive into some of the best employer branding examples online from recognizable brands.
Don't worry, you can apply what these large companies do to your own organization's employer brand as well.
Employer Branding Examples
While your organization must focus on multiple mediums for employer branding to succeed, social media is one of the pivotal aspects of any strategy.
Whether you work for a company of less than 500 employees, or an enterprise company of 50,000+, mastering employer branding on social media is going to be a recruiting game changer.
But it also helps drive employee retention, boost social engagement, and creates a brand of trust among customers and prospects.
If you are looking for some solid employer branding examples, I curated a few that stood out to me as exemplary.
While most are large or enterprise businesses, these examples can be beneficial to your own organization no matter the size.
1. T-Mobile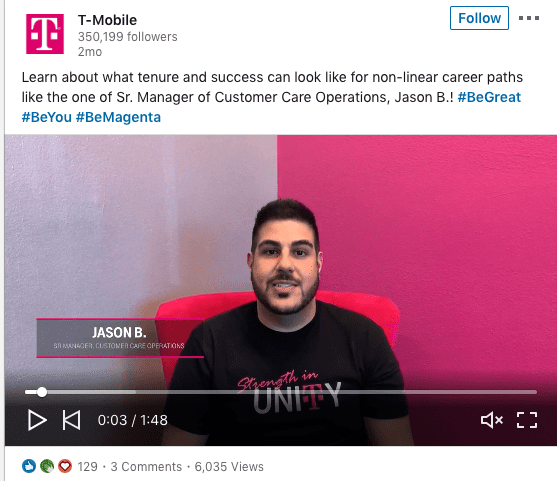 The major telecommunications company has been a social business for some time. And their CEO, John Legere, is highly engaged on social platforms.
Naturally, T-Mobile would be one of the best examples of top employer branding.
First, take a look at the social media corporate accounts. On LinkedIn for example, T-Mobile focuses on things like diversity in their workplace, their employees at various retail storefronts, open careers, employee stories, customer-centric focus content, and more.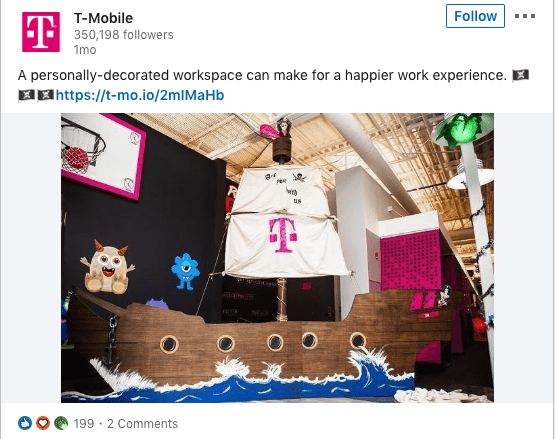 They give employees in their retail stores and their corporate offices a chance to be heard and share what makes their work environment great. Plus, everything is on brand from their colors, look, tone, and overall feel.
Additionally, they are also huge employee advocacy fans.
Not only is T-Mobile running strong corporate social media handles, they allow their employees to create and share content to their professional networks. Thus exponentially increasing their employer branding reach.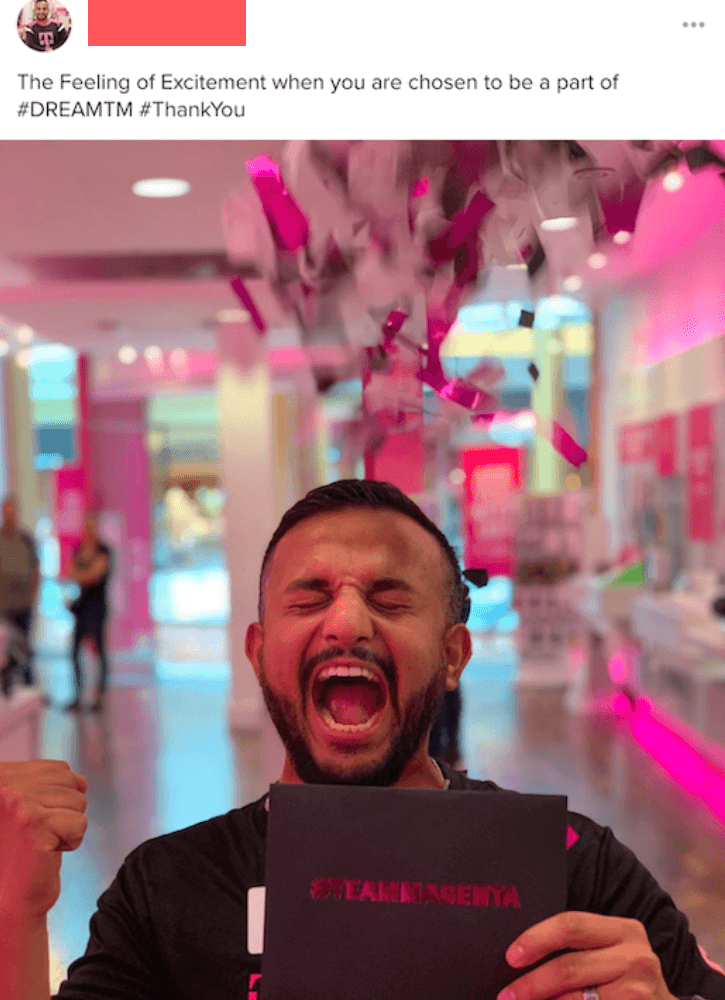 Plus, take a look at their careers page. It's modern, enticing, inspiring, and you get a great sense of their culture all from this single page.
2. Adobe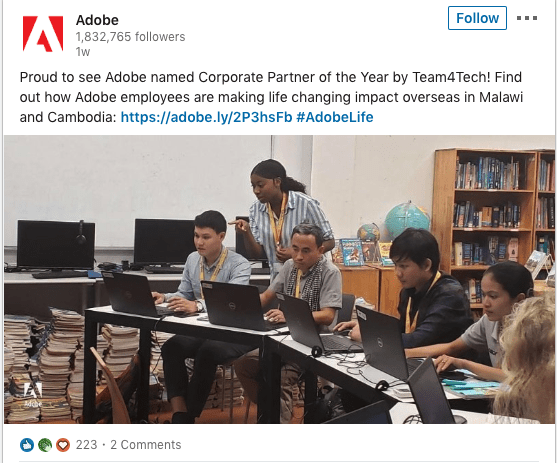 Adobe has been a dominant leader in the computer technology world since the early 80s.
Creating visionary products and not being afraid to be creative, so there was no doubt they would prioritize and perfect their social employer brand.
The company also loves employee stories and showcases what their people are working on internally and outside of work too.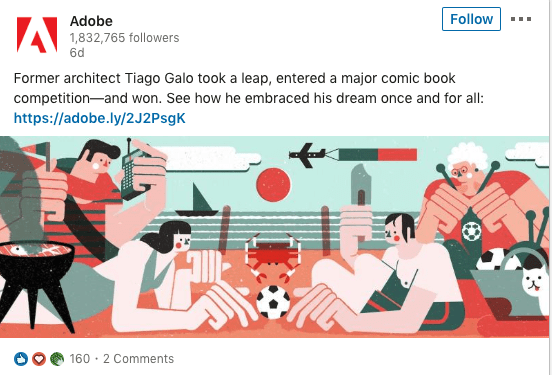 And when it comes to content related to their work culture or the cool things their employees are doing, you'll see the #AdobeLife appended at the end of the copy.
This is a brilliant way for audiences to easily click and see the amount of employer branding content in that hashtag feed. And there is plenty of it!
Similar to T-Mobile, Adobe also highly values their employees as brand ambassadors online. You'll find plenty of Adobe team members sharing company blog content, engaging, and talking about their work.
3. General Electric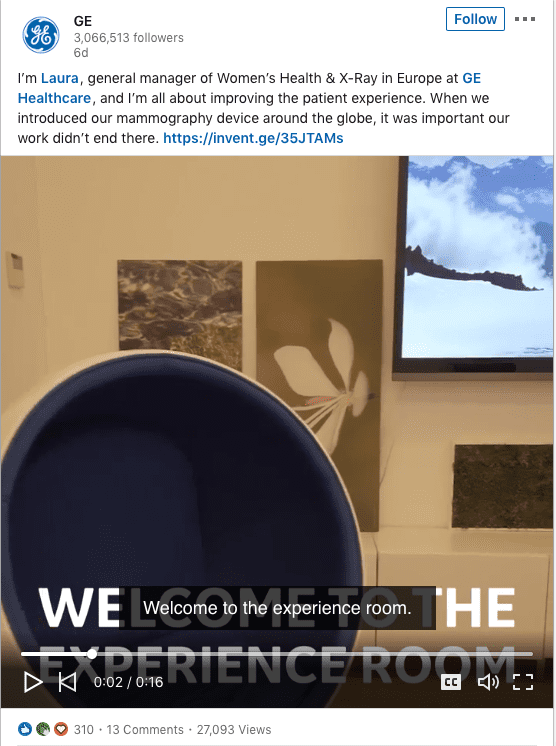 General Electric or GE, has been around for over 125 years! Sometimes you'd think the older corporate companies might be a bit behind on their work culture or hiring processes. But not GE!
Their team has embraced social media and the value employer branding brings to the company, employee experience, and attracting the best talent.
What I noticed about their employer brand on social, was the emphasis on the cool things their employees all over the world are working on.
It gives you a glimpse of products and innovation, while allowing employees to show off and be proud of their work.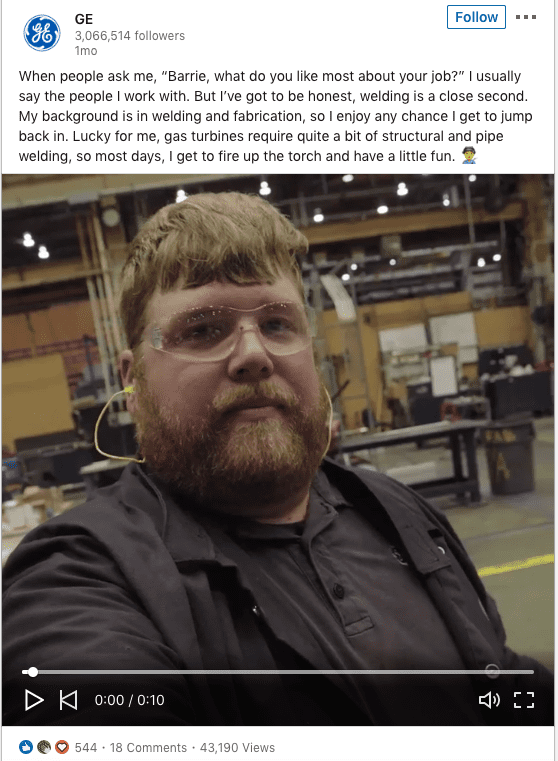 What makes GE a bit different from the previous mentions, is they heavily use video to drive their employer brand. And it's working! Take a look at some of those engagements on their corporate social media handles.
4. The Home Depot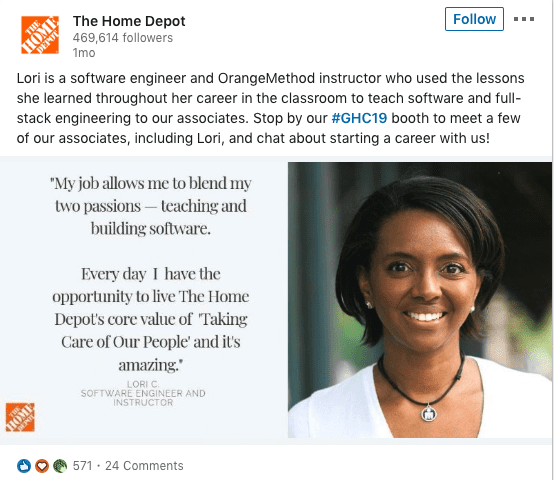 While employer branding on social media sounds more like for tech companies, Fortune 100, or start-ups, retailers can also be masters at it. Frontline employees are key players in employer branding.
That's the case with The Home Depot, one of the biggest home improvement retailers with almost half a million employees across the U.S., Canada, and Mexico.
Similar to some of the examples above, The Home Depot puts a focus on employee stories on their social media channels. The company uses photos of various employees and quotes from them.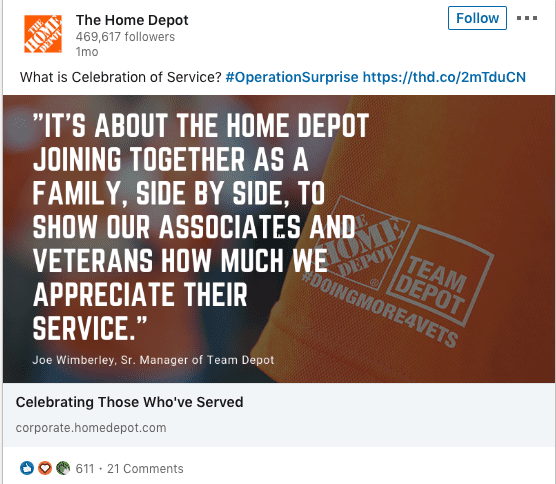 The Home Depot's social media posts also put emphasis on giving back to various communities and hiring military jobseekers.
What I like about The Home Depot's employer branding includes quotes with copy and creating images specifically with those quotes.
Plus, they also focus on their interns and use the hashtag #HomeDepotU for those getting started in their careers. A cool way to attract younger generations of talent.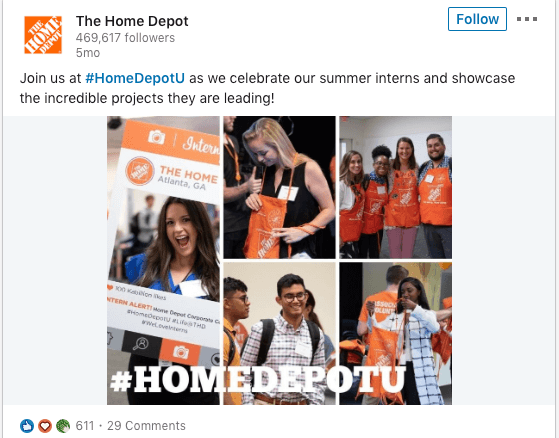 And besides social media, The Home Depot maximizes employer branding impact with an excellent careers page. They include their Military commitment, work culture, videos of employees, and more. This solidifies their employer branding all around.
5. Mattress Firm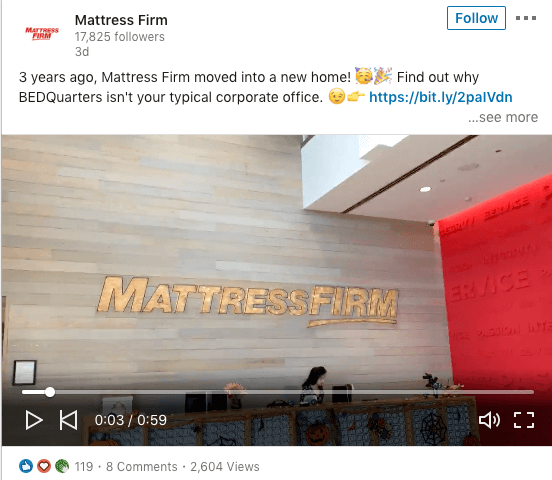 Since we are talking retail, Mattress Firm is also another company that puts the emphasis on employer brand on their corporate social media accounts.
The mattress giant was founded in the mid-80s and you probably have seen a few retail locations near you. While you may wonder how a company that focuses on sleep could be inspiring, the company has it nailed down.
The corporate and retail stores are all about team community and building a work family. The posts emphasize why it's cool to work for the retailer in any capacity, but that it is also rewarding as well.
You'll find their social feeds filled with employee appreciation posts, tours of their offices and retail locations, and how the company is giving back to society.
Just like the other examples, the tone and branding are used throughout every social post.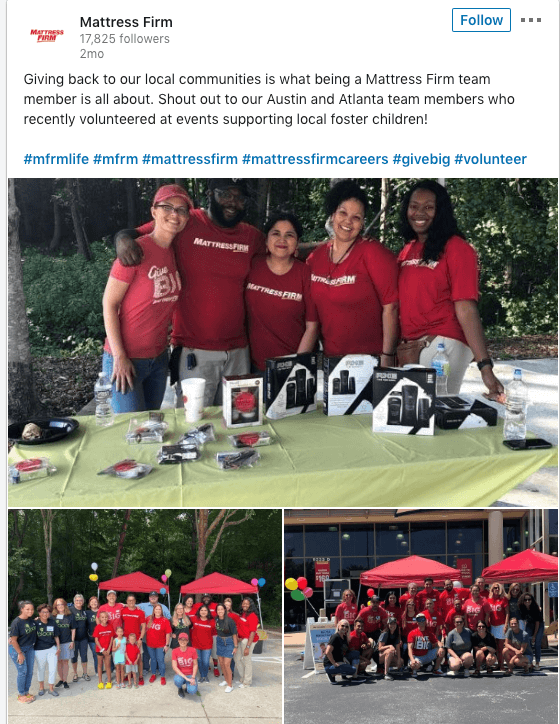 And similar to The Home Depot, the career page on Mattress Firm also keeps branding consistent on social media. Besides just posting open positions, they include their values, commitments to diversity, employee quotes, and pictures of team members.
Although 79% of job applicants use social media in their job search according to Glassdoor, inevitably they will end up on your website on the career page. That tone needs to be translated over for a seamless process for potential candidates.
Lastly, Mattress Firm is also a social business and values employees becoming brand advocates. Thus, enhancing the employer branding efforts as employees share pictures, videos, stories, blog posts, and more to their own networks.
Employer Branding Tips for Social Media
So hopefully the above employer branding examples provide some insight to what your organization might be able to do.
However, not everything your company chooses to do with employer branding needs to be super unique or creative.
There will be overlap of ideas that other brands are doing as well. The goal is to make it your organizations authentic voice and interest.
Here are some ideas your company can leverage to create an attractive employer brand online.
Use your organizations' branding (color tones, voice, values) across any content on social media. Keep it consistent to align with your website and mission as a company.
Show off your corporate offices and storefronts. If you have multiple locations, show the diversity online. If you have global offices, show those too.
Highlight individual team members, what they do, why their job is important, and how they are impacting the company. Without team members, your company doesn't exist!
Does your company hold team building events? Talk about them on social media. Show images and videos from these events.
Get executives talking in videos, connecting with individual employees, providing quotes, etc. They should be at the forefront of social media and employer branding efforts.
Develop unique employer brand campaigns for something specific. Maybe a campaign about interns, or an "employee training month," or a volunteering week, etc. Something where you can build a mix of initiatives that all communicate your authentic work culture.
Consider letting employees share and create content about your brand for social media. This is what many companies use an employee advocacy program for. This establishes more credibility for your company, expands the reach to attract more talent, and helps get employees more engaged.
Final Thoughts
Hopefully the above employer branding examples can inspire your own strategy.
While the ideas you choose may be similar (showcasing employee stories, career opportunities, work culture, interviews with employees, etc.), feel free to get creative.
You want your website, social media, videos, and tone of voice to really embody what your organization is all about.
This will help you attract top talent (and the right fitting talent), but even drive more business, media attention, and retain customers and current employees for the long-term. 
Have you considered harnessing the power of employee influencers to tell their stories, talk about work culture, share open jobs, and more? Learn how high-growth companies are doing just that with EveryoneSocial. Schedule your demo.