A common employer brand theme you have probably noticed online recently is the power of employee stories.
Of course, internal storytelling has been around for years, but social media now gives everyone insightful glimpses into other companies' work culture.
But how does your organization activate employee stories more consistently and organically? And how can you enhance your efforts by sharing these stories on social media? 
Consider this an ultimate guide to strategizing workplace stories. Here are the most important topics covered:
A Harris Interactive Survey for Glassdoor states that, "67% of employers believe retention rates would be higher if candidates had a clearer picture of what to expect about working at a company before taking the job."
Why Employee Stories Matter
By allowing your employees to drive a narrative and share their stories online, you'll find employee stories as one of the most effective strategies for building an attractive work culture.
According to LinkedIn, "candidates trust the company's employees 3x more than the company to provide credible information on what it's like to work there."
Think of it this way: the less conflict of interest there is (or the more personal risk there is), the more credible and authentic the story — hence the value of employee stories.
Employees have their skin in the game, but a faceless brand name can promote itself devoid of risk.
Depending on the nature of the content and how your organization presents employee stories, it will undoubtedly shape and strengthen your work culture.
What your employees share with each other and talk about on a frequent basis, becomes the scaffolding to build internal culture.
In work and elsewhere, stories precede culture and no doubt make a clearing for community engagement. 
Customers and prospects trust your organization more when information comes from employees.
Audiences will respect your company more when they see how well employees are valued.
Employee stories and highlights build authenticity, an identity for your brand, and create a human connection to outside audiences. 
How to Start Approaching Workplace Stories
Whether your company is engaged in sharing employee stories or not, you'll need to approach it strategically.
For any consistent success, you have to take this process seriously to ensure that whatever you do enables and reinforces the overall desired work culture. 
If you need some tips to improve your organization's current process or are interested in ramping up employee stories, the priorities described below will help you approach this more strategically. 
Discover stories already in the workplace
Start by listening to the online social chatter see what kind of stories are publicly shaping your brand sentiment.
Talk to departments and employees or get a company survey going to learn what stories are being told, or to simply gauge the themes of existing internal storytelling. 
Your organization will start to learn what narratives exist, how they might be shaping the work culture, and if the brand sentiment is moving in the wrong direction so you can start to improve the overall story.
Create a safe place for stories to be told
Managers, executives, and all company leaders need to make employee stories an essential part of the business. Which means, employees need to feel safe and at ease opening up about their unique perspectives.
If they feel uncomfortable or afraid that their work, interests, or stories will all conflict with each other, then contagious shyness will be hard to overcome.
The more transparent, open, and excited your organization is for employees, the more authentic results and interest you'll get. 
Build a plan for what stories your company needs
While your company can start randomly sharing employee stories, there still needs to be direction for what you want to focus on. Formulate a plan and strategy based on a sampling of questions like:
What are your organization's main needs with employee stories?
How would these stories tie into company priorities?
Which stories would have the most impact with the company's priorities?
Are there areas of the company that are crucial, but lack in representation where employee stories can help?
What's the best way to source and share these workplace stories for maximum impact? 
Provide opportunities for all employees
We've touched on a similar concept in a recent post, but starting with a small sample can create a culture of exclusivity.
The goal for your organization should be to create an equal playing field where everyone's input is valued.
When it comes to input and awesome employee stories, you may not know exactly where the best content might come from. Everyone should have a chance to participate.
Everyone's story can have an impact on their own professional development and play a vital role in their company's success.  
Let employees share and create for authenticity
Similar to letting all employees have an opportunity to participate, this also means: let them share and create content too.
This is key to building truly authentic employee stories, instead of contrived corporate jargon. 
Of course, you'll want to provide guidelines and maybe slightly edit their contributions, but you must let them be creative and use their voice to make it a humanized story. 
This is why employee advocacy platforms become a major component to employer branding and creating employee stories.
Avoid the corporate boilerplate and loosen the generic copy that audiences will see right through. To get genuine participation and trust, you must create the trust first.
For starters, think of it this way: experiential nonfiction is the genre that your audience will find themselves most engrossed in.
Make employee stories an obvious part of culture
The best way to continue the process of employee storytelling is to make it an obvious part of your company culture.
Promoting storytelling is valuable not only to current employees, but also for informing interviewees and brand new hires of how the brand is constituted by the employee voice.
Some ways to go about doing this is to:
Add sample employee stories to company handbooks
Hiring orientations, make it a key part to talk about employee stories
Executives should be sharing these stories on social media as well as the corporate social accounts
Bring it up in meetings, whether department meetings or a bigger townhall type of meeting
Any company events
Employees should know that it's part of the culture, understand it's encouraged to get involved, and what the benefits are to them and their company. 
Want expertly crafted content to help refine your marketing, social selling, and recruiting strategies? Sign up for our newsletter and get a copy of our Personal Brand Starter Kit. 👇
The Types of Employee Stories for Social Media
One of the best ways to drive results, is by activating employee stories on social media. These social platforms are the best outlets to connect with potential talent, new hires, customers, prospects, and other employees.
And because employees are already on social media and up to 50% are already talking about the company they work for, it's a natural place for employee stories to shine.
So besides your company's social accounts, encouraging employees to share workplace stories is going to enhance multiple areas of the business. 
Here are the types of employee stories that can help build a great narrative on social media.
Company Events
When your company hosts an event or has a cool celebration, this is the perfect opportunity to get candid moments and share them on social media.
This can highlight employees, leaders, and different departments. And employees all have phones where they can share the cool stuff your company is doing at these events too. 
Volunteer Work
Employees will like to share volunteer work and showing your organization as helping communities is inspiring to audiences.
In the office, business is about driving growth and improving sales, but aligning work with other values is increasingly an expectation and certainly a boon to the brand sentiment.
Employee Spotlights
Job candidates in particular are looking to see how employees are treated and what career development opportunities exist at your company. Showcasing employee spotlights will clarify this information for prospects.
Think of things like new promotions of colleagues, performances — did marketing achieve a milestone? Did sales do something cool? Even showing employees' outside interests or passions gives a sense of work/life balance — do employees at this company work to live, or live to work?
Employee-Generated Content
Employee stories do not have to just be the company focusing on different individuals. A big portion of what makes storytelling more active and work well, is content created by employees themselves.
This can be a company blog post, pictures they took from their work or a corporate event, video, etc. 
Letting employees create, engage, and share content created by other employees boosts engagement and participation. There is more to it, so if you are interested I recommend our employee-generated guide.
Remember to measure the value of employee stories:
Monitor the rate of employees opting to be a part of the stories
Measure the amount of sharing and engagement with stories online
Report on the user growth of those getting involved in employee advocacy and wanting to join the platform (you should be using a platform if you are not)**
Is the recruiting and talent pipeline becoming faster and easier?
Is employer branding engagement going up? 
**The best way to manage and understand the impact of employee stories is by using an employee advocacy tool like EveryoneSocial — a place where your company can add the best stories for employees to easily engage, tag employees, and share to their own social networks. And, it also includes reporting features to see results in both platform use and social media results from the sharing. With mobile apps, browser extensions, and a desktop application, employees can easily create and suggest great content to enhance the storytelling capabilities. 
Examples of Employee Stories
Many of our clients use their employee advocacy platform to highlight and create employee stories in addition to storytelling's use cases for marketing, sales, and communications.
It's a key piece to growing their brand and work culture, but is made easier when employees are also sharing personal content. 
But to help you get the wheels turning a bit, here are some great examples of organizations sharing employee stories to drive authenticity and trust via social media. 
Vanguard
The financial industry is primed to leverage employee stories. Consistent with their name, Vanguard is an exemplary forerunner in employer brand strategy.
Vanguard approaches employee stories with precision and encourages their employees to get involved, tell their story, and share on social media. 
This video they posted here on their LinkedIn page is a great example. Take a look through Vanguards LinkedIn feed on their company page and you'll see a treasure trove of great employee-focused content.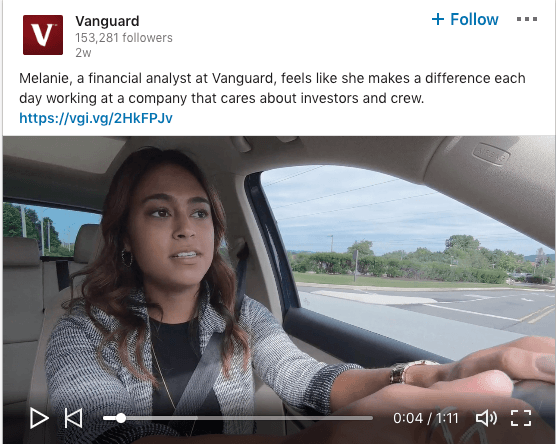 T-Mobile
One of the early adopters of social media in the workplace, T-Mobile is a leader when it comes to building great employee stories.
They highlight employees, quote them, use pictures of team members from outside work, and much more.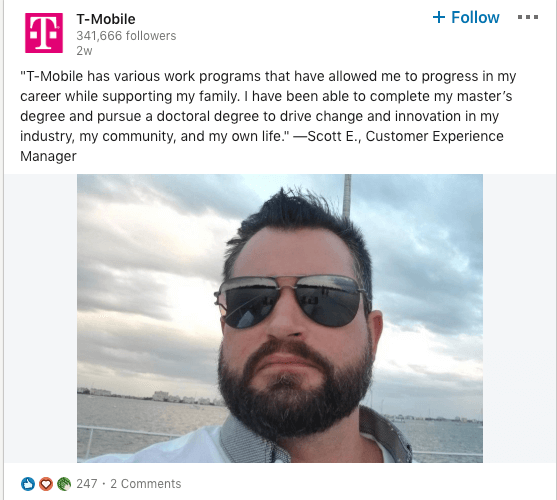 They also are big into employee-generated content, which adds to the workplace storytelling. This is a great instance of an employee creating content within EveryoneSocial.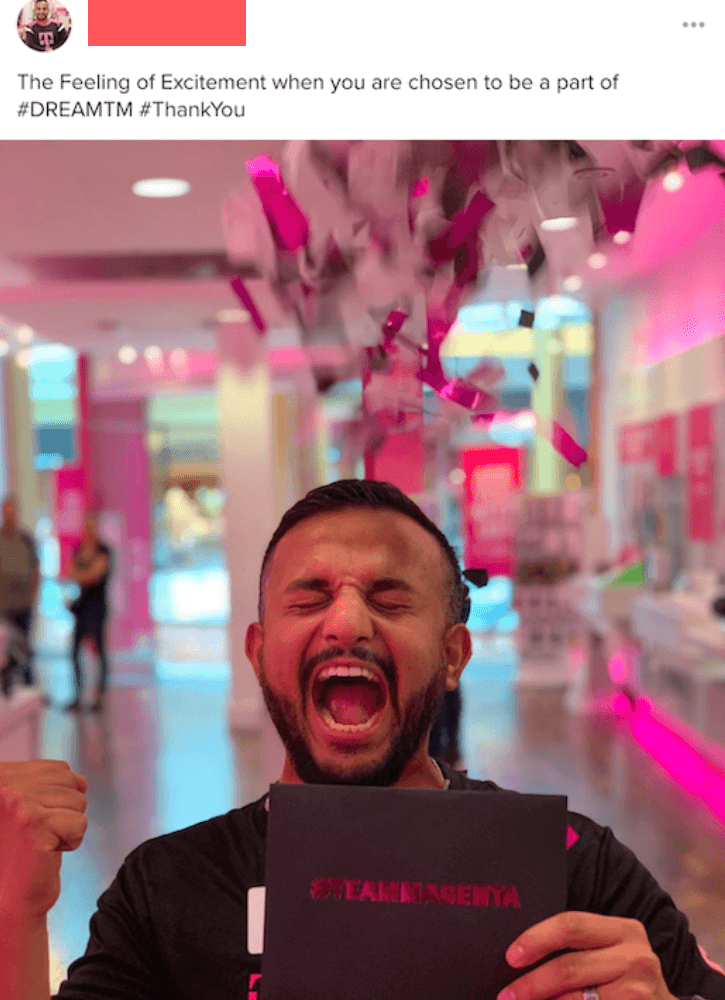 Adobe
One of the most well-known companies in the world, Adobe focuses heavily on their culture and storytelling. You can find their employee stories with the hashtag #AdobeLife on many social channels. 
This one was pretty cool, where they interviewed a research scientist at Adobe about her work.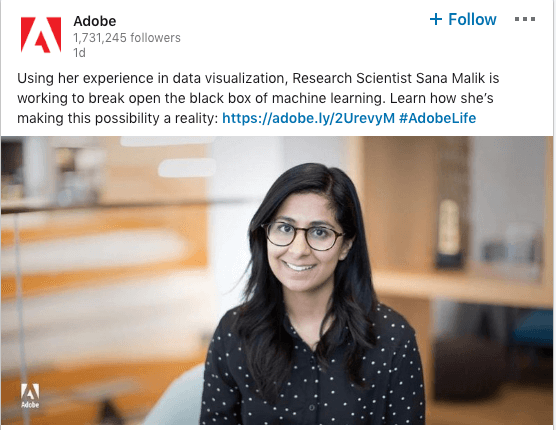 Mattress Firm
Consumer companies also can really build a unique work culture too. The mattress giant loves showcasing outside interests and company initiatives besides good sleep habits.
I really love this example and seeing their other employee stories.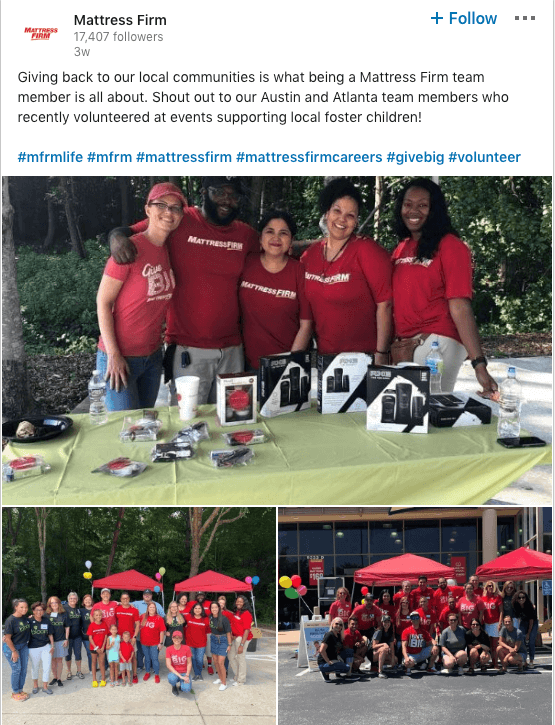 Final Thoughts
Direct media and social channels can be filled with negative news or fake stories, but your organization's authentic employee stories can be a warm-welcomed addition for your audiences. 
Your organization must take the time to showcase the workplace and highlight more about employees and who they are — inside and outside of work. 
Of course, not all brands can easily build an attractive and fun personality that consumers will gravitate towards.
However, letting customers establish more personal relationships with your employees can help your organization grow in multiple areas of the business. 
Ready to build a strategy and start engaging employees to help drive workplace storytelling? See how large and enterprise organizations leverage EveryoneSocial to do just that. Schedule your personalized demo!