How do you build a brand that taps into the power of social media to increase brand awareness, generate leads, and more while also being more human?
You have heard the buzzwords… be human, speak human, humanize your brand.
What does it really mean? Aren't we all human? Why do we have to work so hard to be human? Shouldn't it come more natural? Is technology making us more or less human? How can brands become more human?
These are many of the top questions marketing leaders can still struggle with today.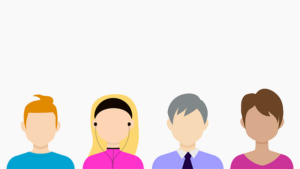 Humanizing Your Brand with Employees + Social Media
How do you build a brand that taps into the power of social media to increase brand awareness, drive efficiencies, maximize investment in technology, build and nurture relationships, generate leads, drive more blog traffic all while also being more human?
Sometimes the technology and shiny objects seem to make us less human vs more human. However, the truth is the technology doesn't have to make us less human.
Often times some lazy marketing and business leaders use technology as an excuse to be less human. They depend on automated messages, spamming and blanket market approaches vs investing in real human beings.
Too many times they take the easy route vs the right route to social business success.
One of the greatest communities and assets any organization has within the walls of the business is their people. It's you and me. It's every employee.
You have already invested in your employees. You likely spent time and resource finding them, recruiting them, bringing them on board, training them and integrating them into your organization.
The truth is your employees are both the window and door to your organization. They are what people see, hear and associate as the living, breathing element of your brand. They are what makes your brand, period.
So let's go back to the original question of this blog post. How can brands be more human?
One of the best ways for brands to become more human is to tap into the power of their employees. Your employees are already living their life as a human each and every day.

Related: Learn how Dell empowers their workforce on social media and has over 10,000 employees actively sharing online. Get your case study.

Check out these 10 easy ways you can humanize your brand by empowering and inspiring your employees to share their business happenings and life on the social networks.
1. Embrace imperfect perfection.
Nobody is perfect. Make sure your employees know you do not expect them to be perfect. This will help minimize much fear many people feel when being asked to advocate for their brand or share their lives more publicly via the social network.

2. Do an audit via a non-intrusive survey or focus group.
Get to the heart of what your employees are already doing on the social web. How are they engaging? How can you tap into what they are already doing?
Conduct a simple web-based survey and you can literally have your survey drafted, launched and analyzed within a few weeks. One of my favorite tools to use for this is Survey Monkey.

3. Acknowledge that social media is going to reveal your organization before it will transform it.
Ensure your leadership is in support of the initiatives you are building and launching and they know any issues must be managed from the inside out, not outside in – If you have an employee moral issue, deal with it now.
Putting off an employee advocacy program or adoption of social media isn't going to delete the risk. It could actually make it worse as your employees will spend more time talking behind your back vs dealing with it head on and getting to the root of the problems.

4. Empower your employees early and often.
Don't just launch a training program when you launch your social media or employee advocacy program. Commit to the investment for both the short and long term. Results can come fast, but this is a long-term approach to ensure you grow strategically and methodically.

5. Incorporate social media into company events.
Big or small, include an element of social media to your company events. Make it fun. Make it optional, not mandatory. Include hashtags, contests and overall communication and sharing via social networks.

6. Implement the fun factor.
Try implementing gaming and contests to drive engagement and involvement from even people who would normally not speak up or share. It's amazing how employees will come out of the closet of shyness with a little fun peer pressure.
Want to increase sales? Implement a social selling game with prizes to your sales force and you might be surprised how quickly they become more socially active online.

7. Capture the special moments, big and small.
Have a social zen master assigned to each major department or team. Ensure they are powered up with one of the latest model working smartphones linked up to your company social networks.
If that is not possible, have them take the photos and videos and then upload to the appropriate person in your corporate or marketing department.
Regardless, the point here is to capture the moment in real time. Sometimes the greatest memories and moments to be shared are those that are captured live in the moment.

8. Encourage your employees to share a bit of their life via social media.
Encourage your team to share their hobbies, passions and weekend outings via social networks too. While sharing company content and industry content is great, people want to see some personalities shine through.
It may sound like this won't benefit your company, but the impact it has on your brand awareness and engagement will be stronger.

9. Set Up a company employee focused hashtag that employees can use to connect with one another via platforms such as Twitter, LinkedIn, and Facebook that utilize hashtags.
It's a great way to not only connect employees together but will also make it easy for others in your external communities to get a glimpse into the life of your employees.

10. Include everyone.
Don't leave people out because you are not sure if they will want to participate. At minimum invite them. The worst thing that will happen is they will say no. There is always next time. And when they see others more activated and engaged, it may be more interesting and enticing to them.

Final Thoughts
When you humanize your brand and your company, people feel more connected to what you do. Marketing and sales does not sound robotic and your audience feels like it is talking to real people.
Millions of people are active and on major social media platforms. Many are also looking for products, services, and solutions online. And while having a brand account is important, activating and encouraging employees to get social puts faces to the brand.
Your company's employees are both the window and door to your organization. Don't unleash a bunch of spam bots online, but allow them to showcase their knowledge and personalities on your company's behalf.