The below article is a guest post from Chanell Alexander, a writer for TechnologyAdvice. You can learn more about her at the end of this post. 
What is User-Generated Content?
User-generated content (UGC) is material that is created and produced by the customers a company or organization serves.
For example, instead of a company-produced video with high production value that is marketing a product, user-generated content would be a simple video uploaded from a customer's phone that spotlights their experience with a product.
User-generated content puts the customer in the marketing driver's seat and allows them to become an ambassador for your brand.
This type of content adds variety to a company's marketing strategy by letting customers add their voice to the marketing strategy, and it increases authenticity between the brand and fellow customers.
How does User-Generated Content Benefit You and Your Company?
User-generated content builds trust and allows your brand to embrace authenticity. One of the most effective ways to influence customers is to highlight a positive experience another customer has had with your brand.
According to Octoly, an influencer marketing organization, user-generated content fan videos are viewed ten times more than owned brand content on YouTube.
Also, according to Adweek, user-generated content results in 29% higher web conversions. This content catches the eyes of consumers looking to make their final purchasing decisions. Incorporating this content can directly benefit your company:
Partner with influencers that already have a dedicated following that trusts their opinions and reviews.
Give customers and employees (with audiences large and small) the opportunity to advocate for you.
Build trust with customers who may be on the fence concerning whether to interact with your brand.
It is not hard to understand the benefits of incorporating user-generated content into your marketing strategy.
However, how do you do this effectively? Read on for three user-generated content ideas you can begin implementing right now.
Employee-Generated Content
Humans are more likely to trust another human than a faceless company or value proposition or mission statement. This idea can be expressed in another way: people buy from people. Your customers want to know the faces behind the brand and products.
Note: Edelman's trust barometer research found that company experts are trusted 66% of the time.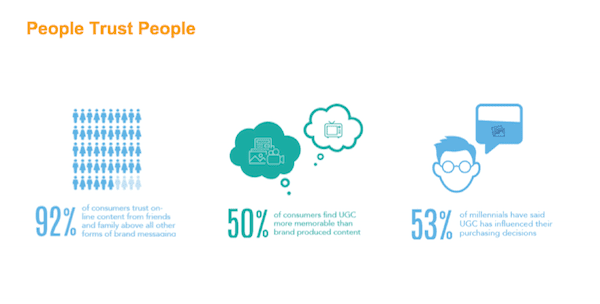 Knowing that you have a happy, creative, and productive team that cares about how the company is portrayed not only increases customer loyalty, but it also makes it more likely that you can attract top-notch talent.
Here are a few ways to incorporate employee generated content into your user-generated content strategy.
Display the culture
Have your employees share information about their day. What are they working on? Did something funny (but appropriate), happen at lunch with a coworker? Is your company participating in a community service day or enjoying a lunch and learn together?
Have your employees share this information on social media and connect it back to your company's values and mission. Be sure to have them create or use a unique hashtag related to your company while tagging the official company account.
Encourage them to become thought leaders
Customers also like to know the people they buy from know a thing or two about the industry they serve. For example, if your company were to sell social media marketing services, it would make sense to have an employee write a blog post about top upcoming trends customers should look out for in social media marketing.
Not only does it build authority with your customers —and ultimately your brand— but it also diversifies your content, so you are not seen as just pushing a sale. And, employees can grow their social networks and can be seen as thought leaders in their industry.
Create support guides
Not everyone will know how to use your product. Thus, creating content that makes their life a little easier goes a long way. Have key members of your staff generate support materials that guide your customers in how to best use your products or services.
This step could be in the form of a colorful infographic, a detailed YouTube video, or an instructional set of blog posts that address one topic at a time. Again, you reveal how authoritative and helpful your staff is by providing content customers can use.
If given the opportunity, employees can be an influential ambassador of your brand to your current and future customers.
Related: Want to get more employees sharing content and becoming brand advocates? Learn how to build an effective employee advocacy program.
Customer-Generated Content
According to the Spiegel Research Center, 95% of buyers read online reviews before they make a purchase. This data shows the importance customer opinion has on buyers as they are moving into the final stage of the purchasing process.
In some way, your customer-generated content should refer customers to your products. This will, in turn, add a word-of-mouth marketing element to your overall marketing strategy.
Here are some ways to begin this process.
Include use cases and testimonials
Go right to the source. Ask your power users and engaged customers to submit testimonials and describe their experiences of using your product. You can find these metrics in your customer relationship management (CRM) tool when you search for high spend or customer lifetime value.
You can include this on a testimonial page or throughout your company's website. The most considerable part of this strategy is making the ask.
Many customers may want to talk about their experience, but may not know how to. So, send a follow-up email a week or so after they receive the product to allow them to do this.
Contribute support information
At one point or another, many of us have had to check out the Google, Microsoft, or Apple support forums. If you have visited, what have you noticed? Consumers submit most of the advice and instructional information.
These companies have created a platform where customers can talk about how they solved a common tech problem or guide users through the process of installing a new piece of software. Allow your customers to do the same with your product.
This will look different depending on your product or service offering, but allow them to contribute user-guides, instructional videos, or helpful apps. These can then be added to a library that other customers can use.
Product reviews
A prevalent type of video on YouTube is the "unboxing and product review video." These are where customers will show all of the items included with the product, discuss how to get it up and running, and include initial reviews about the item.
Take the time to scour YouTube or even social media to see if any videos exist of customers doing this with your product or service. Then, reach out to them to see if you can link to it from your site.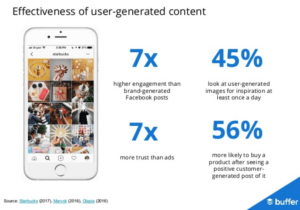 Customers know many of these individuals do not have an incentive to contribute this information, so they are more likely to trust this content since it tends to be unbiased and authentic.
Brand Advocate Content
This type of content is likely to require some initial strategy and legwork on your part, but the results are worth it.
For this audience, it is beneficial to look at customers who have already interacted with your brand (those who have created reviews and shared your content among their followers), and reach out to them to become brand advocates.
Additionally, connect with current employees who are highly active online, whether they are sharing company news, blog posts, posting things about the work culture, etc. They will most likely have more interest in being brand advocates.
Here are some steps to begin developing that content:
Link to social media content that mentions You
Invest in software that allows you to search for mentions of your brand or related keywords on social media. If you do come across these, reach out to the user and get their permission to include this on your website as a testimonial or within a blog post.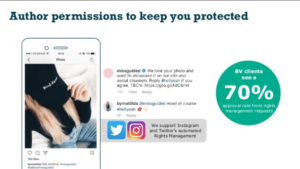 Let your brand advocates take the lead
If you know of customers that are always sharing information about your product or services, reach out to them and allow them to share why they love your offering. Let them take the lead on how they would like to show this and work with them to connect it to your brand.
They can write discuss their experience using your product on social media, contribute a guest blog post, and even share live stream instructional videos.
Give employees a voice
If you notice certain employees that are active and constantly talking about the company they work for, acknowledge their input. Ask them to contribute to the blog to add a new perspective, encourage them to share ideas, and provide an atmosphere where they don't feel forced into contributing.
The goal here is to put the spotlight on your customers using your product and on employees who have the trusted insights on their company.
Related: Learn how Dell encouraged and generated a workforce of 10,000+ brand advocates online to share and talk about their brand. 
Final Thoughts
User-Generated content is one of the most effective marketing tactics to build trust with your current and future customers, and also diversify your company's content.
It takes the focus off of your company and highlights current customers and employees who have direct experience with the brand.
You could have the best marketing strategy in the world, but if customers do not hear of anyone else they know that has had a positive experience with your brand, then it is less likely they'll interact with your company.
Make a practice of connecting with your customers in a meaningful way by sharing your customer's and employee's content and building trust with those on the fence.
About the Author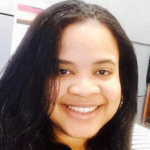 The above is a guest post from Chanell Alexander, a writer for TechnologyAdvice. She is a freelance writer and digital marketing strategist. She has over seven years of experience in the nonprofit field and enjoys blending innovative technology solutions with communications. When she is not writing, Chanell enjoys traveling, contributing to video game blogs, and embracing her inner foodie. See what else Chanell has been up to on her LinkedIn profile.