Below, you'll learn how to amplify your B2B content marketing strategy to help you grow your company's reach, drive more quality leads, and boost web traffic.

You've probably come across discussions as to whether content marketing is a waste of time in the current climate of the internet.
And many of the critics say content is too crowded or it takes too much time to produce quality results. In a way, there may be some truth to those concerns.
Yet, for B2B, content production and promotion can produce consistent results in the long-term if approached correctly.
In this post, I'll cover: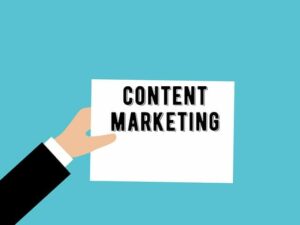 B2B Content Marketing Stats You Should Know
Before we get into some tips on improving your B2B content marketing strategy, I wanted to share some interesting statistics. I'm a big fan of data and having some back up to prove value.
You may already value B2B content, which is great. But, if you'd like some more context to how B2B content is valuable to your company, you'll want to read the below.
Websites with a blog tend to have 434% more indexed pages. (Techclient)
7% of buyers viewed 3-5 pieces of content before engaging with a sales rep. (HubSpot)
B2B marketers that use blogs get 67% more leads than those that do not. (HubSpot)
Marketers who prioritize blogging are 13x more likely to achieve a positive ROI on their efforts. (HubSpot)
Just over half (51%) of business owners report that content management is "very important" or "absolutely critical" to creating a cohesive buyer journey. (Slideshare)
70-80% of users ignore paid ads and only focus on organic results. (Search Engine Journal)
Content marketing generates over three times as many leads as outbound marketing and costs 62% less. (Demandmetric)
Content marketing rakes in conversion rates six times higher than other methods. (CMI)
These are only a handful of some the power statistics that prove why your company should prioritize a B2B content marketing strategy.

How To Amplify Your B2B Content Marketing Strategy
So, how can you achieve consistent and amazing results through your B2B content? This next section will cover the essential tips you need to kick-it-up to the next level and see growing ROI.

Target your buyer persona pain points
A big mistake B2B companies make with their content, is writing really broad blog posts and then quickly say content marketing doesn't work when they see little ROI.
For example: even if your company caters towards marketing folks, it doesn't mean you should write about every marketing topic out there.
If you offer an email automation platform, why are you writing about Snapchat? While marketers may use Snapchat, people who are searching for info on that, 9/10 would not care about your email automation platform. You may get some extra traffic, but it's mostly wasted traffic.
Your content should tie into what the product or service does to help, without being a giant sales pitch either.
It helps to list out who typically buys your services, product, or software.
What are their job duties?
What is their day to day challenges?
What does our company solve for them?
These types of questions can help you start to formulate topics that will not only attract the right people but speak to their pain points. That way if you add a related resource or something about your product, it will resonate better.
Put yourself in the consumers' shoes and with the above info, it will help you determine what information would be most valuable to read.

Don't just target keywords, be strategic
In your B2B content marketing strategy, you may also be targeting specific keywords to rank well for in search engines.
It's natural and has been a practice for years, but if you focus on just that you miss out on giving a great experience to potential prospects.
You may have a list of all sorts of related keywords that would be good to rank in the top 3 in Google, but I find you may lose sight without a plan.
With your keyword strategy, you need to be strategic. That is target both long-tail and short-tail keywords that will have the best impact.
But you also do not want to get caught up in the keyword-only game. Your company's content should naturally flow, answer questions and related variations to your keyword.
Essentially, don't get caught in a purely keyword game. Your content ROI will suffer in the long-run. Which perfectly transitions us into the next section…

Write content that fits into segments of the buyer's journey
If you are in marketing or sales, you should be well-versed in the buyer's journey.
That is, the decisions your prospects make at various stages before becoming a customer. You can read more in-depth info on the buyer's journey here.
But if you are targeting only keywords just rank on search engines, you are doing a disservice to your B2B content marketing strategy. And you're missing a big gap of content that your potential buyers are genuinely searching for.
This is where a close relationship with sales should develop in order to best dive into some content needs.
Now sales will be armed with the content they most need and prospects will easily find info on your company website. You want to be informative, trusted, and seen as the go-to for your industry.

Increase content reach with employees
Besides publishing your content and doing some standard promotion, you'll need help to amplify your content reach. That's where employees from your team can play a huge role.
But not just marketing folks, any department can help or even enterprise-wide. Many well-known brands are adopting this strategy and a program.
"98% of employees use at least one social media site for personal use, of which 50% are already posting about their company. (Weber Shandwick)
By utilizing an employee advocacy platform, your team not only stays informed but also offers various great content they can share easily to their networks. This includes the latest company content, industry news, third-party, and personalized interests from employees.
With paid advertising costs continuing to rise and social media algorithms putting the power into the individual over brands, this can significantly increase your brand reach.

Related: Curious about how employee advocacy can boost your company's result in our increasingly connected digital economy? Here are 27 of the best employee advocacy statistics.

Utilize employee-generated and user-generated content
Generally, your B2B content marketing strategy is probably guarded by marketing and some of the C-suite. Perfectly fine to be the owners, but they are not the only ones with something good to say.
Your employees all offer unique perspectives and knowledge. Your customers also can add valuable insight or knowledge about your product or services. And potential buyers want to hear from other employees and customers.
This type of content adds variety to a company's content marketing by letting customers and employees add their voice to the strategy, and it increases authenticity between the brand and fellow customers.
There has to be some guidelines and it shouldn't be forced on anyone. But your B2B content marketing strategy will certainly get a lift.

Related: Learn more about employee-generated content and how your company can be successful.

B2B Content Results Don't Happen Overnight, Think Long Term
When it comes to B2B content marketing, you can't expect overnight to have amazing results. Sure, you can start to see improvements, but this is a long-term approach.
It's important if you take this on, that your team and leadership is fully aware of this. Think about all the planning, writing, conversations with sales, and the pivoting needed for your strategy to improve.
You're hitting the content breaks, trimming low-quality web traffic, then re-starting the cycle over to attract better quality leads. That doesn't happen at lightning speed.
But. by following the above tactics, your B2B content marketing strategy will be well on its way to delivering some amazing — and growing — results.