It's amazing to think about how many content marketing and social strategies, techniques, and tips there are for companies to be successful.
Yet, with the fast-paced digital environment, most of these become key to reach customers and targeted audiences.
Recently, you may have come across the term employee-generated content or EGC as it is sometimes abbreviated.
This form of user-generated content is highly focused and particularly is important for branding, marketing, and employee engagement.
So what does EGC mean? Is it a trend? How does it work? Why does my company need to adopt it into our strategies? These questions and more will be covered in this detailed guide.
The sections of EGC that are covered include:
What is Employee-Generated Content (EGC)?
Like most new terms or buzzwords, you can probably figure out what employee-generated content is just by the keywords in this phrase.
However, it's still important to define how we view EGC.
Employee-generated content is any form of content that is created and distributed by your company's internal workforce, aka employees.
Content that is generated by employees can be anything from videos, images or blog posts, which may allude to their company's mission, values, and overall benefits of the product or services.
You've probably already heard of user-generated content which we covered recently, but that tends to accompany more on the customer side.
Yet, employees are just as, if not even more influential to the brand and marketing online.
While we'll go into more detail about the benefits of EGC below, there are two key stats that really make the case for it:
92% of consumers trust online content from friends, colleagues, and family above all other forms of brand messages (Salesforce).
Edelman's trust barometer research found that company experts are trusted 66 percent of the time (source).
Yet, many brands are still somewhat nervous about employee-generated content.
Concerns with Employee-Generated Content
Whether you are in a regulated industry, tech, telecommunications, etc. the idea of giving employees more open freedom to share and write on behalf of the brand can be a bit scary.
And it's not that you shouldn't trust your team, because your company has bigger problems if that is the case. However, like any new idea or strategy, there will be some concerns.
Here are a few common concerns with employee-generated content:
Not every employee is a great writer, understands social media posting in the correct way, or can create quality content.
It takes time and resources to train employees who have an interest in contributing and being more involved. Creating content that not only represents the brand well but formulates the right message does not happen overnight.
There is a potential risk of disgruntled employees causing negative brand reputation or even employees accidentally saying or doing the wrong thing via content or social.
While your company can put some controls in place, it is not possible to exactly monitor every person who gets involved at all times. You may be worried about what they might say.
While those are some valid concerns and why many companies may currently avoid employee-generated content, there is a bigger risk: not getting involved at all.
Content and social media go hand-in-hand, no longer can brands ignore it or even block their workforce from being involved.
And employees are already active online, creating and sharing content on your behalf without you even realizing it.
98% of employees use at least one social media site for personal use, of which 50% are already posting about their company. (Weber Shandwick)
And younger generations have essentially grown up into the workforce highly involved in social media and creating content already. Even some of the older generations are too, at a steady growth pace, getting more active.
88% of 18- to 29-year-olds indicated that they use any form of social media, 78% among those ages 30 to 49, to 64% among those ages 50 to 64. (Pew Research Center)
Certainly, a digital shift has been occurring and without adjusting your concerns, your company may get left behind.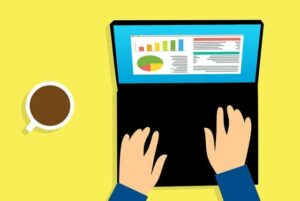 Benefits of Employee-Generated Content
Now that we got some of the common concerns out of the way, we need to explore the benefits of adopting EGC.
1. Employees are the trusted insiders: Your company's employees have the best insights into the organization, specific departments, and beyond. Audiences trust their thoughts and insights more than C-Suite, ads, or other generic forms of marketing.
2. Provides fresh content perspectives and ideas: While marketing is essential to creating content and assets, other departments can bring different perspectives and ideas to content. It also shows your company is open to innovation and providing a culture that allows ideation.
3. Can improve employee engagement: Employee-generated content gives your workforce their own voice. They'll feel more valued, motivated, and engaged when they see other employees are encouraged to get involved with content and sharing content.
4. It can reduce marketing costs: Who doesn't love saving some money? Instead of spending on paid ads to get content seen, you have your workforce to help. Reaching more people organically from people your target audiences and customers are more likely to trust = reduced ad spend.
5. Boosts brand credibility and trust among consumers: When employees are writing and sharing about topics, their company, etc. more people are seeing and trust the brand. Of course, you need a great product or service too, but employees all uniquely talking about their company makes a great impression. Need an example? Look at conversational marketing company Drift.
6. Can potentially help attract top talent: People notice employees sharing and writing about their brand, which shows their love for their work. Others want to work for companies like this, where the company values and trust their employees. It shows a unique work culture, which can help attract a better talent pool.
7. Potential improvement in communications between departments: Communication among employees and departments is key to a good business flow. EGC helps facilitate this as more employees are informed of what colleagues are writing or sharing. This can encourage employees to pay more attention to their company and get involved in various company initiatives.
8. Exponential grow brand visibility: If your company has 2,000 employees and only 10% are involved with EGC, that's still 200 additional people writing, posting, and sharing on behalf of the company to their networks. That means your company message can be seen by different social connections and exponentially help brand visibility grow.
9. Benefits employees too (what's in it for me?): Employees also benefit from getting involved. Besides feeling connected to their company, they help build their own personal brand and get other opportunities like guest blogging, speaking, establishing thought leadership within the company and online, but also new career opportunities.
Related: Dell encourages employees to contribute content, share on social media, and be more involved with the brand. Learn how this combination with technology helped Dell activate over 10,000 employees to share on social media.
Employee-Generated Content Success Tips
Just like any strategy, by setting up a plan, rolling the concept out gradually, and adopting the right technologies, your company can easily benefit and alleviate any major concerns right from the start.
Employee-generated content can play a huge roll in many aspects of your company, but you have to be prepared. Here are a few tips for successful EGC.
Create a strategy that suits your business
Not one company will approach their EGC strategy the same nor should your company copy others. Focus on your specific goals, needs, and mission for getting employees involved. Build the strategy from that before unleashing any content from your workforce.
Start off small, find the right employees
When you launch your employee-generated content strategy, begin with a small group of employees. Find the people who may already be brand advocates, highly active on social, and have subject expertise. They'll be the ones most interested and will be able to set the tone for others to follow.
Have a clear mission statement, brand values, and policies
For employees to be successful and ensure the right company vision, there needs to be clarity from company leaders. There should be a clear mission, understanding of the brand values, and any company policies (like a simple social media policy) to ensure employees don't misstep with EGC.
Don't force EGC participation
As much as getting employees active is desired, not all are going to be interested. Not everyone in your organization cares about social media, personal branding, etc. Additionally, forcing this on employees makes it feel like a chore. Instead, your company should make it clear of their excitement for employees to be more involved, have a voice online, etc. Adoption will be better, but be encouraging and not forceful.
Hold training sessions for those interested
There also may be many employees who are interested but need guidance. This is where training sessions on best practices, the process, etc. can be useful. It would also be good to hold this on some regular cadence, like monthly, quarterly, etc. it will largely depend on the size of your company and number of employees that show interest.
Employee advocacy technology
For EGC to be successful and to have an open dialogue among your workforce, technology will be extremely useful. Employee advocacy software and mobile apps are a place that employees have access to all content, communication between departments, leaderboards for friendly competition and incentivizing, and more. It streamlines everything from social selling, employee-generated content, reporting, communications, and more.
Final Thoughts
The concept of employee-generated content may sound like a trend, but it's becoming more apparent as to how it can positively affect your organization internally and externally.
It's also not a process you want to rush and expect success instantly. Being strategic in your approach and exploring it in a methodical way will greatly improve adoption and results.
Many well-known brands are exploring EGC or already are heavily active in it.
Yet, many organizations are not implementing EGC and should consider the benefits or get left behind in the digital dust.