Anything your organization does — whether online, at events, or even internally — THAT is where you are displaying the brand voice.
I don't need to tell you how important your company's brand is, but it's imperative to develop a recognizable voice and tone.
You want customers, prospects, employees, and general audiences to get it, without being confused or asking questions about the brand.
And while everything companies do, needs to have a defined voice to truly capture audiences, many miss the mark leaving their brand confusing or lost.
But a great way to create a brand that stands out — as well as helps your company build a strategy and make brand improvements — is through the use of social media.
Ready to dive in? Here's what is covered in this post:
What is Brand Voice?
As you know, I love to define the keyword or phrase that we are talking about in a given article. You certainly will have a good idea about the definition of brand voice, but let's all get on the same page.
Brand voice is the selection of words, as well as the attitudes and values of the brand that is displayed to the target audiences, like customers, prospects, and employees.
In simple terms, it is how your company's brand showcases personality to any audience and how it is perceived.
I also see brand voice being split into two divisions, although the brand voice strategy is typically the same for both:
External
External brand voice is how people outside your organization identify your company. Meaning they know your values, mission, identity, and position in the market compared to others.
Internal
The brand voice also applies to the internal aspects of your organization, meaning employees. What and how your brand speaks (audio, written, visual) should be portrayed the same internally. Everyone in the organization should be on the same page about the brand.
Why is Brand Voice Important for Your Organization?
When brand voice is applied well to everything you do digitally (like social media), your company builds long lasting relationships with existing followers and the audience will continue to expand.
Brand voice on social media creates loyal followers who look forward to interactions with your content, if they can relate to your brand messaging.
Here are just some high-level reasons brand voice is so important for your organization.
Helps develop and nurture customer relationships
Helps your company become recognizable and easily identifiable
Your company builds trust and loyalty by delivering a consistent message
Your company controls and shapes the brand narrative
Creates a brand personality that is trusted and portrays confidence
Brand voice helps create a community that rallies behind your brand
Of course, I'm only scratching the surface with the value of brand voice. But, I think you are getting the bigger picture here.
Tips to Develop and Grow Brand Voice With Social Media
Building brand voice can take time and effort to really nail down. But, social media has helped organizations reach more audiences when done right. And that is important for companies that are B2C, B2B, or a combo.
This is why your organization should focus on developing and growing the brand through social media.
Close to half the world's population (3.03 billion people) are on some type of social media (Statusbrew).
Below are some tips to help your company develop and grow brand voice with social media.
What best describes the brand character?
What kind of personality do you want your brand voice to have? These are the characteristics and adjectives that showcase your organization and how audiences view them.
You have to start here, because without that, your company's social platforms will have no defined character. If you revert to the examples below, each has a few adjectives that best fit the vibe they want to be associated with.
Are you going with humorous, friendly, and inspiring? Or professional, innovative, and stylish? Find a set of words or the "how" people might describe your organization and pinpoint the characteristics to find your company's adjectives.
Write and interact like a human
The early days of brands on social being a monotone robot are over.
Your organization needs to treat branded social media accounts like it is human. Whomever is running the branded social accounts, needs to become the brand, but write and interact as a human.
Of course, these social accounts should use the characteristics and adjectives that have been defined, but in a natural and more personable way.
Meaning, avoid complicated terminology and post like you would speak in person.
Here's an example below. Entertaining and humor, plus these two brands interacting like humans = social gold and fuel for their brand voices.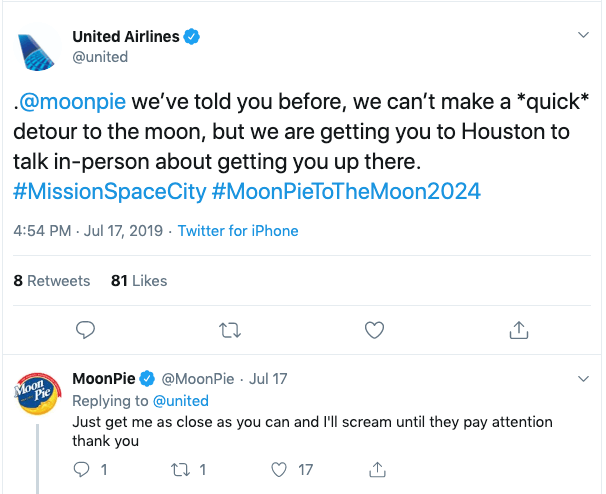 Be consistent across all social platforms
Each social platform is slightly unique in what content works and does not work. But, your brand voice, tone, and look should be consistent among all the social platforms your brand is currently on.
If your organization is large or enterprise, you may have multiple people running social media for your brand. That can generate inconsistencies if everyone is not clear and not on the same page about the brand voice.
Again, back to tip #1. What best describes the brand (characteristics, adjectives) and answer some important questions about the brand that everyone has access to. This way it ensures there are no social gaps for your team(s).
You want a brand voice online that is uniform throughout, while having a catered approach to each individual platform.
Get your employees involved
Not only can employees sharing and being active on social media help develop brand voice, but improves the reach and visibility as well.
You might be thinking, this seems like it would be challenging to get everyone on the same page, especially enterprise companies. But it's easier than you realize with an employee advocacy platform.
This allows your company to become a social business, but also helps employees develop a personal brand. There are a ton of benefits, which I'd recommend diving into our detailed guide on employee advocacy to learn more.
But just note, employees on social is growing and an important strategy for developing and growing your company's brand.
98% of employees use at least one social media site for personal use, of which 50% are already posting about their company. (Weber Shandwick)
Monitor how audiences talk about your brand
While your company and team may develop the brand voice, sometimes it's best to see what others are saying or how they perceive your brand. This can help develop or pivot the direction of the voice and tone a bit.
Listening and engaging on social media are two key areas to developing, growing, and finding that consistent tone for your brand voice.
This is a powerful research approach, too, knowing what people think (good or bad) about your business, products, and services.
Knowing your customers and their thoughts on social media, can help your company dive into their likes and dislikes about your brand and market positioning.
Examples of Brand Voice on Social
As you have read through the intro and the definition, I'm sure some examples of a great brand voice came to mind in your head.
Many of the iconic brands today that everyone knows, has a defined and consistent brand voice that has been beneficial over the years.
But their results also continue because the company has adapted to technological changes, where they ensure their brand is still ingrained. Typically, this is through digital ads, videos, and social media.
Here are a few great examples of consistent and clear brand voice on social media.
Coca-Cola
Coca Cola's brand message is easily identifiable and focuses on happiness and joy. Then they add a consistent tone of voice with that, which is friendliness. It's in their ads, on their website, and very prevalent on their social media channels.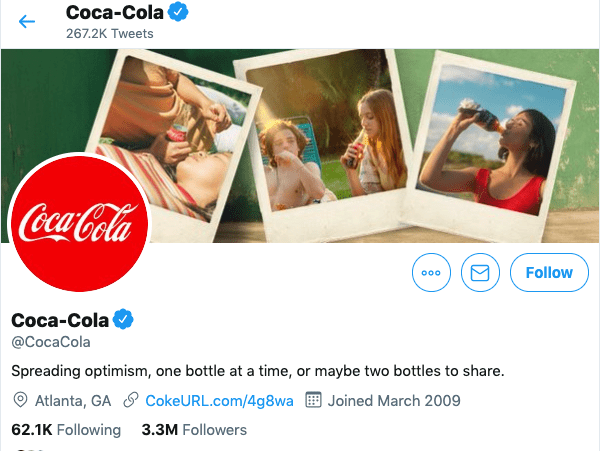 Nike
Three iconic words is really what sets the tone for Nike, "Just do it."
But the brand has continued to value and showcase their brand voice as being bold, inspiring, and to trigger that no matter what, you have to go for it. That has stuck for years and Nike ensures everything speaks to those adjectives on their social accounts.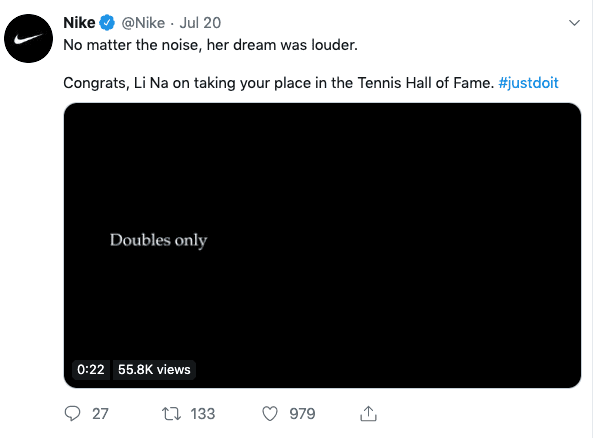 Disney
If there is one aspect to brand voice that Disney understands, it's their consistency of the branding. Whether that is at their parks, their social media pages, or any of the Disney products or movies.
They have defined their own values, voice, and tone that has stood the test of time and will continue for years to come. Plus, they run many various accounts for their brands on social, all carrying their unique voice.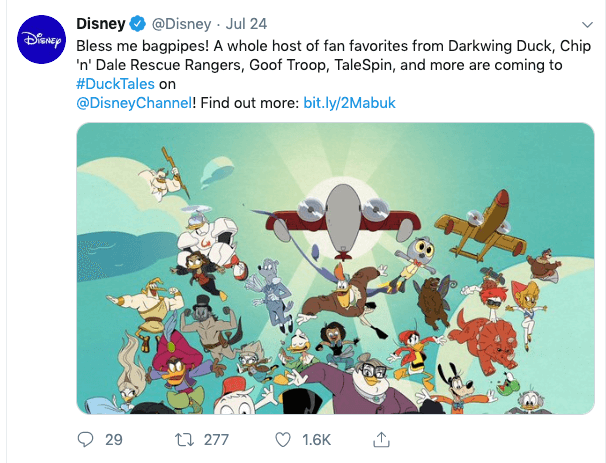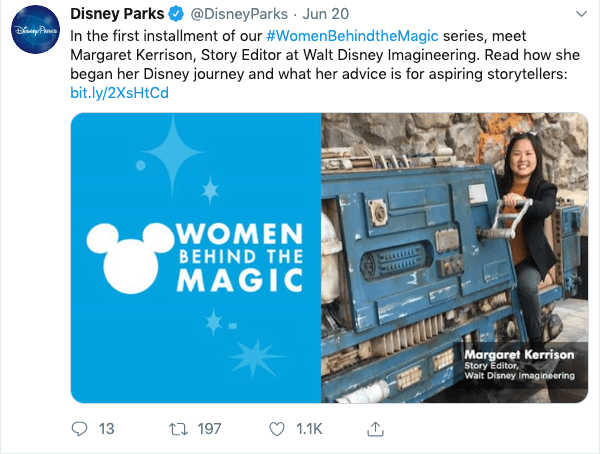 Final Thoughts
There you have it, the inner workings of branding, voice, and tone! As you can see from above, brand voice is incredibly important to the success of your organization.
While it might be challenging to really nail it down, you can use social media to really refine and develop the voice.
Take a look at some examples of above, as well as others that may come to mind and poke around their social accounts for inspiration (if you think your company needs a refresh).