The relevance of employee communications today
In a social-first workforce, employees are already informally communicating internally via Messenger (Facebook), Messages (Apple), Hangouts (Google), Discord, and WhatsApp to name the biggies.
Email's here to stay, and then there's the official office chat tool of choice, often Slack. As anyone in a larger organization has experienced, Slack can become a cacophony of distractions from one's focus-flow, inhibiting deep work.
With the myriad of communication channels humming in any given office, is "employee communications" best addressed with a managerial strategy (forbid, a mere policy)?
Perhaps these terms are inappropriate due to the contemporary employee's constant communication habits; instead of talking about strategies, let's talk about platforms.
But first, a quick personal story…
A brief parable of heavy-handed strategizing for employee communications:
An acronym-mnemonic floating around the internet would suggest that an employee communications strategy should be SMART (Specific, Measurable, Attainable, Realistic, Timely). A previous company I worked for interpreted this heuristic literally and implemented what was essentially a growth-tracking program.
The idea was that by publicly displaying individual benchmarks and goals within the company, internal communication would improve and teams would experience stronger unification.
Stakeholders expressed interest in rolling out Metronome Growth Systems, in all its monolithic grandeur (excuse the designer-snobbery, but the bureaucratic UI was enough to make anyone itchy). Employees avoided the tool like the plague; there was nothing SMART about it.
Six months later, despite all the growth tracking, the same company mentioned faced a crisis of brand identity, typical startup mishaps in tow, and laid off over half of its corporate headquarters employees.
This wasn't a sharp correlation necessarily, but no doubt part and parcel of the general oversight occurring at the time.
Thankfully having moved on before the chickens came home to roost, my team and I still communicate using the informal channels we employed on the job: Messages, Messenger, Hangouts.
The level of direct communication we had established on the job endured — whereas the antiquated top-down growth-oriented strategy had failed to unify teams, employees had organically established their own routines of communication.
Instead of a strategy, what if this company had implemented a communications platform that amplifies the existing rapport of teammates while also integrating with external networks? I imagine there would have been better morale, engagement, and brand advocacy all around.
Internal marketing is an employee communications strategy that can unify a team
Without a sense of ownership and passion for the products-services-brand worked on therein, employees are prone to distrusting their company's external message and advertising expectations.
If employees are rallied around a shared sense of purpose, facilitated by an internal communications program, the brand will radiate meaning from the most luminous and authentic stars: the people who work there.
Motivation, loyalty, and retention all supervene on an internal passion for the brand.
By aligning an internal comms program (either strategy or platform) with an external marketing campaign, the brand is holding its outward pledge accountable to its internal culture and vice versa, enabling an unparalleled level of transparency.
Case in point: IBM's rebranding toward e-business
IBM is a client of ours, so I hope they don't mind me extolling their strategic approach to employee communications (this was before the advent of employee advocacy mind you).
In the early aughts, people were four times more likely to associate "e-business" with IBM than Microsoft, a far cry from IBM's brand sentiment in the 90s which was perceived as lagging behind the pack of proximal competitors.
IBM launched its e-business campaign from the inside out, putting customer research in abeyance — data that suggested consumers would not be receptive to IBM stepping into a position of e-business brand leadership.
By spearheading the rebranding as an internal communications initiative, employees changed the way they thought of their work, products and services, holistically driving the outward message and appearance of the brand in a new light.
Because employees were the vanguard of IBM's internet era brand update, a greater sense of purpose, confidence, and efficacy burgeoned internally.
By using internal marketing as a communications strategy to unify the organization around a new tack, a beneficial self-fulfilling prophecy came to pass: if the organization believes in the new vision, then that's the best chance of realizing the vision; external customer-client-market reception followed suit.
IBM is an archetypal example of how a successful employee communications strategy can not only unify a team but enable two-way branding.
As if the benefits of creating an employee comms program were not sufficiently convincing, there are reasons to fear not having one, namely: companies risk incurring internal resentment when a new initiative responds parochially to external research at the neglect of internal sentiments.
While advertising is fundamentally a method to "find and address a customer concern", without an internal communications strategy that addresses employee concerns, an external marketing campaign will lack sincerity, soul, motivation, and risks falling flat.
Related: Learn how Dell empowers their internal brand and empowers employees as brand advocates through social media. Get your case study.
Whose responsibility is an employee communications program?
If your angle is that of internal marketing, then it might seem sensible to say: marketing. However, this is not always the case, even for internal marketing aspirations specifically.
That said, an initiative is no strategy without research, planning, and trackable execution; whoever is best positioned to oversee these stages as catalysts, should be the ones stoking the pilot flames.
As mentioned already however, with employees already communicating across various channels, a platform such as employee advocacy provides all the tools and metrics to integrate internal comms with external audiences, customers, competitors, and stakeholders.
Related: To understand how employee advocacy enables internal communications, you'll want to check out this blog post.
While focus groups, in-depth interviews, and surveys can all render the internal culture landscape, depicting how information flows between groups, traditional market research methods such as these often require dedicated conductors.
Are these HR maneuvers necessary for a social-first workforce however?
More on employee communications and two-way branding
Employee advocacy is no one's job and with a company-wide rollout, the platform can effectively represent the big picture of what's on people's minds. No stodgy surveys required.
Internal content trends and engagement analytics clearly illuminate how an external marketing campaign could best dovetail with the organic dynamics of internal brand sentiments, evident on the employee advocacy network.
Identifying the internal resisters-and-influencers of any brand related initiative is often the aim of internal market research, however all of these workforce dynamics are self-evident on employee advocacy.
How users are engaging with each other, populating some groups but not others are blatant signals for how employee sentiments will respond to outward-facing initiatives.
Chances are that the internal sentiments fostered on an employee advocacy platform are already projecting an outward-facing brand image.
Not only does employee advocacy enable two-way branding (internal & external), it can facilitate a parallel marketing campaign in full force (employee's advocating via their networks & the company's official campaign).
In many ways, a vibrant employee advocacy program nullifies a communications strategy as a moot point — why plan a party that's already bumping?
But if aligning an internal marketing campaign with an external campaign is in order, then there is no better platform than employee advocacy as it is always positioned from the inside-outward; putting employees at the core of a brand's identity.
Related: Are you ready to build your reputation, reach an audience, and accelerate your career? Download our personal brand starter kit.
Internal communications platform for cohesive brand identity:
How employees care about their brand and how they cultivate it varies between the generations.
Generally speaking and consistent with current research, baby-boomers are motivated by working for respected existing (in distinction to personal) brands, Gen-X workers are motivated by what Paul Adler of USC's Marshall School of Business refers to as the "ethic of contribution" or being acknowledged for their contributions. And Gen-Y (Millennials) seek companies that allow them to build personal brands. (Hinge)
Invariably all three of these generational demographics will be collaborating together in any given organization today, each exhibiting the others' priorities in varying degrees as well (millennials also care about receiving recognition and working for already respected companies no doubt).
When it comes to the active cultivation of brand, a platform might be better suited than a strategy, as there is little question nowadays that socially active employees drive the external perception of the company's identity. This isn't to say that a communications strategy pertaining to brand is not complementary — it's just no longer exclusively a C-suite, HR, or marketing errand.
The employee communications branding matrix
According to researchers at Harvard Business School, the brand is the enduring foundation of a company's identity, and that foundation is constituted by nine components.
Not long ago these nine components were localized within a company's stakeholders and immediate audience, if not literally confined within the walls of the company building.
All that has changed in the past decade however, and every one of these components is contingent upon social media, blurring the distinction between internal and external marketing.
The matrix shown below relates the nine components of brand identity in terms of enabling internal-external communications via employee advocacy.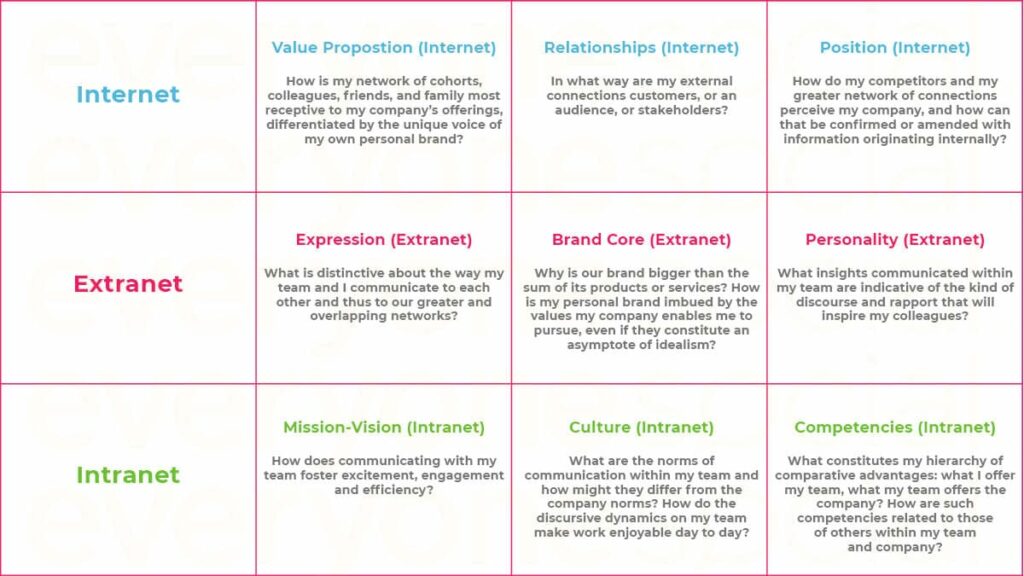 The overarching idea here is that because brands live (or die) on social media, and because 98% of employees are on social and already posting about their company, a communications platform that fosters brand advocacy is more relevant than a strategy alone.
Ensuring how an employee advocacy platform is best calibrated to build the nine components of brand identity is a sufficient application of strategy.
Employee advocacy can align the contiguous nine components of brand identity by leveraging internal communications as an outward-facing channel.
Regardless of the user's age generation, employee advocacy coheres each demographic's respective self-actualizing needs: distinction, contribution, and personal branding. Millennials and boomers get their fill just the same.
Neither exclusively internal (intra-) or in between networks (inter-), employee advocacy is overarching and beyond (extra-).
While the term "extranet" has a somewhat antiquated meaning, it is now apt to say employee advocacy exemplifies the new meaning of an extranet by building a brand from company culture that the greater audience and stakeholders can access and engage in socially.
Request your demo if you need an internal employee communications platform and want to learn more about how EveryoneSocial can advance your brand.