The ever-expanding influence of technology — including the internet itself, obviously — has completely reshaped the marketing world over the last decade, and that's a trend that shows no signs of slowing down.
Now, I'm not saying traditional marketing doesn't still have its place, because it can absolutely be effective. That said, as new marketing technologies emerge, companies must accommodate the shifting landscape by adopting a modern marketing strategy to match.
These days, internal marketing is a crucial part of an effective marketing strategy, and it's something your company should prioritize…like, right now.
This article is going to cover everything you — and your organization — need to know about internal marketing, so make sure your brain is in sponge mode and get to reading!
4 Examples Of Common Marketing Strategies, For Context
You might already be familiar with what's currently going on in the marketing world. If so, feel free to skip to the next section. If you're not, however, here are some of the strategies currently in heavy rotation.
Inbound Marketing: Essentially, it's about attracting customers with interesting or educational content that provides value during every stage of the customer's buying journey. Potential customers commonly find you through channels like blogs, search engines, and social media.
Outbound Marketing: This is a more traditional form of marketing — at least, it's been around longer — where a company actively pushes messaging out to their audience. Outbound marketing focuses more on leveraging traditional forms of marketing and advertising formats like TV commercials, radio ads, print advertisements, trade shows, outbound sales calls (cold calling), etc.
Account-Based Marketing: This strategy is a newer entry, as far as marketing trends go, that's recently gained a lot of traction. The Account-Based Marketing (ABM) approach favors targeting a specific company — AKA, an account — with a personalized message or piece of content. Depending on the marketing program's level of sophistication, extremely specific demographics (or even individual people) can also be targeted. The idea is that the more targeted the effort, the better your results will be.
Conversational Marketing: A more interactive form of marketing, this is a strategy that – as the name suggests – creates a conversation with your audience. Typically, this takes the form of a chatbot (like the one that popped up when you first visited our site), live chat with a real person, voice assistants, etc. The neat thing about conversational marketing is that you can customize how a bot, for example, responds to a given input to tailor the conversation to each individual.
These are just a few options, all of which can play an important role in the success of your marketing strategy. Depending on your industry, you could also leverage influencer marketing, affiliate marketing or external marketing, but I'll let you investigate those on your own time.
Now, on to the good stuff.
As mentioned earlier, one burgeoning form of marketing that's quite important — and criminally underutilized — is internal marketing. Throughout the rest of this blog, you'll probably realize that internal marketing is particularly relevant to B2B companies looking to boost their lead flow and reach a larger audience.
The Internal Marketing Basics
You've got questions, we've got answers. You want to know about internal marketing, and we're a company that specializes in employee engagement, a major piece of this particular puzzle.
What a time to be alive! So,
What Is Internal Marketing?
In the simplest terms, internal marketing is when a company "sells" itself to one of its largest groups of stakeholders — the employees. It often focuses on convincing employees to believe in the company philosophy or mission, thereby improving how engaged they are with their work. 
Internal marketing can also be a powerful tool for things like:
increasing employee buy-in on specific objectives or programs.
driving genuine enthusiasm about the company's product or service.
improving an organization's reputation as an employer.
The idea is that when employees fully support the company's approach to business or plans for the future, they're able to better provide value to potential customers. 
You see, internal marketing theory proposes that customers' attitudes toward a company are based not only on the product or services offered, but also on the overall experience they have with the company.
In other words, current or potential customers' varying levels of interaction with employees in every department of a company (NOT just the customer service team) can shape their view of the organization.
Also, it doesn't matter much whether they're interacting with an employee in person or online via social, email, or community forums. All of these outlets can shift opinions.
Traditionally, HR spearheads internal marketing efforts, but getting your company's marketing leaders involved can help ensure long-term success. Honestly, you'd do well to consider hiring an internal marketing manager — or even hiring a whole internal marketing team at some point — but we'll discuss that more later.
What Are Some Internal Marketing Examples?
As mentioned above, a good amount of internal marketing is concerned with educating employees about the company. Common examples of internal marketing efforts include:
educating employees on the company's long-term goals and values
soliciting employee input on corporate policies or leadership, allowing open dialogue, and accepting criticism without retaliation
nurturing communication and collaboration among employees
ensuring that employees know their contributions matter and are essential to the company's success
opening up the product or services to employees to use and encouraging them to provide honest product feedback
However, internal marketing has grown beyond mere indoctrination efforts and feeble attempts at conversation starters. In fact, we feel that the definition of internal marketing should be revised to encompass transforming your entire workforce into an extension of your marketing and sales teams.
The simple truth is this: The key to effective internal marketing is getting your employees involved in the whole process. That leads me to my next point, actually.
Want expertly crafted content to help refine your marketing, social selling, and recruiting strategies? Sign up for our newsletter and get a copy of our Personal Brand Starter Kit. 👇
Taking Your Internal Marketing To The Next Level
Generating quality leads and closing more deals is always a challenge, particularly in the highly competitive B2B space. Furthermore, getting your brand seen online becomes tougher as companies pump out more and more content.
In other words, it's incredibly easy to watch your stuff get buried in the endless avalanche of information — even if it's actually great content. But for all their talk about budgets, initiatives, or strategies, marketing and sales teams forget about one specific resource distressingly often: employees.
"Studies have shown that 74% of new age buyers are doing their research online. In this scenario, the 21st-century seller needs to raise the bar with relevant customer interactions and aim for higher levels of engagement." (Source).
The above quote is exactly why it's so important that you use internal marketing to ensure your people genuinely believe in the company's mission and values.
Employees should be seen as the most trusted sources available. After all, weren't they hired for their skills, work ethic, and enthusiasm for getting the job done?
Diving a little deeper with some statistics relevant to internal marketing:
A Nielsen study showed that 84% of people trust recommendations from friends, family, colleagues over other forms of marketing. (Source: Nielsen)
Brand messages reached 561% further when shared by employees vs the same messages shared via official brand social channels (Source: MSLGroup)
Content shared by employees receives 8x more engagement than content shared by brand channels (Source: Social Media Today)
These show that for your company to fully leverage internal marketing, employees need to feel empowered to talk freely about the brand online.
Three actions that are key to effective internal marketing:
Once a workplace culture is solidly established and you've conducted some basic social media education or training, your company needs to trust people to talk about the brand openly online — wherever that may be.
Actively encourage employees to share on social media! It helps improve relations with current customers, and the valuable insights your employees share can encourage prospects to trust the company more overall.
Continue to engage employees. Staff who believe in the brand and are trusted to be its human voice naturally become brand ambassadors who can vouch for the business and its product, both on company time and off. Consequently, activating them with a strong internal marketing strategy can greatly improve your online visibility, increase lead quality, and bring more traffic to the company website.
Building An Internal Marketing Strategy
Of course, to enact any good strategy you'll need an action plan. Trust us; it means you won't be flying blind, plus you'll have something to reference when evaluating the program's effectiveness later.
If you follow the steps below and ensure that your tactics are carefully (and comprehensively) laid out, you'll be well on your way to building a solid internal marketing machine within your company.
Assemble your team.
Getting your HR leaders in on this right away is important for establishing processes and communicating with employees en masse, but, as mentioned earlier, you'll also want to involve the marketing team and department leaders who truly understand the brand.
These leaders will help establish the desired work culture, communicate the company's mission and sell their employees on the product or services. Before you start anything else, get your team leads on board.
Evaluate any current internal marketing efforts.
Generally speaking, whether there's a formal strategy in place or not, some kind of internal marketing is probably happening within your company. Unfortunately…if there's no strategy, it's also probably not particularly effective. But hey! We live and we learn, right?
Now's a good time to identify and assess anything that could be considered an internal marketing tactic. Consider surveying all your employees to see what they know  — or don't know 😬 — and determine how they view the company.
This'll show you what's working, what isn't, and how you can make your internal marketing more personalized. From there, you can begin to correct any branding gaps.
Align marketing messages and provide training sessions or open forums.
After wrapping up the information-collection stage, you'll be able to get everyone on the same page with some refreshed and realigned marketing messaging.
Of course, you want employees to add their own personal touch when talking about the company, but be sure to equip them with a similar ground-level perspective on the product and services.
This is where non-required training sessions and open forums can come into play! Creating opportunities for employees to freely suggest ideas, ask questions, or offer criticism without fear of consequences will massively increase trust and communication within the workforce.
Plus, it allows company leaders to share marketing materials and personally encourage everyone to advocate for the brand online.
Make it easy for everyone to get involved.
To reiterate, a major focus of internal marketing is allowing — and actively encouraging — employees to engage and share online via social, email, chat, forums, etc. This is also how we typically define employee advocacy, which is an essential part of internal marketing these days.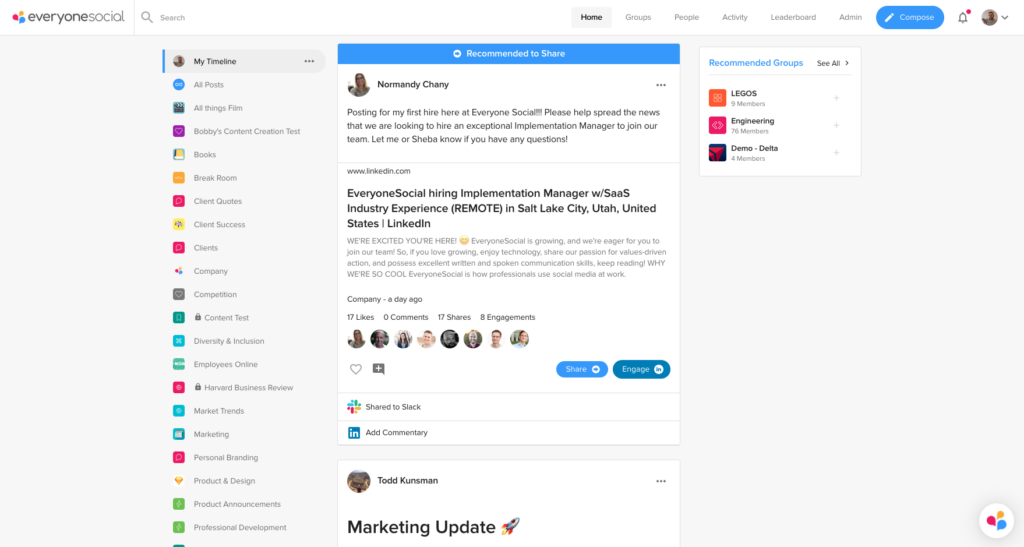 Many organizations will just send out an employee newsletter with a bit of content and the latest company updates then call it good, but those tend to get buried…or ignored.
Employee advocacy programs reduce the barriers for involvement, particularly in companies of 200+ people, and they're crucial for effective internal marketing.
Essentially, these platforms function as a central location for hosting marketing or sales collateral, fresh company-branded content, stuff from third-party sources, employee-generated content, and company announcements (of course).
Best of all, employees can share all this straight to their networks from within a single platform.
After you launch the program…keep working!
Even after you establish a formal internal marketing strategy, build a strong work culture, get your employees on the same page (and activate them online, on behalf of the brand), you'll still need to be open to receiving feedback or potentially altering your tactics.
Continue to provide training opportunities or meetings for open discussions. Adjust processes if something breaks or you continually encounter negative feedback. Keep your employees in the know and take their opinions seriously.
Lastly, re-evaluate as often as needed. Don't get too comfortable, even in success, because that's when mistakes are missed and opportunities for improvement are squandered.
Some Closing Thoughts on Internal Marketing
When employees believe in the brand and are engaged in your company initiatives, they're likely to be more motivated, more loyal to the organization, and more able to advocate for your company message.
I would go so far as to say establishing an effective internal marketing strategy is essential to the success of your company's brand. When employees are uninformed or unenthusiastic about the company, it creates a huge gap between them and your customers or prospects.
Remember: The benefits of internal marketing have grown far beyond HR programs and communications initiatives. Potential customers now conduct their research online, and your marketing leaders can help other employees get involved in the conversation.
Hopefully, this blog has helped shift your perspective on internal marketing – because it really should be prioritized within your company.
Dell focused on internal marketing by encouraging employees to get active on social media, sharing on behalf of the company. Learn how the tech company got 10,000+ employees to engage as active marketers and sellers.