Although we have just moved into 2018 a few weeks ago, G2 Crowd released their Fall 2017 Brand Advocacy Grid Report with EveryoneSocial reaching the "High Performer" level.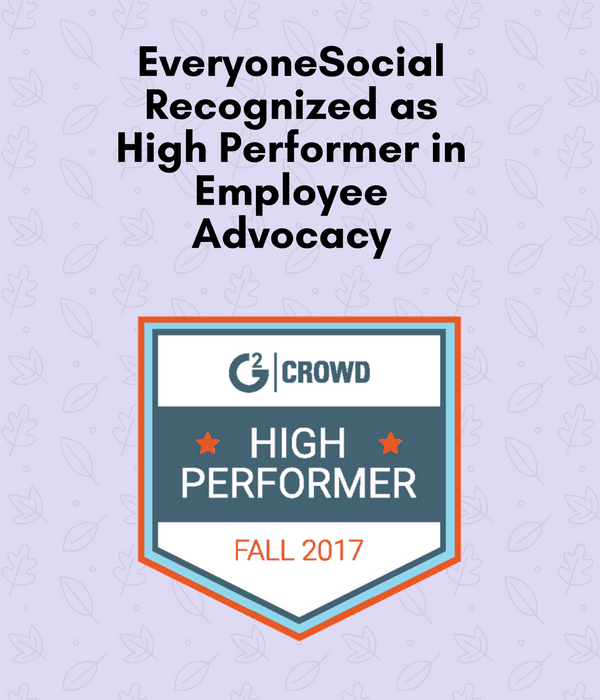 This is extremely exciting and validating for our team, who have worked hard over the years to establish a great product and excellent customer service.
It's also humbling to see positive reviews that came from such established companies, who took the time out of their busy schedules to provide the EveryoneSocial team with valuable feedback.

Highlights from the report:
We are listed in the Top 5 of the highly rated overall brand advocacy software category (which is a fairly broad set of software providers).
And although we are in the 5th spot, our overall satisfaction percentage scores are higher than two of our competitors listed above us.
Additionally, we are #2 number under the "Enterprise" section for companies of greater than 1000 employees.
Here are a few review highlights from our current customers:
"The app, site and bookmarklet/browser extension that EveryoneSocial offer are great, but the real highlight here is the team itself. From our initial contact with the Sales team, through to implementation and ongoing support from our Success Manager, the team at EveryoneSocial have been incredibly responsive and helpful. ES has made changes to the platform to suit our needs and are always willing to take feedback on board." – Hazel O'Keeffe, Global Social Media Analyst at Arrow Electronics

"One of the best parts of my experience with ES is their willingness to consider, and often implement ideas or requests we have to help make the app better for our users. Most of the time, they've already thought of it, too, so it's already on the roadmap!" – Tiffany Lee, Talent Brand Manager at HomeAway

"Powerful tool to turn our colleagues into social media advocates. The best feature is the capability of creating different content streams, along with third-party sources." – Abraham Geifman, Head of Digital Marketing Latin America at SAP

"I love how easy to use the tool and the vast functionality that it has over its competitors. My favorite part of the experience is working with our Account Manager, Chris. He is the game changer! He is very responsive and helpful." – Tiana Noveen, Social Media Expert at Adobe

"What I like a lot is the opportunity to share content in different channels at a time; The tool is very quick and easy; no need for special training on how to use the tool; can schedule content shares; Various reporting capabilities" – Iskrena Bliznakova, Global University Talent Acquisition Program Manager at Micro Focus

If you use our platform and have a few minutes, we'd love for you to leave a review as well. You can review our platform right here.
Or if you are interested in learning more about our employee advocacy and social selling platform, schedule your own personal demo of EveryoneSocial.

About G2 Crowd Reviews
If you are not too familiar with G2 Crowd, they are a business software review outlet that aggregates all the customer reviews and summarizes the results based on its own scoring system.
The idea is that products with the best reviews get the higher nod in their "performance grid."
The brand advocacy category is a broad mix of software companies, whether focusing on our industry of employee advocacy or in the customer advocacy space.
One thing to note with G2 Crowd: since it is based on reviews, if no one is leaving any feedback, it's hard to have a higher score or even be ranked on their grid.
That's why after a few years of our product being out, we encourage our users to leave feedback (whether positive or negative).
Of course, we love seeing positive reviews and that our customers highly value our product, but these reviews help our team see what users are thinking and adjust if we need.
With software, it's easy for the in-house team to overlook something that a customer might easily notice or have a recommendation about.
These reviews help our team continue to improve the product, see what we are doing well in, and where improvements can be made.
And while many companies may try to hide or ignore reviews and feedback, our team reads each one and takes any feedback seriously.
Additionally, we never ask for customers to only provide positive feedback for some incentive. We encourage honesty in the review, even if we might not like what they have to say.
Fortunately for us, we have a lot of positive and encouraging feedback which continues to motivate us in providing the best product and service possible.
Another reason for us to encourage reviews is it informs other potential companies about our product.
G2 Crowd has become a popular website for people to search for software solutions and without reviews, we may easily be overlooked when we are actually the perfect fit.

Thanks to everyone who has left us a review and continued to support EveryoneSocial in 2017! We have some exciting plans for 2018 and looking forward to helping your company grow. Stay tuned!