Account-Based Marketing, B2B, & Employees
Take your account-based marketing efforts and strategy to the next level by leveraging your company's workforce.
Over the last few years, the evolution of how B2B marketing and B2B sales work has shifted into new and exciting directions.
One of the biggest challenges for both departments is increasing leads, the lead quality, and being able to close more deals to increase overall company revenue.
According to research done by the Rain Group and ITSMA, "the number one challenge companies face when trying to generate leads is finding a strategy, tactic, or offer that gets the attention of potential leads. Of the 845 B2B services professionals polled, 42.1% said this was extremely or very challenging."
I'm also willing to bet some of those companies that are comfortable with their process, could actually be improving their overall success with a strategy that includes account-based marketing.
The tactic of account-based marketing (or ABM as it is typically abbreviated) has been a hot topic in the B2B marketing and sales world for the last few years. See Google Trends image below.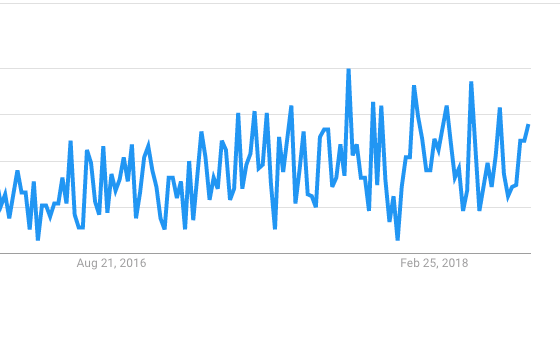 For a while though as this strategy started gaining traction, many just saw it as a trend or fad. But it has quickly become more of a common practice and strategy that B2B companies are focusing resources on.
And rightfully so.
Yet, when we think about account-based marketing strategy, we also miss out on a key element that can amplify the effectiveness even further: employees.
Of course, marketing and sales team are typically involved in the ABM process, but for B2B companies, getting other employees (if not all) involved can really drive ROI.
We'll cover some of the important aspects of ABM and how you can amplify your ABM strategy with your company's employees.
What is Account-Based Marketing (ABM)?
Although you may be familiar with account-based marketing, it's always good to define it and re-visit the term.
This strategy is focused primarily in the B2B space, in which marketing and sales teams work together to target their best-fit accounts and turn those accounts into customers.
The standard model in marketing has been the "one-to-many" approach, where now with ABM it's on a "one-one" basis to provide a more personal touch and one that focuses on individual needs.
Terminus, an ABM SaaS platform, puts it best:
"The traditional B2B sales and marketing funnel is broken. In its current form, B2B marketing takes a broad approach to lead generation with the goal of capturing as many leads as possible. The inherent issue with this approach is that the funnel gets smaller towards the bottom, so the vast majority of B2B leads — over 99%, according to Forrester Research — never become customers."
Because you've identified companies and key personas, your better able to tailor ads specifically to them, create personalized web pages and content, direct mailing, and more that will help your sales team have a better response rate when it comes to making a sale.
So does this tactic work?
According to Alterra Group, 65% of B2B marketers agreed that ABM provided significant benefits for attracting new clients.
About 85% of marketers that measure ROI describe account-based marketing as delivering higher returns than any other marketing approach (ITSMA)
However, pending the size of your company and the number of resources, account-based marketing might not be for you. Typically larger and enterprise level B2B companies benefit from account-based marketing more, but this is not to say smaller companies or businesses in B2C cannot find success either.
Looking for some account-based marketing examples and tactics? Here is an ultimate list of 22 ABM tactics your company can try.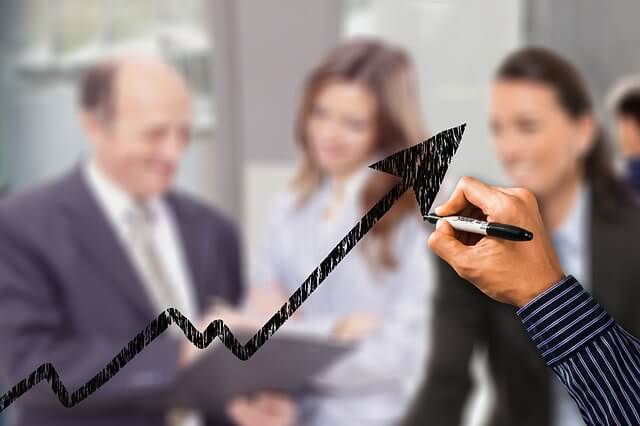 Why All Employees Should be Involved in Your Company's ABM Strategy
With ABM, your company will tend to leave this to just the marketing and sales teams to implement and be involved in setting up.
However, if your company is utilizing the account-based marketing approach, then your company can benefit from getting all employees involved or at the very least, other various departments.
Getting more employees involved than just the marketing and sales departments can greatly increase the effectiveness of your account-based marketing strategy and help shorten the overall sales cycle.
With any great ABM approach, complimenting it with employee advocacy tactics will amplify your results and ROI.
Employee advocacy is simply getting your company workforce active and engaged in social media consistently, sharing content, and "advocating" on behalf of the company.
Because account-based marketing is about the personal connection and making the marketing and sales efforts more authentic to persons specific needs, employee advocacy is a perfect match.
As marketing runs their specific campaigns, getting employees into the social mix not only draws more traffic and potential conversions but maximizes the impact of the brand name in front companies/people at those companies.
Here are a few ways employees help account-based marketing tactics:
Keeps company content and industry third-party content in front of more people: This could include people on the targeted ABM list or new companies that would also be a good fit that was previously not identified.
Humanizes the brand and marketing: Again, ABM is about the personal and "one-to-one" marketing. When employees are sharing and adding their own thoughts to the content and social shares, their networks are more likely to engage and trust the information because it feels personalized and not coming from a corporate social account.
Brand awareness grows exponentially: The more employees sharing content, the greater the brand reach. More than likely your targeted accounts for ABM will also see or come across the content or brand. Even if they didn't engage at the time, this amplifies other ABM tactics because the brand will be familiar or be recognizable to them already. They might not be in your ABM targeted list either, but it's also a great way to identify new ones.
Ready to build your own employee advocate program? Learn how to turn your company's workforce into a social media powerhouse with this guide.
Examples of Utilizing Employees in Account-Based Marketing
Although sales and marketing should get involved in employee advocacy, they will also be pivotal in setting up the account-based marketing strategies. However, utilizing other employees and involving them in ABM will benefit the entire efforts and help ROI.
It's important to note in order for employee advocacy to work within your ABM process, to ensure employees are not being forced into anything or required to participate.
Instead, be encouraging, explain how getting involved not only benefits the company but helps their own personal thought leadership, and more.
Below are some ideas as to how to utilize the rest of your company workforce for ABM effectiveness.
Videos to prospects that introduce employees & culture
Helps put faces to the names and adds the personal element of the workforce culture.
Video engagement and video content, in general, is a great way to generate engagement and responses. Getting other employees involved, personalizing the message to include the prospects name or company can be a great introduction. Even better, if the employee will be involved with the services your company will provide before a deal is closed.
Help cultivate relationships with target accounts
Organizations can assign employees the responsibility for cultivating relationships with specific buyer personas at the targeted accounts.
Just like mentioned above, you do not want to require or force an employee to do so (they may already be very busy or feel uncomfortable doing so with their networks, but allow volunteers to get involved. Identify brand advocates who would be most likely want to do so).
We often overlook the potential relationships other employees in organizations may have into your target accounts. This can help with introductions and make a sales conversation much easier to have.
Adopt an employee advocacy platform
Many organizations with a few hundred to 10,000+ employees utilize employee advocacy software. If your company is using ABM for marketing and sales, then employee advocacy software will enhance it further.
This software is essentially a newsreader for all your content and a place for all employees to have access to, while they can then share said content to their social networks.
Admins can tailor the social messages to include mentions or hashtags that could be used to target the accounts your company is after.
That's also in addition to helping your company marketing reach and there is also a good chance of overlap between employees social networks as well. Again increasing the odds of a positive response rate for ads, emails, and your sales team closing deals faster.
The whole point of employee advocacy is to grow your brand reach, increase quality leads, and close larger and more deals. This complemented with your company's ABM will impact results quickly.
Final Thoughts
By now, your company should actively understand account-based marketing and should potentially be including the tactics in your marketing and sales strategies.
ABM will not make sense for every company, but if you are in the B2B industry at a company with over a few hundred employees, it will probably be an effective strategy to start implementing.
Yet, when you do think of account-based marketing, typically it's the sales and marketing teams that are pursuing this strategy and get the most attention.
But to enhance your ABM further and increase success rates, getting most, if not all your company's employees involved will be beneficial.
The workforce getting more involved in social media, sharing content, and boosting the brand only helps grow your marketing and sales results because they are your most trusted resources.
See how employee advocacy is the perfect complement to your account-based marketing strategy. Schedule your demo and learn how your company's workforce can become powerful marketers, sellers, and recruiters.