One of the best places for organizations to grow their social media reach is on LinkedIn.
LinkedIn has become a mega-platform for employees, customers, and your potential prospects. As such, your organization must dedicate time to mastering LinkedIn, or risk missing out on all of its great benefits.
Below, you'll learn why LinkedIn is important and the steps to grow your company's social media reach on this platform.
Why Should Your Organization Focus on LinkedIn?
Whether you work for a B2B or B2C company, LinkedIn has plenty of value for either.
However, B2B has the biggest advantage when it comes to growing the brand and reaching people.
While there are plenty of social networks your company might be focused and active on, LinkedIn is probably the most important fuel for your branding and social media reach.
People are on this social platform to look for company info, get educational content, learn what others are doing with their niche and profession, reviewing and researching products, looking for open jobs, and developing their professional growth.
Look at your LinkedIn feed or any company profile pages.
You seldom come across random memes, political jargon, or social junk. Generally, everyone is here for career and professional reasons.
Granted, some peoples' careers depend on memes-jargon-junk, but not most of us; LinkedIn is for most of us professionals.
So why should your organization give attention to LinkedIn?
Well as of writing this post, LinkedIn has 645+ million users in more than 200 countries and territories worldwide according to their about page.
And besides that, here are some stats about the social platform that are interesting:
How LinkedIn Benefits Your Brand
Besides understanding that LinkedIn is where audiences are and the sheer size of the platform, how does being active and sharing content on the social platform help your organization's brand?
Here are a few benefits you'll start to see:
Grow visibility brand visibility
Having a LinkedIn Company Page and active employees sharing about your brand is a great way to gain attention.
Lead generation
Because people are looking for information and research your company's product or services, LinkedIn is a great way to attract new customers.
Building your brand as a thought leader, while showcasing how you care about customers and employees helps attract people interested in doing business with your company.
And with this comes better sales opportunities, helping push deals along, driving more web traffic, etc.
Helps your company attract top talent
People love great brands and companies who genuinely care about their product, services, and team. Showcasing and sharing consistently is a great way to increase the talent pool of interested candidates.
79% of job applicants use social media in their job search. (Glassdoor)
Have a direct line to connect with customers and employees
Of course, the main attraction is driving more potential buyers are keeping prospects informed.
But you can't forget that your customers and employees still want to be connected to the brand too.
Posting and sharing on LinkedIn is a great way to keep everyone engaged and showcasing the company expertise to everyone.
How to Grow Social Media Reach on LinkedIn
Now that you see why LinkedIn is such an important social network, how can your organization stand out and grow its social reach?
With so much content, companies, and active people on the platform, it can be hard for your brand to be seen.
But, by following the below steps and best practices, your company will be well on its way to enjoying the impactful benefits.
Develop a steady posting schedule
Your marketing or social media team must work on developing a consistent posting schedule from the company LinkedIn page.
Similar to how content marketing should work, where you have set days for posting, social media works the same.
You don't need to post multiple times a day, but you should look at anything from 2-to-4 times a week. And be consistent with the days you post.
However, you might want to experiment with what times of day and what type of content you want to post in order to find a rhythm.
Add value with every post
Well, duh! Right? But you'd be amazed at how many organizations do not add value or context with the content or things they share on LinkedIn. Often, what you'll see is a small sentence of text and a link to an article.
Even if the content is strong and has a great title, it's not very enticing to click. Nor does it look like the company is putting much effort into it. And that will show.
With anything your company shares to LinkedIn, ensure the tone and brand voice is being used. Add value to why this is cool, what it solves, invoke thought, etc.
Put personality behind it, make it worth engaging with, and make it sound human, just not like a social scheduling tool. Write, don't rote (:
Use various content mediums
Similar to adding value with every post, your company should focus on various content mediums. It gets pretty stale when someone views your company page and all the updates are just links to a post with a line of copy.
Plus, social algorithms want to keep you on the platform, so sometimes if your link shares aren't getting much engagement, the content can be buried in audiences feeds.
Upload videos and photos, write content without links, etc. Make your company's page an unforgettable feed of various types of valuable content.
Avoid overly using sales content
LinkedIn is certainly a great place for sales teams and social selling — if done right. And occasionally, your company should showcase product or service focused content.
But your LinkedIn presence should not read like a sales pitch with every post.
Share educational content that teaches your target audience, showcase employees and customers, create content about your work culture, use third-party content related to your industry, etc.
Activate employees to share and create
Your company page and activity is one thing, but don't leave out employees sharing and creating content too!
This is called employee advocacy and programs like EveryoneSocial assist in providing a central hub for employees to have access to content, sharing to their networks, and also creating content to share too.
On average, we have found that employees who participate in employee advocacy grow their social networks by a minimum of 10% each year.
Already have 1,500 social connections when you start? (1,500 is right around the average number of connections per employee). That means you will have at least 1,650 connections by year-end.
So a group of 1,000 employees each with roughly 1,500 connections has a combined network reach of 1,500,000. Growing at 10% per year that network would increase to 1,650,000 by the end of the first year.
There are plenty of benefits of Employee advocacy, so feel to check out this guide to learn more about launching a program.
Actually build a social community
Sharing and creating content might be the main actions, but you should also be building a social community around your brand on LinkedIn.
This entails engaging with people on your content. Liking people's responses, comment or reply back to questions, and genuinely communicating with those on your page.
This can encourage others to be more active and look to your brand to be impact.
No longer is your LinkedIn presence just a way to spam your product or services, it is a place of community around your niche and expertise. Look for every opportunity to come across friendly, insightful, and human.
Use mentions and hashtags in social copy
Most companies understand this and use it, but again, you'd be surprised how many still neglect these items to build social reach.
Using mentions helps you tag co-workers, employees, influencers, and customers. This can help drive social engagement, brand reach, and create more interactions on your content.
Many people will re-share to their networks, which can be an untapped market for your brand.
LinkedIn always uses hashtags, which helps people find relevant information and content they might be interested in. This is a great way to guide your targeted audiences too your content and helps you appear in trending conversations of hashtag feeds.
Remember not to overdo it or tag people like crazy all the time, our people will get annoyed and feel your brand is spamming.
Monitor results from LinkedIn
When you work on expanding your company's social media reach on LinkedIn, you should also be monitoring the results.
On your company's LinkedIn page, there is some google data that flows in to help you make better posting and content decisions.
You can analyze the characteristics of your followers and visitors such as their titles, roles, seniority, industries, geographies and more.
This can help you determine how your content is resonating and what industries of people you might be attracting. Plus, you can see how your efforts and updates are contributing to brand attention.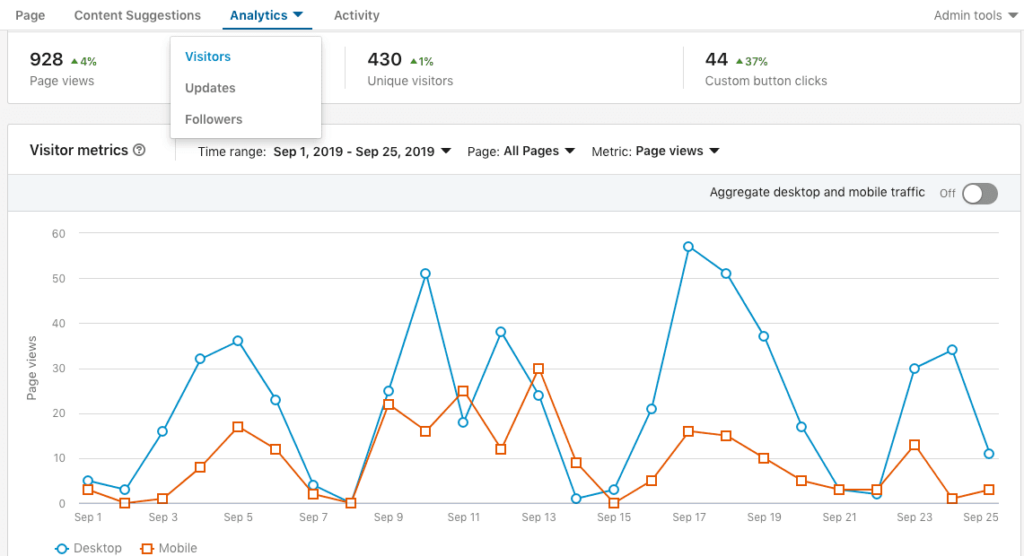 Final Thoughts
Whether you are a large company, an enterprise brand, or smaller startup, expanding your social media reach on LinkedIn is going to be valuable for your business long-term.
And If your organization does not dedicate time in building a strategy, creating quality content, or getting employee advocates involved, you'll quickly be left behind the competition.
By following the steps above and providing real value, you'll start to see some serious brand reach and exposure from your social efforts.