Ah, election season. All of our social feeds are awash with the rantings and ravings of otherwise mild mannered friends, family members, coworkers, and acquaintances. Seems safe to say that this season is particularly intense: the combination of highly polarizing candidates and the largest digitally connected electorate in human history.
While it's common sense not to mix politics (or religion) with business, some people just can't seem to help themselves. In my role as CEO of EveryoneSocial I'm very regularly in contact with investors. It's unavoidable; even when you're not looking for investment, it's important to keep relationships warm, make new connections, etc.
While none of my recent investor conversations have included any overt discussion of politics, one group I keep on my radar (they're not investors in EveryoneSocial) has gone all-in. As shown in the Linkedin post below, they decided to use the homepage of their website to express their feelings about the presidential campaign.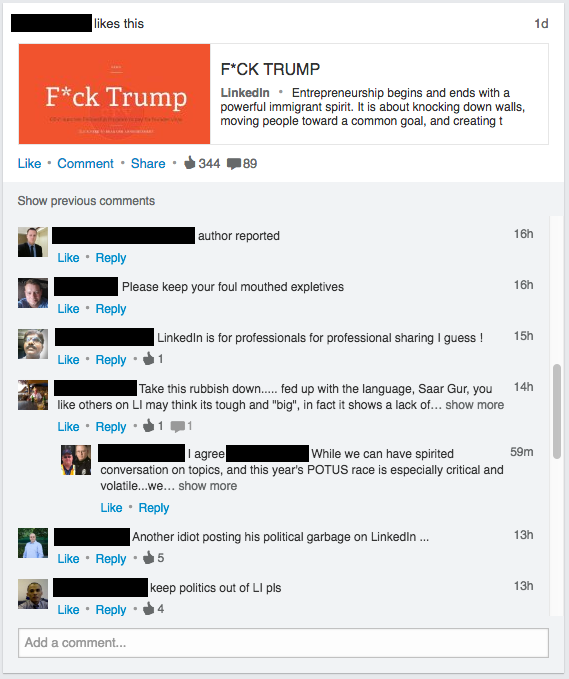 As you may know, especially if you've lived in the Bay Area, the tech industry (minus severe outliers, such as Peter Thiel) has a reputation of public support for a certain breed of politician, but this is something entirely new. An established venture capital firm drawing a line in the sand (with an F-bomb no less) on the homepage of their website. The companion blog post (where you're taken when you click the link on their homepage) makes it even more clear: if you don't share their viewpoint, don't even think about getting in contact.
Regardless if you share their viewpoint or not, it made me think about all of the people I've been fortunate to know over the years, especially those who've had some impact on my life, personally or professionally. Without exception they're all different, with different backgrounds, viewpoints, and experiences. There's no question in my mind: if I only pursued relationships with people who shared my viewpoints (assuming you could even do that), I wouldn't be anywhere near where I am today. Nor would our company.
At EveryoneSocial we work with many of the world's largest organizations to help their employees leverage social media. One of the most rewarding aspects of our business is seeing what a multitude of diverse people from across the globe (we have users in over 60 countries) can achieve for themselves and their companies when they're willing to openly engage with others. It's an example of the power of social media: no matter who you are, you have the opportunity to develop a relationship with people who can have an impact on your life.
It's through embracing our diversity that we're able to work together and make great things happen.  In the words of Antoine de Saint-Exupéry:
"He who is different from me does not impoverish me – he enriches me. Our unity is constituted in something higher than ourselves – in Man… For no man seeks to hear his own echo, or to find his own reflection in the glass."
Something for all of us to think about, especially as we get closer to Nov 8th.

[ca-sidebar id=5537]