Corporate Communications + Employee Advocacy
While employee advocacy can benefit many different aspects to a business, it's often not mentioned as to how it can improve overall corporate communications.
For many Fortune level or enterprise companies, corporate communications can be a challenge and generally, there might even be a few employees specifically hired to help with this process.
Yet, by implementing an employee advocacy program, corporate communications can quickly benefit and improve the communication between corporate, employees, and the public.
Before we dive into how it benefits corporate communications, let's quickly define the term and what is involved.

What is Corporate Communications?
Now, if you are reading this post you might be quite familiar with corporate communications, but it's important to still clearly define the term.
Corporate communications is a set of activities that help internal and external communications, to improve trust, credibility, and positive views of the company.
This entails the messages corporate portrays and shares with audiences like employees, media outlets, partners, public, and even the stakeholders.
While many large and enterprise level companies will have a team dedicated to this mission, enabling an employee advocacy program alongside the team can boost the overall efforts.

Learn how an employee advocacy program can benefit corporate communications below.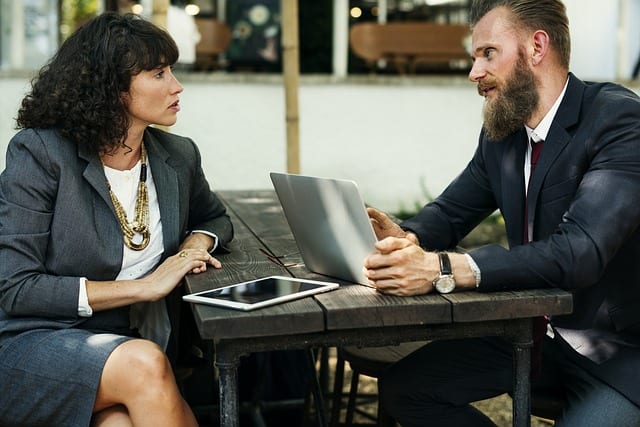 Improves corporate branding
If there is one important value to any corporate company and its leadership, it is the importance of the overall brand.
If the branding is weak, has a negative view, appears shady in anyway, or treats employees poorly, this will only harm your brand, and of course, revenue.
It's why so many companies focus on their branding.
Yet, a great way to continue improve corporate brand is through an employee advocacy program.
This internal tool helps get employees more involved with sharing branded content and third-party content related to their specific industries.
Along with that, it continues to encourage social sharing, allowing employees to reach their connections who may not be as familiar with the brand.
Thus, creating consistent brand visibility and reaching, even more, audiences exponentially.
Why is this important?
84% of consumers' value recommendations from friends and family above all forms of advertising – and additionally, 77% of consumers are likely to make a purchase after hearing about it from someone they trust (Source)
Brand messages are re-shared 24 times more frequently when distributed by employees' vs the brand (Source)
Brand messages reached 561% further when shared by employees vs the same messages shared via official brand social channels (Source)
The corporate brand is viewed more trustworthy and interesting when actual employees of all different departments are discussing and sharing company content.
This makes managing the public view and perception of the corporate brand easier from a communications standpoint.

Dell, Reebok, Starbucks, and seven other brands that "get" employee advocacy. Learn why these companies chose employee advocacy programs.

Helps corporate reputation
Similar to the branding, employee advocacy program is a perfect addition to corporate communications in helping the overall reputation.
Larger or enterprise level companies sometimes have a negative connotation to the outside world or even a general distrust.
Yet outsiders, employees social connections, and other businesses can view the company in a positive light as they see employees actively sharing company content, engaging in their industry, etc.
Employees who are more engaged with the brand, (which besides just sharing content could be leaving reviews about the company), improves not only the perceived view of the company but the actual as well.
It's important to note, however, that companies should be actively improving their company culture, otherwise employee advocacy efforts are just a mask or temporary solution that won't work in the long run.
It goes to the stat above in the brand section that people trust content and recommendations from their friends, colleagues, and family more.
An employee advocacy program helps accomplish this by getting the hundreds or thousands of employees involved and actively promoting their company on social accounts.
This not only helps company reputation to employees connections, but stakeholders, business partners, and media willing to write more about the company.

Better enables company departments like marketing, sales, and HR
While corporate communications may involve a team dedicated to this, it's also not a bad idea to get some additional support from other departments.
Now, of course, other departments are busy with their own tasks and challenges, but an employee advocacy program better enables success without adding very much additional work.
An employee advocacy platform enables other departments to effectively communicate and share content from the corporate team. Allowing more employees to get involved more easily and help spread the mission.
Many times, companies are encouraging employees to get more involved, but if they are not enabled, how are they expected to know what to do?
For example, a general company newsletter may go unnoticed or employees are not sure of policies in place to share the content and are afraid of any potential repercussions.
But an employee advocacy program helps solve those issues and enables employees with the right tools to help corporate communications be more effective.

Want to learn more about the importance of employee enablement? Here's why it matters for your business.

Boosts social recruiting and the talent pool
Although it may not be typically the most talked about aspect of corporate communications, boosting recruiting and the talent pool is very important.
This helps corporate companies attract and have an influx of the best talent for the jobs at hand. Yet, it can be challenging by just posting on the company website or job forums.
Of course, qualified candidates will still come through, but this can be enhanced even further.
Because of employee advocacy, more content is being shared to new audiences, more brand visibility, getting more talented people interested in working for the company.
The increase in interested candidates and overall talent pool allows corporate to make stronger hiring choices.
And in turn, those stronger higher choices can lead to more productivity, increase in positive reputation, and more overall work output.

Keep employees in the loop
Since corporate communications focus on activities for internal communications, it's important for making sure employees are informed.
This information can be latest news, financials, new hires, leadership changes, acquisitions, company initiatives, etc.
While getting this info to employees can be simply through an employee portal, newsletter, bulletin board, or a combination of all – how often are employees reading or engaged with the info?
For corporate, this could be a major challenge with thousands to tens of thousands of employees. This is where employee advocacy is the perfect assistant to the corporate communications team.
This central location gets the right content and other information directly to employees who now use employee advocacy software for all news and content reading.
Employee advocacy programs will include individual personal streams and third-party content along with leaderboards for gamification, which is much more encouraging to employees to use than a standard email newsletter.
Newsletters can easily get overlooked, forgotten, or buried among hundreds of other emails, Message boards and company forums can have the same issues and even company blogs as employees are busy with their general tasks at hand.

Have concerns about implementing an employee advocacy program? Here are the common ones we are asked and how we respond.

Helps employees become the thought leaders and public faces of the company
While corporate communications are about the activities for internal and external communications, all employees can assist.
The activities that employees engage within an employee advocacy program get them involved in content, social sharing, and social recruiting.
This is important because it helps employees become not only the public faces of the company but thought leaders in their industry.
Most of the time, the thought leaders of an enterprise level company tend to be just the C-suite or VP level, but now all departments and various job level employees can be.
Not that this is always necessarily true, but in most instances corporate and the corporate leaders do not always have the same trust factor as other employees.
Again, the public perception of the corporation or enterprise company is greatly improved when multiple employees from different levels are go-to for knowledge.
This, of course, goes back to the stat that messages reached 561% further when shared by employees.
By implementing employee advocacy solutions, the efforts of corporate communications becomes more seamless and the activities go further to improving external communications.

Final Thoughts
Corporate communications is certainly an important aspect to major enterprise and fortune level companies.
Even larger private companies will most likely have a person(s) hired to help with company communications.
The activities involved are valuable to the internal and external communications of the company, that in turn help with the credibility and positive views of the company.
Yet, by implementing an employee advocacy program, you greatly improve the activities and effectiveness of corporate communications.
As we've noted in the definition, it is important for how a company is portrayed and viewed by peers, stakeholders, media, customers, and the public.
By Enabling an effective employee advocacy program, it helps corporate communications even more by boosting the brand visibility, helping with company reputation, enabling and engaging employees, and improving the talent pool through social recruiting.
An employee advocacy program is the right compliment for corporate communications activities.

Want to learn more about employee advocacy and how EveryoneSocial's platform can help boost communications? Schedule your personal demo with our team.