When American Family Insurance launched its employee advocacy program with EveryoneSocial, the company understood the importance of CEOs and social media.
That's why Tom Buchheim, who leads AmFam's advocacy program, made sure that CEO Jack Salzwedel was committed to the organization's advocacy efforts and willing to play an active role on social media.
"It's our goal to empower our people to find their voices — something that starts with our CEO, but helps everyone stay connected across our enterprise of companies," Buchheim said.
Now Salzwedel is known as one of the most active and engaged CEOs on Twitter, and his online presence leads AmFam's 250+ employee advocates, who have a social reach of more than 360,000.
As Salzwedel's influence shows, it's more important than ever for the C-suite to create and share content online. We'll even go so far as to say it's essential for successful companies to get executives on social media.
5 Reasons Executives Should Be Active On Social Media
For many enterprise organizations, the idea of combining CEOs and social media can be intimidating. There's often concern that a tweet or LinkedIn comment could be misconstrued and detrimental to the brand.
However, the data shows that not having leadership on social media is actually more harmful to the business and the brand.
Here's why getting executives on social media is so important.
1. They're natural influencers that impact the brand.
Your organization's CEO and other executive leadership might not be innately personable or engaging, but they're primed to be influencers as they're already operating as the face of the company.
Even if leadership's posts aren't garnering a lot of shares and comments, they're making an impact by just being present on social media.
When leadership teams have this public visibility it humanizes the executives, meaning your audience can see there are real people with genuine insights leading the company. 
Oftentimes there can be a distrust of company leaders or a sense of cynicism, but when execs sound like themselves — rather than corporate drones — it creates more empathy for both them and the brand they represent. 
Simply being present on LinkedIn or Twitter has its benefits, as evidenced by a Hootsuite report that states execs on social media are "perceived 23% more positively than companies without."
Plus, 43% of executives with socially active CEOs say their company's leaders are inspiring, compared with only 26% whose CEOs don't use social media.
And combining CEOs and social media positively impacts the brand as a whole.
Ninety-three percent of consumers believe that CEO engagement on social media helps communicate company values, shape a company's reputation, and grow corporate leadership in times of crisis. Furthermore, 76% of senior executives believe that having a CEO on social media gives the brand more credibility.
2. It improves communication and provides a competitive advantage.
Social media is all about two-way communication, so getting executives on Twitter, LinkedIn, and other networks isn't just about providing a platform for leadership to share their thoughts.
It's also about facilitating connections and staying current.
In fact, 73% percent of CEOs on social media say that one of the top benefits is using it to speak with employees, and half of consumers believe that CEOs who don't use social media will fall out of touch with customers.
Plus, having executives on social media gives employees, future hires, current customers, prospective customers, investors, and others the opportunity to provide feedback directly to those with the power to make changes.
This kind of access encourages transparency and builds credibility. And it allows executives to learn how both they and the brand are viewed, what issues need to be addressed, and how they can improve the company. It also increases consumer trust, which is vital to a company's success.
In fact, 86% of Americans believe transparency from businesses is more important than ever before, and a Weber Shandwick study found that 86% of executives with a social CEO leading the company describe that CEO as "open and honest."
And that pays off: 77% of consumers prefer to make purchases from a company where executives are active on social media.
3. It makes them better leaders.
Executives on social media regularly engage with employees and customers. So it's no surprise that a study by Development Dimensions International concluded that socially active CEOs ranked higher than non-social leaders for communication, networking, influence, decision-making, and empowering others.
Employees see the value in working for a CEO who's active on social media as well.
Eighty-one percent of them believe that socially active CEOs are better equipped to lead companies, and 80% of employees say they'd rather work for a CEO who engages with people on social media.
And executives want these kinds of online connections too. In fact, 73% of CEOs say that one of the top benefits of using social media is communicating with employees.
4. It inspires employees to become advocates.
Getting the CEO and other executives on social media is especially important for employee advocacy initiatives.
If leadership doesn't doesn't share company news and content, how can an organization expect its employees to?
Senior leader buy-in is essential for internal adoption because employees look to executives for guidance. If they see leadership participating in company initiatives and actively engaging on social media, workers are more likely to do the same.
5. It expands thought leadership.
Getting executives on social media also benefits the C-suite themselves because when they're active online, their ideas and opinions are easier to disseminate.
This empowers them to build their own legacy and future professional opportunities that can be valuable to them on a personal level.
Plus, it strengthens their leadership skills by connecting them with employees, industry influencers, and more.
Tips to Help Executives on Social Media
All fired up to invest in CEOs and social media? We thought so. Here's how to get started.
Align the core topics for posting.
What should leadership share on their social media accounts? What topics can they speak to with authority? What kind of following do they want to attract?
While getting executives to engage with employees on LinkedIn or tweet a photo of their dog is a great start, there still needs to be some social strategy at play.
Here are a few questions to consider as your leadership begins to use social media: 
What kind of tone or voice will the executives have?
What are the core topics of content that will be shared?
What's an appropriate mix of professional and personal content?
How often will content be shared?
What social channels will be most valuable for executives to be active on?
How will you measure the effectiveness of your executives on social media?
Make social posting a habit.
Users need to regularly see executives' content in their social feeds to establish recognition and have plenty of opportunities to engage with them.
This requires a habit of consistently posting. For executives, that might be somewhat challenging at first — after all, they already have plenty on their plate. But it's important to regularly post, share, and engage even if your company leadership isn't necessarily high-profile.
Too often, executives post sporadically and end up just sharing a link to some company news. They don't offer unique takes or interesting insights, so what's the point of following them?
A user could just as easily follow the corporate social handles for that kind of content.
Nail down executives' social content strategy, create a posting schedule, and stick to it. 
Don't worry about super polished content.
While professionalism is important, that doesn't mean your COO's tweets need to read like a press release or like they've been reviewed by legal. So, lose the cookie-cutter copy.
People follow executives on social media to glean insights they can't get elsewhere. They want to see personality, vulnerability, empathy, and transparency.
In other words, they want to connect with a real human — not a corporate bot.
Executives on social media should write their posts in their own voice, share their thoughts and experiences, and mix in a bit of personal content.
Make sharing easy with an employee advocacy platform.
Using an employee advocacy platform isn't only the best way to get employees involved in content creation and social sharing, but it's also ideal for executives too. 
EveryoneSocial makes it a breeze for anyone from the intern to the CEO to quickly create, share, or even schedule posts in minutes.
Also, it's a great tool for executives to access other types of content, such as individual department updates, employee news, and more.
And when others see executives engaging and sharing within the platform, it encourages more employees to get involved too. 
Executives on social media are a giant green-light for employer brand and brand ambassadorship. Just another added bonus to what an internal social program can do for your company, employees, and culture. 
Be patient.
For some executives on social media, building a following on social channels happens quickly.
But for most executives, growing an active, engaged social audience doesn't happen overnight. It requires finding a consistent posting schedule and sticking with it, even when results aren't the best. 
So don't get discouraged. Keep posting, liking, commenting, and engaging and the followers will come.
Extra: Have you considered harnessing the power of your greatest resource— your employees — to accelerate your social media strategy? Enabling employees boost marketing, sales, employer brand, recruiting, and improves internal communications. Learn how to turn employees into your best thought leaders. 
Examples of Executives on Social 
After reading the title of this post or reaching this point of the article, a few examples of prominent executives on social media probably came to mind. Famous execs like Tesla's leader Elon Musk for example, who sometimes shares some random and controversial things. 
Yet, not every executive will have that "celebrity" status nor do they need to be that provocative.
Instead, it's about visibly leading the brand they represent, showing their human side, driving conversations about the business, and being transparent about company culture and news. And, of course, reaping the benefits of engaging online.
Here are a few examples of executives on social media who are getting it right.
American Family Insurance
As noted in the introduction, one of the best social executives is American Family Insurance CEO Jack Salzwedel.
Not only are Salzwedel and his company using EveryoneSocial, but the organization also built a robust strategy for the CEO to become highly engaged online. 
It's no coincidence that Salzwedel has been recognized as one of the best CEOs on social media, winning various awards and recognition for his efforts, including the "Best Leader on Twitter" award from the 2020 CSuite Digital Leadership Awards. 
Additionally, with their CEO leading the way, AmFam employees at all levels of the company are highly active on social media and engaged in employee advocacy efforts.
NTT Data 
Another executive leading the way on social media is NTT Data's Chief Marketing Officer, Mona Kiblawi Charif. Not only is she active on her personal accounts, but she's also helped pave the way for employee advocacy within the organization. 
Her consistent support of social programs and strategy, along with her online visibility, has encouraged 1,000 employees to get involved from various departments. 
NTT Data now has an extended social reach of more than 680,000 — nearly twice the reach of its corporate LinkedIn channel.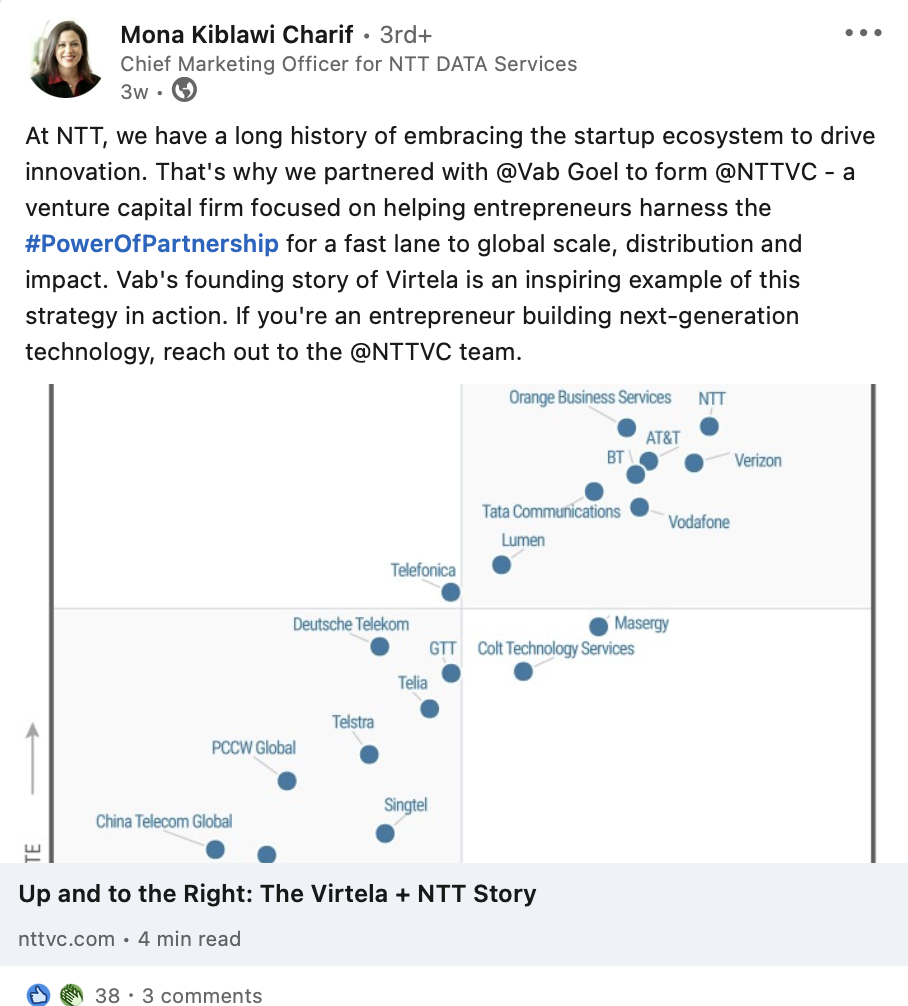 Colt Technology Services
CEOs and social media can be a great match, as evidenced by Keri Gilder, CEO of Colt Technology Services.
Glider is highly active on numerous social channels, and while her personal brand is just starting to grow, she actively engages and comments on other users' posts in addition to sharing and creating content. This is a great way to start conversations and build professional relationships. 
Additionally, she's a big advocate of social selling, and it's clear she values the impact it has on sales and marketing results.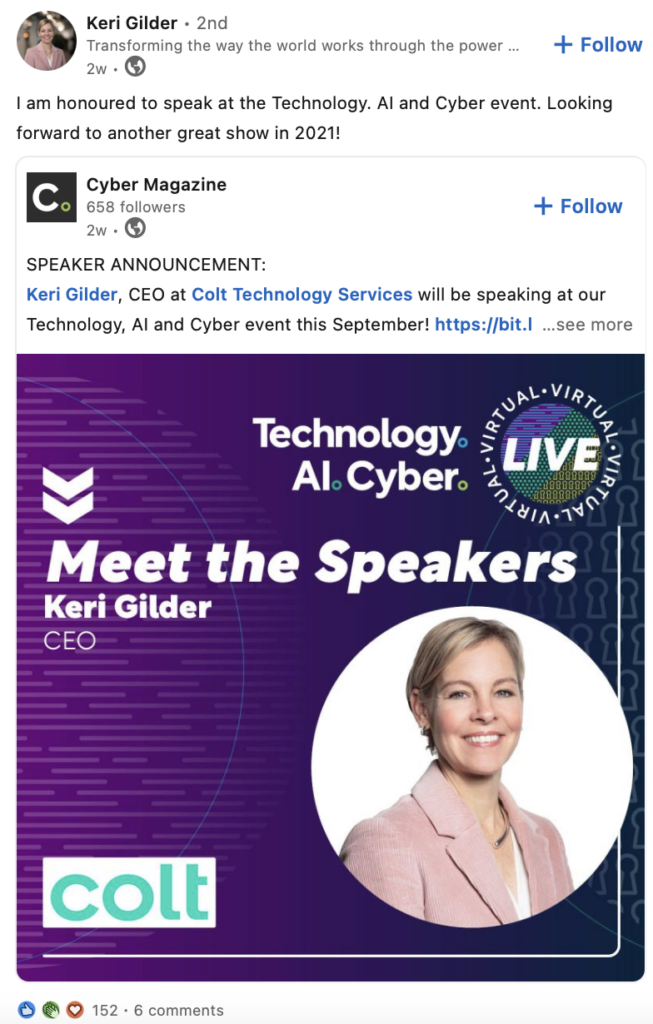 Lessonly 
While some of the examples above reference organizations that have thousands of employees, smaller companies also win at getting executives on social media. Just take a look at Kyle Lacy, CMO of Lessonly.
The company has just over 200 employees, but Lacy has taken his social game to the next level on LinkedIn where he has more than 25,000 connections that engages with regularly.
He posts thoughtful content about marketing, management, and the various projects he's involved in, which not only benefits his personal brand, but also makes Lessonly's brand stronger and more recognizable.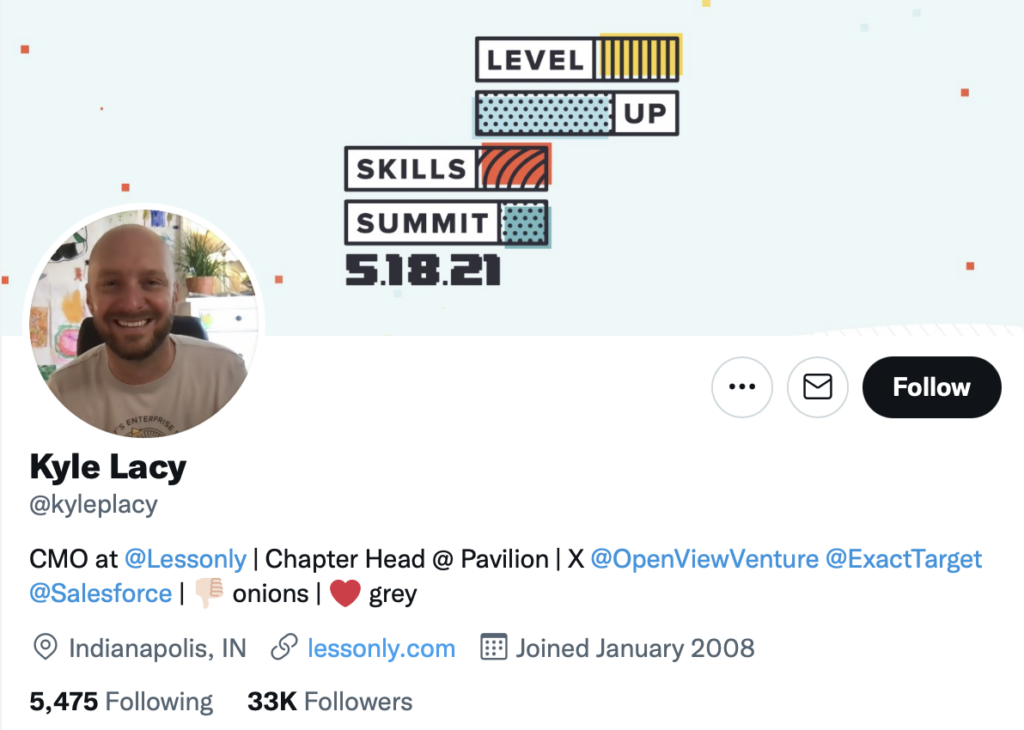 Get Executives on Social with EveryoneSocial
Ready to easily activate leadership on social media?
What about the rest of your employees? (After all, that's how Adobe expanded its reach by more than 3 million!)
Want a better way to keep content organized and allow employees to create, share, and engage with company content?
Then EveryoneSocial is the perfect platform to add to your tech stack. Schedule your demo today!