In recent years, a new phenomenon has emerged on the world's largest professional social networking platform: LinkedIn Influencers.
These thought leaders make waves on LinkedIn with their engaging content and valuable insights, building large followings and establishing themselves as credible sources of information in their industries.
The rise of LinkedIn Influencers has a significant impact on both individuals and businesses, making it essential to understand the role they play.
So let's explore the evolution of LinkedIn Influencers, why they matter, and the steps you can take to become more influential on the social network.
What are LinkedIn Influencers?
LinkedIn Influencers are thought leaders, entrepreneurs, and subject matter experts in various industries who use the social network to share their insights, experiences, and perspectives with a global audience. They've built a large following on LinkedIn and are recognized as leaders in their fields, providing valuable content and insights to their followers.
While anyone with influence on the platform can be an influencer, LinkedIn selects about 500 particularly influential users from among "the world's foremost thinkers, leaders, and innovators" as its official influencers.
These individuals are chosen based on their professional accomplishments, industry expertise, and the quality and engagement of their content. They regularly include such recognizable names as Bill Gates, Richard Branson, and Gretchen Rubin.
Why Do LinkedIn Influencers Matter?
Now let's dive into why these top LinkedIn users warrant their very own blog post.
They provide industry insights. LinkedIn Influencers can have valuable insights and perspectives on the latest industry trends and developments, helping both people and businesses stay informed and up-to-date on their field.
They offer networking opportunities. Following LinkedIn Influencers provides individuals with the opportunity to connect with like-minded professionals and expand their networks.
They're a source of professional development. Learning from LinkedIn Influencers can help professionals develop new skills, knowledge, and perspectives, as well as improve their professional growth.
They can increase your visibility. By following and engaging with LinkedIn Influencers, individual users and businesses can increase their visibility and reach on the platform and connect with new prospects.
They provide influencer marketing opportunities. Businesses can leverage LinkedIn Influencers to reach new prospects, generate leads, and build their brand through influencer marketing campaigns.
Help Your Employees Become LinkedIn Influencers
Here at EveryoneSocial, we know that every employee has the potential to become an influencer and build their personal brand, expand their network, and further their careers.
However, encouraging employees to become influencers, especially on LinkedIn, benefits the company as well.
Sure, your employees might not dethrone Gary Vaynerchuk as the next great Linkedin influencer, but your people still wield a lot of power. When employees act as brand ambassadors, it improves employer brand, employee morale, recruitment efforts, and more. Plus, it helps increase your company's visibility and reach on the platform.
Here are some ways you can encourage employees to become LinkedIn Influencers.
Provide training and resources.
Offer employees training and resources on how to effectively use LinkedIn, including how to create compelling content, engage with their network, and build their personal brand.
What exactly do employees want to learn about social media in the workplace? A lot.
Check out this excerpt from the Employee Influencer Impact Report to see exactly what they're interested in.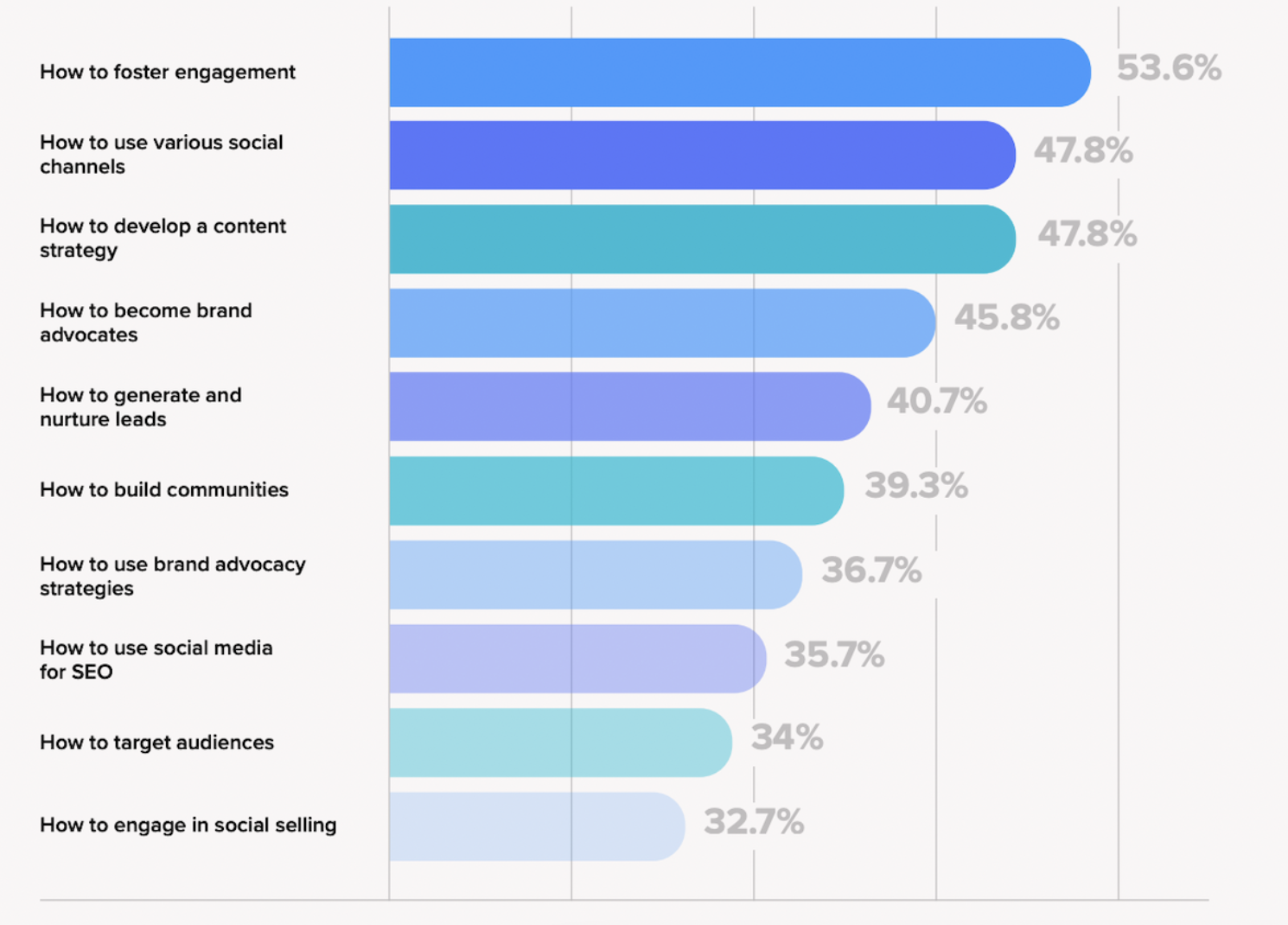 Invite them to your advocacy program.
An employee advocacy platform can help employees build their LinkedIn influence by providing a centralized and streamlined way to share content, engage with their network, and track their impact and engagement.
Let's take a look at some of the ways employees can utilize an advocacy tool like EveryoneSocial to help them become LinkedIn influencers.
Content curation and sharing: An employee advocacy platform can provide a library of high-quality content that employees can share on their LinkedIn profiles, increasing their visibility and reach.
Analytics and tracking: Access to such tools allows employees to monitor the engagement and impact of their LinkedIn content, helping them refine their strategy and improve their influence.
Network-building tools: An employee advocacy platform can provide tools and resources to help employees understand who's engaging with their LinkedIn content, so they can identify people to connect with.
Collaboration and teamwork: An advocacy solution can facilitate collaboration and teamwork between employees, allowing them to co-create content and engage with each other's networks.
Encourage content creation with social media prompts.
You need to post regularly to become a LinkedIn influencer, but employees often tell us that a major reason they're hesitant to post on social media is that they just don't know what to post.
The solution? Social media prompts.
These are prompts designed to spark inspiration for social posts, and they can be questions, suggestions, challenges, and more. Anything from "Share a photo of your work-from-home space" to "What's your greatest professional accomplishment?"
We've got some awesome suggestions for prompts right here.
Tap into the power of gamification.
A little competition — and the promise of a reward — can go a long way in incentivizing people to create, share, and engage with content.
Implementing elements of gameplay into your advocacy program is highly effective.
In fact, employees report a 60% increase in engagement when work experience is gamified, and companies that take advantage of gamification are seven times more likely to be profitable than those that don't.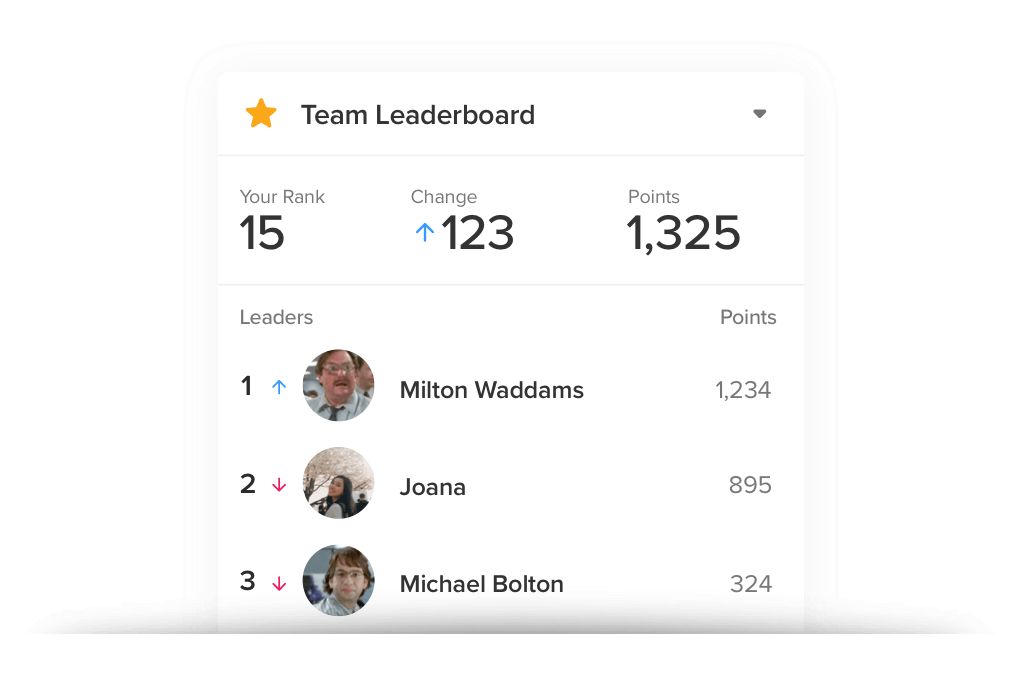 That's why EveryoneSocial is designed with leaderboards and gamification features designed to get people sharing — and help them on the road to becoming LinkedIn influencers.
Give recognition.
In addition to offering some sort of perk, gift, or monetary reward to the employee at the top of the leaderboard, companies can also simply recognize workers and their contributions to the advocacy program.
This could look many different ways.
Your social media manager could share employees' LinkedIn content on the brand page, for example, increasing employees' visibility and reach.
Or your content team could highlight the company's up-and-coming LinkedIn influencers in employee stories.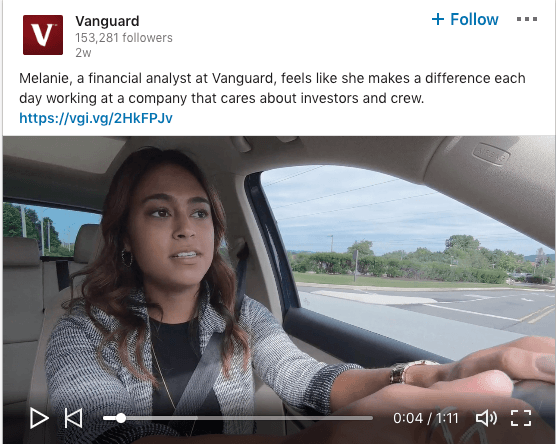 Employee stories provide a glimpse of company culture, making them powerful for many reasons. They humanize the workplace, improve trust among applicants and customers, and improve the company's employer brand, just to name a few.
But they also help employees feel appreciated and can help elevate their status when those stories are shared on social media, further increasing their visibility as LinkedIn influencers.
Create a supportive culture.
Foster a supportive work culture that encourages personal and professional growth, and recognizes the importance of building a strong personal brand on LinkedIn.
Need ideas on how to facilitate a culture where employees feel empowered to pursue LinkedIn influencer status? Check out these tips.
Set Up Future LinkedIn Influencers for Success
By providing the resources, recognition, and opportunities that employees need to become successful LinkedIn Influencers, you can help build your company's brand, reach new prospects, and enhance your employees' professional growth.
EveryoneSocial is designed to do all of this and more, and we'd love to show you just what our product can do.
Not ready to request a demo quite yet? We get that. For now, grab our free Personal Brand Starter Kit to help you on your way to becoming a LinkedIn influencer.