Leveraging an employee advocacy program is an excellent way to extend your brand's social reach. But it does much more than that — it also drives sales, boosts social recruiting and employer brand, and improves internal communications.
Since your staff knows the company inside and out, the online audience values their insights and opinions. Furthermore, employees often have a larger sphere of influence and trust on social media than the corporate social page.
In fact, 76% of individuals surveyed say they're more likely to trust content shared by "normal" people than content shared by brands.
However, to ensure your advocacy program achieves the right results, you must determine how you'll measure success. That means you need to identify key performance indicators, or KPIs.
Below, I'll get into the employee advocacy metrics (KPIs) you need to consider when measuring your program's success. I'll also delve into the impact your internal social program has on your business — even if you don't have directly attributable data.
Direct Attribution Vs. Indirect Attribution
Before I dive into the specific basic employee advocacy metrics, I want to call out two areas of your social program you'll want to think about: direct and indirect attribution. It's also how I'm splitting the information below.
No matter which department you work in or what goals you have for your social program, you need data — especially if you're in marketing and need to consistently demonstrate your strategy's effectiveness.
Why the need for data?
For one, it ensures you get a solid ROI. Additionally, you probably have a manager, executive, or even a board that holds you accountable for results.
But the way buyers make decisions changes and the way they're influenced evolves, too.
This means some of the best channels that drive results aren't easily attributable in reporting. And employee advocacy programs also have influence that isn't always directly measurable.
Don't worry if this sounds confusing — we'll get into that below.
Direct Attribution from Employee Advocacy
When measuring employee advocacy success, you want to look at direct attribution, cut-and-dry measurements that show you how your program performs.
For example, when using an employee advocacy platform like EveryoneSocial, you'll want to monitor these metrics, all which are accessible from the admin reporting dashboard:
# of branded clicks generated from the social shares
# of shares from employees
# of engagements that generated by employee shares
# of Impressions
Total program reach (individuals can see their own social reach too)
Earned media value generated (Money it'd cost you in advertising for similar results)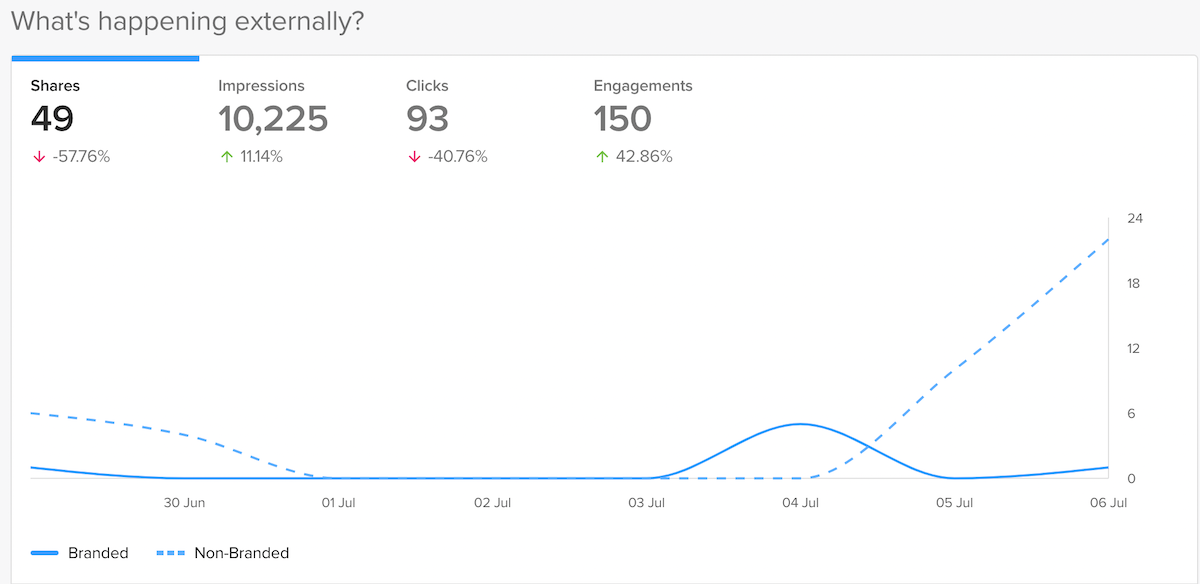 One of the easiest ways to monitor metrics is to utilize UTM tracking to show reporting, conversions, and revenue impact (If optimized in their analytics tools).
This can pass information to CRMs and your analytic tools (Google Analytics, Adobe Analytics, etc.) You may want insights into downloads of guides or ebooks, impact on won deals, revenue generated, trial signups, or job applicants.
Additionally, having important internal information is key. For example, in EveryoneSocial we also provide insights on the reporting dashboard for things like:
Amount of users
Total groups
Number of posts
Number of comments
Number of Likes
Which users are sharing the most?
Which users are posting the most?
Which are your most popular groups?
Which new groups have been created?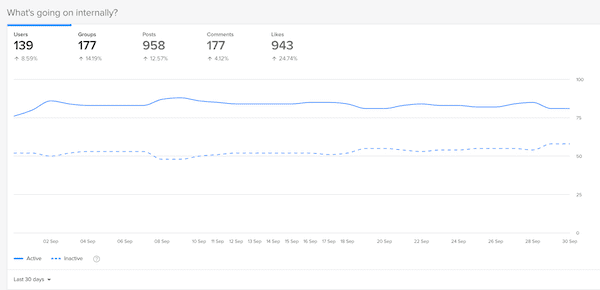 Why does this internal data matter?
It helps you determine how engaged employees are with the program, the unique content groups that are created and active, and how often content is engaged with.
These internal employee advocacy metrics indicate your program's health, and they also reveal what resonates with employees and if campaigns, content, or your overall strategy needs a refresh.
Indirect Attribution from Employee Advocacy
Earlier I mentioned how employee advocacy has a massive influence on your brand in ways that aren't easily attributable to your program.
This happens in other areas of business too, especially marketing. Often, executives or marketing teams neglect to realize that not everything can be directly measured in today's environment. Plus, there's influence from the Dark Funnel.
The Dark Funnel explains how B2B buyers are researching, evaluating, and discovering products/brands in places where companies can't easily track.

Examples: Podcasts, communities, organic social, third-party events, word-of-mouth among peers, other PR channels. All these things happen in third-party vendors where cookies don't always exist or data is not passed through to attribution software.
If executives or the board don't understand this, you're going to lose the battle with complete program success. Not even with just employee advocacy — but with any dark funnel channel that actually produces results. Manager and executive understanding and support is crucial.
Remember: Employee social influence is not always directly measurable in every sense. And it doesn't mean the program isn't working in other ways beyond what's directly measurable.
Employee Advocacy Influence Without Direct Measurement
Employee personal brands grow, which increases reach of influence
Builds more brand trust and awareness. People want to work with brands that have employees who are actively educating others and showing love for their work. And people want to work at a company where employees encourage personal branding. Now your employer brand is also getting a boost.
Conversion/purchase intent on other marketing channels increases because your employees warm people up to your brand, product, or services and become more receptive to ads, emails, cold outreach, PR, etc.
Elevates word-of-mouth discussions between audiences and influences decisions around your product or services.
Example:
You don't need to have employees share link-only posts all the time. Certainly, that's easy for your company to track metrics, but here's why you don't want to do that:
Employees don't want to spam their networks with company links all the time
Audiences expect more from the social content they engage with
Social algorithms catch on that someone is sharing only links, which can be buried in network feeds, meaning the content is rarely seen.
While social shares with links are okay to share, it's important to sprinkle in text-only posts, images and GIFs, and video content, as well as to encourage more employee-generated content.
Mixing in other content types and allowing employees to share more than just branded content still impacts your company too.
Think of it this way:
If all (or most) employees list where they work in their social bios, if they mention the brand in their headline, if they use LinkedIn's name pronunciation tool to say something about themselves or the company, that influences those who view their posts about your brand, its culture, and its value.
Say you have 500 employees that each have an average of 1,000 social connections and these employees share and engage in social media at work. That equates to roughly 500,000 people who see your company name or read that brand statement.
A percentage of the audiences who engage with and view that content will also click to view the employees' profile and see what they do and where they work.
Additionally, the networks of employee networks can start to see those employee shares in their feeds too.
Many times on LinkedIn for example, you'll see one of your connections engage with the content of someone you're not connected with. Now you may connect with them because you like their content or because now you know about their brand and what they do. This is known as the network effect.
And guess what?
That has a huge impact on your brand and other channels, but it's not directly measurable from your employee advocacy platform or its analytics.
Monitoring impact via the dark funnel of employee advocacy
Look at your other channels in analytics platforms, like direct. Is traffic going up there? Are other channels growing too? Do more people search and find your brand organically? You might see some immediate impact, or it can take time. You bet employee advocacy is a piece of the puzzle that's influencing that growth.
Ask potential buyers when they get in touch how they heard about your company or they discovered your brand. Better yet, if you have forms on your website, add a required text field like, "How Did You Hear About Us?" to start getting insights. We did this at EveryoneSocial and we've had a few demos that said one thing in HubSpot, but that text field would say "LinkedIn" or "Employee X's LinkedIn."
Look at overall employee reach within your advocacy program, but also company social handles growth and engagement, etc. Are these increasing too?
Are more people sharing your content or tagging your company in content, culture, branding, etc.? If so, it's a signal that your brand sentiment is growing and people are starting to love your content and the brand by association. When gathering data, make sure you establish a baseline by tracking in regular intervals such as monthly, daily, or weekly.
Are sales cycles taking less time to close? Are win rates improving? Is revenue increasing from deals? While there are many factors at play for this too, you bet employee advocacy is playing a part when employee content is educating, engaging, and reaching more audiences, such as with social selling.
Think about what it would cost when you do get direct clicks if you were to target paid ads. CPCs for many industries are expensive, many clicks are spam/bots, and you're fighting numerous competitors and people who ignore ads. Your clicks are worth more when they come from employees' networks vs. paid ads.
Other Employee Advocacy Metrics to Consider
The above KPIs really focus on direct and indirect metrics related to social media and the impact your program will have directly and indirectly.
However, there are a few other employee advocacy metrics to monitor.
Content metrics
A large part of your employee advocacy program is making the content available to engage with and understanding how it resonates with various employees.
Pending what departments are active, or if you have your entire company involved, content will resonate differently with each group.
There are a lot of questions and metrics you can analyze with your content.
What content is driving the most clicks and engagement?
Which pieces of content get the most shares from employees?
How often are employees sharing certain categories of content?
Having a great mix of engaging content is crucial for employee advocacy success. if you have too much branded content, you'll be a spam program. And not allowing employees to get involved with content or not letting them include their personal interests, can drop your user engagement.
Content is a highly important employee advocacy metric to continually analyze and monitor.
Post engagement
First and foremost, you need to measure the amount and kind of post engagement your content receives. How many likes, shares, or retweets does an average post get? Do particular types of posts elicit negative reactions from the audience?
These indications can directly measure the effectiveness of your social media content strategy. However, just because one particular post did not do well on Facebook, doesn't mean it'll perform poorly on another network, such as Twitter or LinkedIn.
Take note that you often need to repurpose your content to fit the preferences of a specific network's audience. For example, links to long-form content may work more appropriately on LinkedIn, while shorter content may fare better on Twitter.
Post engagement metrics also apply internally. More than likely, your employee advocacy program will have content for just internal consumption.
So how engaged are employees around that internal content? Are they liking it, commenting on it, tagging colleagues, opening employee newsletters, etc.? This helps you understand how engaged employees are and if you're building a community.
Program adoption metrics
A main driver of success to your employee advocacy program is how many employees are joining and contributing.
Starting off with a large group can have big impacts for your company, but the goal is to retain usage and continue to get more employees involved.
Adoption metrics you want to pay attention to:
The percentage of employees who were invited and created an account
Active users who log in and share content on some recurring cadence
If employees are inviting their colleagues to join (EveryoneSocial makes it easy to expand your social program)
Look at the percentage that are using desktop compared to mobile
These will determine gaps, what's working and what's not, or where you can improve to ensure employees stay engaged long-term.
User metrics
You also want to pay attention to your recurring users of your company's employee advocacy program. They can fuel the strategy and also help you put out any fires that may negatively impact your results.
A great user metric to pull is the number of articles shared per employee. You can find the average per week, month, quarter, and year (if your program has been running awhile). Another part of that is how often employees suggest content to the program or engage with their colleagues' posts.
Here are some other user metrics you want to pay attention to:
Highlight your brand advocates and super users
Monitor social users that may be struggling, so you can ensure they're trained
Look for ways to encourage users who aren't very active
Impact on expenses and revenue
The last set of metrics that's incredibly important is the impact of your program on cutting costs and driving revenue.
The other employee advocacy metrics are all valuable, but your social program should help drive revenue while also helping your company save money.
And these areas will be the most important aspects any executive leaders will monitor with a social program.
Although your company may be focused only on specific departments, there will be a domino effect to other business areas. This is also why more companies are adopting company-wide usage of employee advocacy.
Here are a few metric examples related to costs to measure:
Marketing: Some examples could be the number of MQLs, cost per conversion, cost per click compared with ads, conversions from paid ads compared with employee advocacy, earned media value, etc.).
Sales: The number of SQLs, opportunities generated or influenced by advocacy, revenue generated, win rates, deal size, quota achieved, etc.
HR: hiring costs saved, number of applicants generated, retention of hires from employee advocacy, engagement of referred hires, how often employees shared job listings or work culture content, etc.
Final Thoughts
KPIs contribute to improving your employee advocacy program by showing the campaign's strengths and weaknesses. Aside from measuring them, make sure you also identify the reasons why they succeed or fail.
But remember, while you want to have access to data, employee advocacy impacts your brand in many ways that aren't always directly measurable. And because employee advocacy programs can do more than help marketing and sales, the benefits are endless.
Hopefully you have a better understanding of employee advocacy metrics and can use this to help frame the need for a program and how it impacts your organization.
Ready to get your employee advocacy program started? See our different plans and begin your program in minutes. Plus if you need help measuring your program, we have a team of experts ready to answer your question.