Today there's no better place for sales professionals to network, build their brand, and generate leads than on LinkedIn.
And one key metric for measuring your effectiveness on the social network is your Social Selling Index score, or SSI score.
Even if you're just starting out on the platform or looking to improve your existing presence, these tips will help improve your LinkedIn SSI score and become a more accomplished social seller.
What is a LinkedIn SSI score?
The SSI score is a metric, scored from 0-100, that LinkedIn uses to help sales professionals and individuals better understand how they rate against peers in their industry and of their own networks.
A score takes into account such factors as the size and engagement of your network, the level of your personal brand, and your ability to find and engage with the right prospects.
The higher your SSI score, the more effective you are at using LinkedIn for social selling. So congrats if you have a high score!
But if you're on this post, you may have some work to do!
7 Ways to Increase your LinkedIn SSI Score
Okay, ready to improve your LinkedIn SSI Score? Here are some comprehensive tips to get you on the right track.
1. Complete your profile.
A complete and professional profile can help increase your visibility and establish you as a credible source of information in your industry.
What does a complete, professional LinkedIn profile that's optimized for sales — or whatever you want to accomplish — look like?
Firstly, it should be crafted with the customer in mind, so ask yourself what you want to immediately communicate to a prospect who lands on your page and keep that in mind as you complete your profile.
Your LinkedIn profile should also have a high-quality headshot, a branded cover photo, a compelling headline, and detailed bio that features relevant keywords.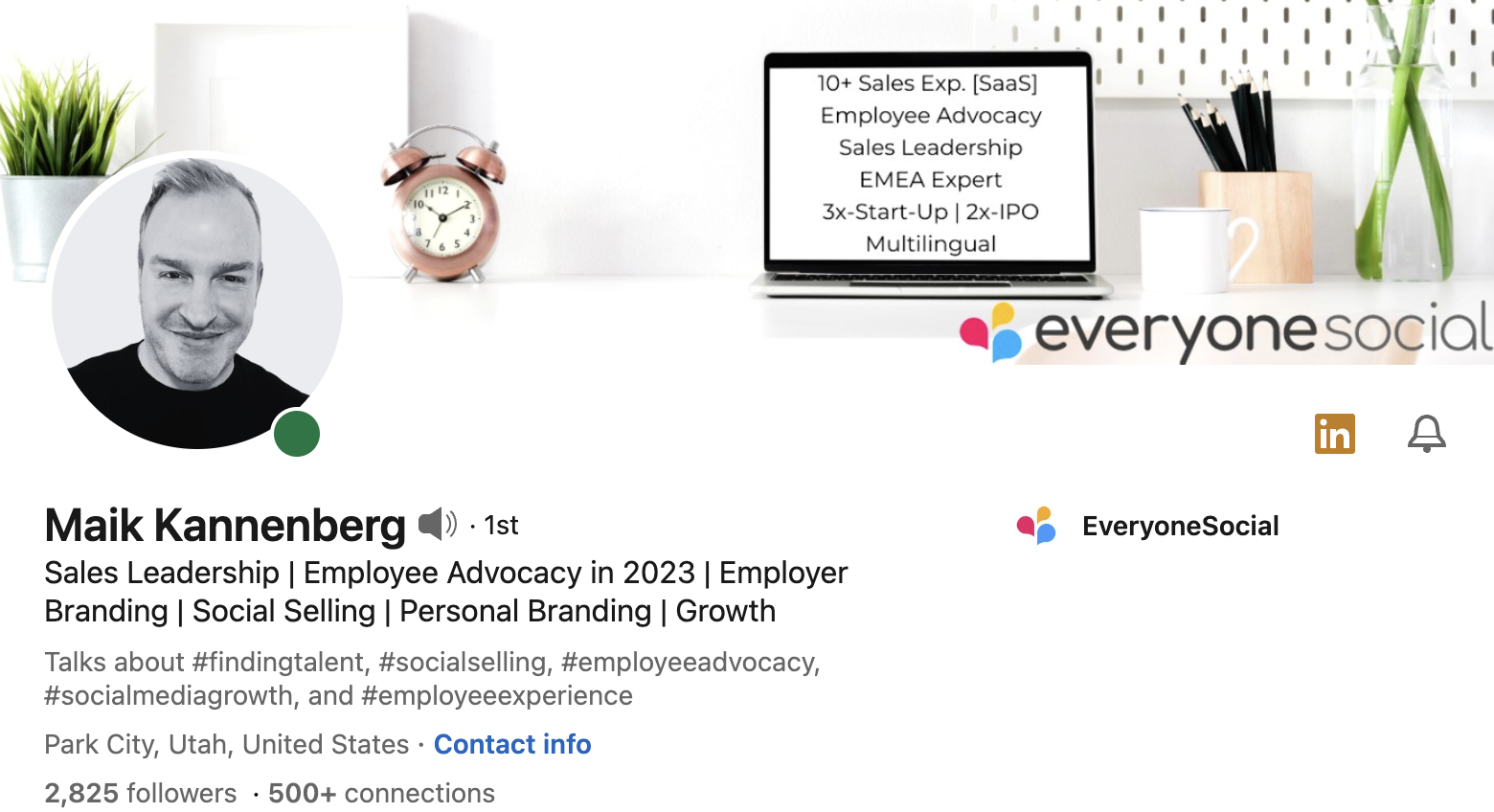 But that's not all! To learn more about perfecting your LinkedIn profile, check out this in-depth post.
2. Grow your network.
A large, engaged network is a key component of a high LinkedIn SSI score. The more connections you have and the more you engage with them, the higher your score will be.
So connect with co-workers and professionals in your industry, as well as thought leaders, current customers, prospective ones, and your dream customers. These are the people you want to engage with regularly.
However, keep in mind that you can send only 100 invitations to connect each week, so be smart about who you request and don't spam people.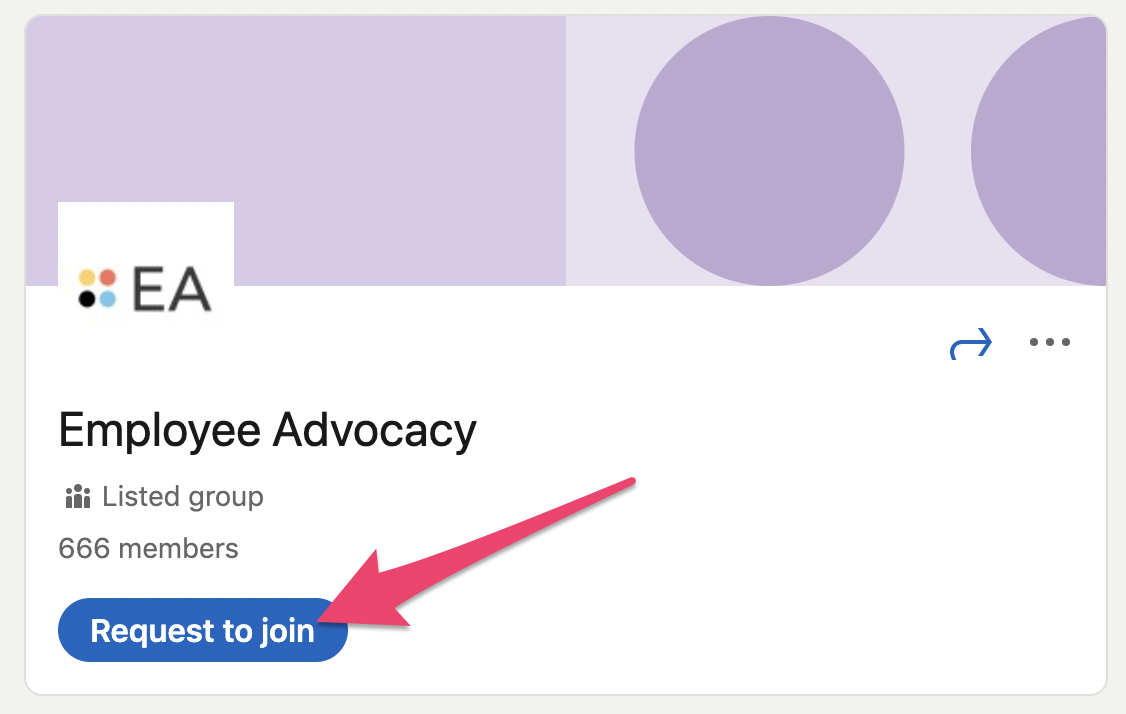 You should also join relevant groups, giving you access to a rich base of potential customers.
3. Engage with your network.
Regular engagement with your network can help build stronger relationships and increase your credibility, as well as your LinkedIn SSI score.
Engagement can be anything from liking a colleague's announcement about a new job to leaving a comment on a prospect's post when they share a win. It can also take the form of participating in discussions or tagging someone in a comment and asking them to weigh in on something you've shared.
Being active in groups is a great way to find opportunities to participate in industry talk, answer questions about your business and its products, and position yourself as a thought leader.
Plus, all that engagement will up your LinkedIn SSI score — and improve your online reputation so that your connections think of you when it's time to buy.
4. Share great content.
When it comes to the content you share, again, keep your ideal customer front of mind. Post thoughts, links, videos, and more that your prospects would find helpful or interesting.
Sharing a variety of types of content is important too. Your followers don't want to see link after link — and the LinkedIn algorithm will reward you for mixing it up.
That's one reason why it's an excellent idea for anyone in sales to participate in their company's employee advocacy program. (Don't have one yet? Here's how to launch one.)
And remember that the key to social selling is to be helpful, not salesy. Focus on providing value to your followers and don't just share product updates and sales announcements.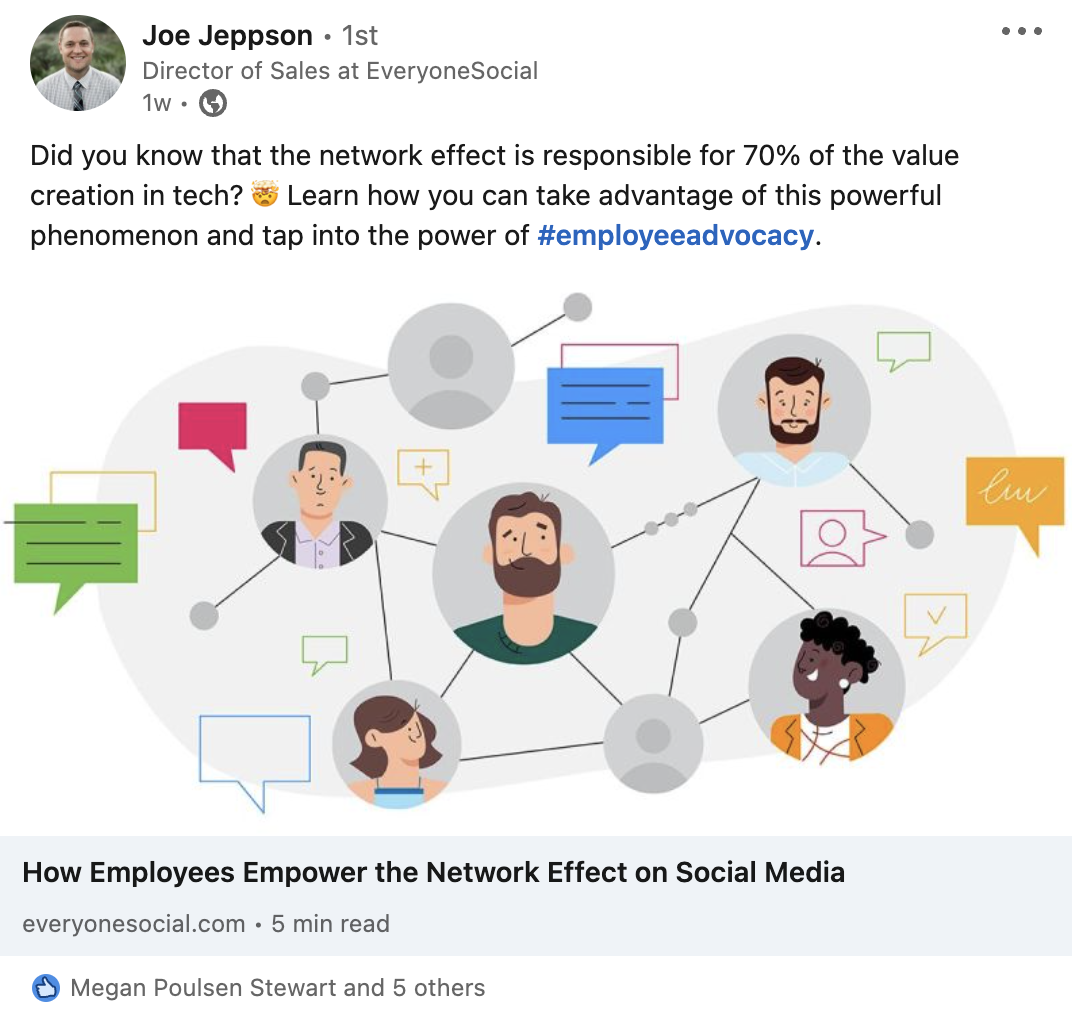 When you consistently share content that's actually useful, you're much more likely to serve up the right blog post or video to the right audience at the right time: when they're ready to buy.
5. Find the right prospects.
Use LinkedIn's advanced search features to find and connect with the right prospects and identify new opportunities.
Here are some ways to use LinkedIn's search features:
Keyword: Search for specific people, companies, or job titles.
Location: Search for people based on their location. This is especially useful if you want to connect with people in a particular city or region.
Industry: Search for people based on the industry they work in, so you can find the people who are relevant to your business.
Company: Search for people who work at a particular company and identify the people who are most likely to need or purchase your product or service.
Seniority level: Search for people based on their seniority level within their company, so you can find decision-makers or influencers.
Group: Search for people who are members of a particular LinkedIn group. This can help you to identify people who share your interests or belong to the same industry as you.
Here are some more tips to help you use LinkedIn's advanced search filters like a pro.
6. Personalize your outreach.
Personalizing your outreach on LinkedIn is an effective way to connect with prospects, build relationships, and increase your LinkedIn SSI score.
However, don't just reach out to people out of the blue. Engage with them first and build some rapport before sending an invitation to connect or blindsiding them a pitch.
When you're ready to get in touch though, here are a few ways to personalize your outreach:
Address your prospect by name. Using their name makes the message more personal and shows that you took the time to do basic research.
Reference a connection. If you have a shared connection with the prospect — a mutual friend, group membership, professional affiliation, or anything else — mention it to help establish a common ground and build rapport.
Mention a recent article or post. If the prospect recently shared content on LinkedIn that you found interesting or valuable, say so. This shows that you pay attention to what they share and are interested in their work.
Explain why you want to connect. Be clear about why you want to connect with the prospect. Explain how your background, experience, or interests align with theirs, and how you think you can add value to their network.
Highlight mutual interests. If you have mutual interests with the prospect, mention that. This can help establish a connection and build a relationship beyond just a professional one.
Offer value. This could be sharing an article or a resource that's relevant to their interests, or offering to introduce them to someone in your network who could be of help to them.
Here are some more tips to help you personalize your LinkedIn outreach.
7. Ask for recommendations.
Recommendations from your network can help establish your credibility and increase your visibility on LinkedIn, as well as make your profile more robust and contribute to your SSI score.
Don't be afraid to ask for LinkedIn recommendations. Choose satisfied customers, colleagues, or managers who know you well professionally and can speak to your skills and achievements.
Explain why you're asking them for a recommendation and tell them why you think their insights would be valuable.
If there's something specific you'd like them to highlight in their recommendation, tell them what skills you'd like them to touch on or which projects you'd like them to mention.
Also, be sure to let them know you're happy to return the favor and write them a recommendation as well.
Calculate Your Employee Advocacy ROI 📈
Get a custom, shareable report highlighting the ROI you can expect to generate from employees sharing and creating content.
Generate My Report →
Why is a High LinkedIn SSI Score So Important?
You no doubt understand how important social selling is to sales success today. That's why you're here, right?
You know that social selling can drive increased pipeline, better win rates, and up to 48% larger deals. 🤑 And since your LinkedIn SSI score indicates how effective you are at social selling, how close you score to 100 matters.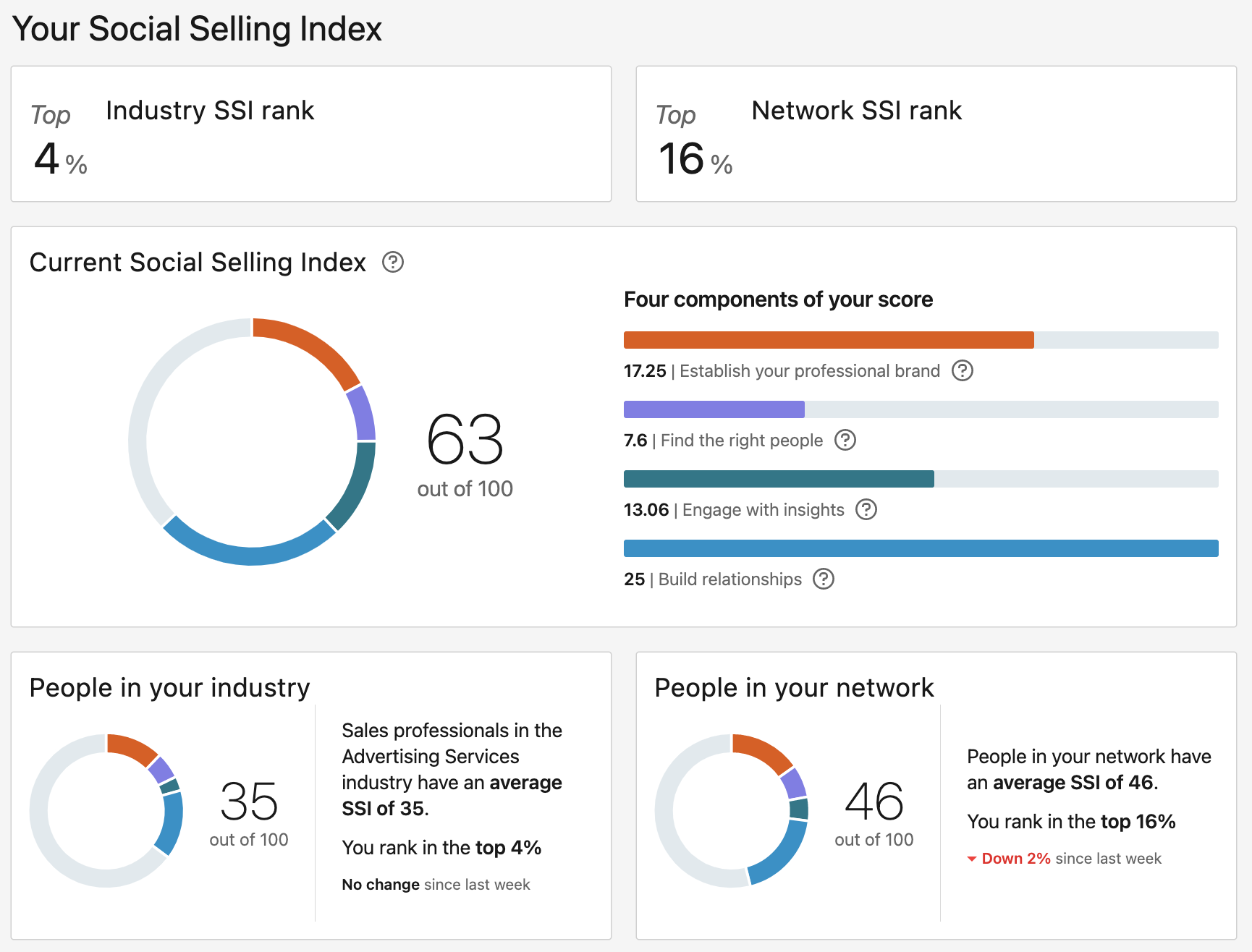 Before I wrap this article up, let's take a deeper look at why your LinkedIn SSI score is important.
It helps you understand your strengths and weaknesses.
By analyzing their LinkedIn SSI score, a sales person (or anyone for that matter!) can identify areas for improvement and make changes to increase their effectiveness on the network.
It provides valuable insights.
The LinkedIn SSI score helps you understand how people use the platform to reach their target audience, network with key players in their industry, and position themselves as thought leaders.
A high SSI score increases visibility and reach.
The closer you are to the perfect score of 100 also increases your visibility and reach on the platform since the LinkedIn algorithm favors higher SSI scores.
It can benchmark performance.
You can use your LinkedIn SSI score to see how you measure up against peers, competitors, and others in your industry, and use that information to adjust your social strategy and improve results.
What Happened When Microsoft's Sales Team Increased Its LinkedIn SSI Scores
What can happen when you increase your SSI score? Take a look at the results Microsoft garnered.
When the tech company first onboarded its sales team, its users' collective median SSI score was 48, but after several months of training and increased LinkedIn activity, that median score grew to 56.
Here's what the team saw as a result:
Those with the highest LinkedIn SSI scores experienced a 38% increase in opportunities
Every 10-point increase in SSI score equaled 4.3 more opportunities
Their LinkedIn users generated 1.7x the number of opportunities and revenue (breakdown by team below)

Enterprise & Partner Group: 3x more opportunities and 5x more revenue
Corporate Group: 1.9x more opportunities and 1.5x more revenue
Public Sector: 2.3x more opportunities and 1.2x more revenue
Kinda makes you want to increase your own LinkedIn SSI score, right? 😉
Take Social Selling to the Next Level
Your LinkedIn SSI score is a great indicator of your effectiveness at social selling, but if you really want to level up both your own sales skills and your team's, you need an employee advocacy solution like EveryoneSocial.
See just what kind of ROI you can expect to generate with EveryoneSocial, or book a demo to see our product in action.