Let's face it — salespeople are busy.
Between internal meetings, prospecting, cold calling, building the perfect sales cadence and then actually, you know, selling things, there's often little time to do much else. Much less think about building a personal brand on social media.
After all, if you're in sales, you know what you'll hear about every activity you invest time in: Is this going to retire quota? 😉🤑
Let's explore that.
The Connection Between Social Media and Sales
So, is building your personal brand going to directly help you reach your sales quota?
The simple answer is "no." You're not going to instantly win sales simply by making posts on social media.
However, you might be surprised by just what building your personal brand online can do for your sales goals.
Did you know that leads generated through social selling are seven times more likely to close compared with other tactics?
Or that 88% of buyers make purchases only when they feel the seller they're working with is a "trusted adviser"?
But how do you go from being just another salesperson on a sales call to becoming a prospect's trusted advisor? 🤓
Well, the same way that person you swiped left on on Tinder went from being simply a name on a screen to a real person with hobbies and interests and an adorable puppy he regularly takes to the park.
You guessed it: social media stalking. 👀 I mean…uh, researching. 📈
And I don't just mean researching your prospects to see what they write about themselves in their bios or what they post about.
You also need to use social media to tell potential customers about yourself.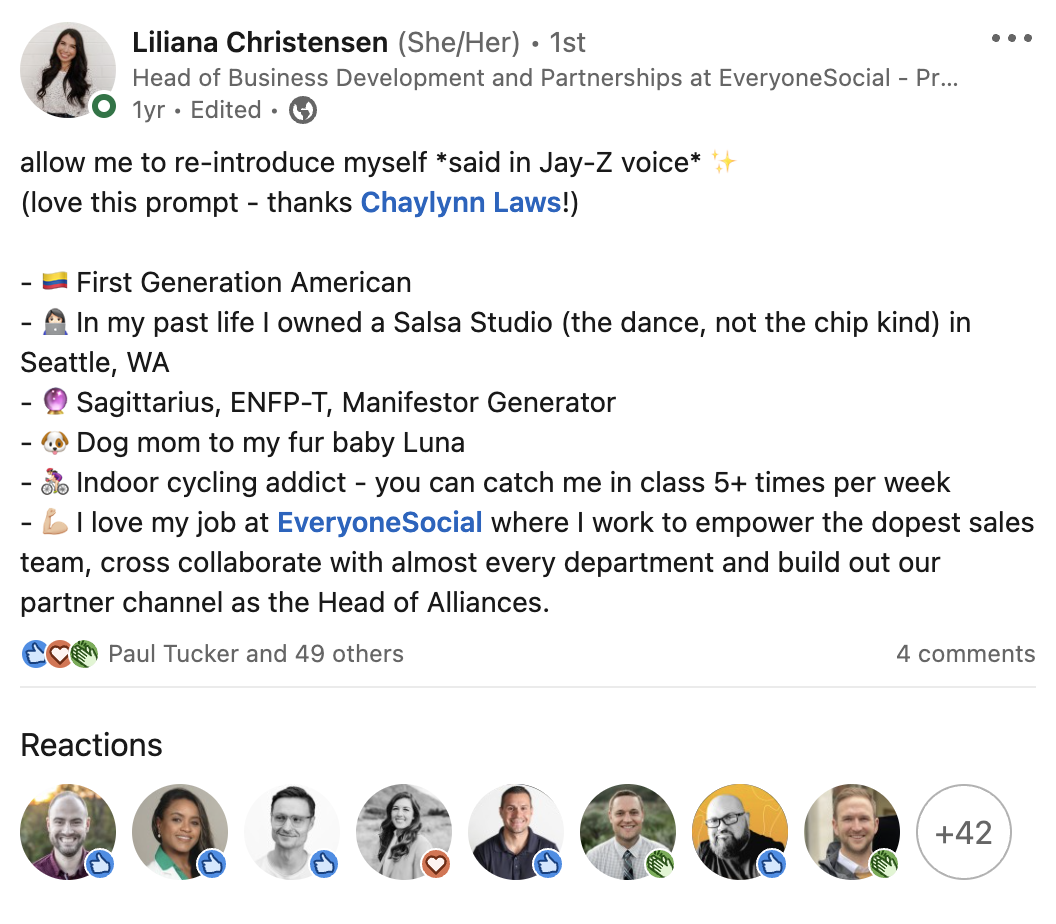 The best place to do that? LinkedIn.
With more than 900 million professionals on the professional networking site worldwide — at least 25% of senior-level buyers with influence — establishing yourself on social media not only as an all-around cool person, but also a subject matter expert, has never been more important.
To begin, optimize your own LinkedIn profile, so people can get to know you. Then it's time to start sharing.
Calculate Your Employee Advocacy ROI 📈
Get a custom, shareable report highlighting the ROI you can expect to generate from employees sharing and creating content.
Generate My Report →
3 Content-Sharing Tips to Drive Pipeline
By sharing content on LinkedIn — about your job, your company's culture and accolades, industry news, and your own personal thoughts and life updates — you go from being a quota-obsessed seller to a real person with expertise and insights on your industry.
In other words, you start to establish credibility and rapport with potential customers. And that generates pipeline.
Here are a few tips to get you started.
1. Make social sharing a weekly task.
Block off 30 minutes on your calendar each week just for posting. (FYI: Folks are most active on LinkedIn in the morning and during lunch!)
The content you share doesn't have to be riveting. It can be as simple as sharing a personal win, industry insights, a photo of your work setup, or something cool or exciting happening at your company.
It can also be third-party content like a Forbes article relevant to your industry or even sharing someone else's LinkedIn post and adding your own thoughts.
Want more ideas of what to share? We've got you covered.
Pro tip: Post around the time you view Linkedin profiles of new prospects.
2. Be authentic.
It's essential to use your own voice when posting on social media.
Gone are the days of "professional me" and "real me." Your voice makes buyers connect with you, so don't hide it away.
And add your own take to what you post.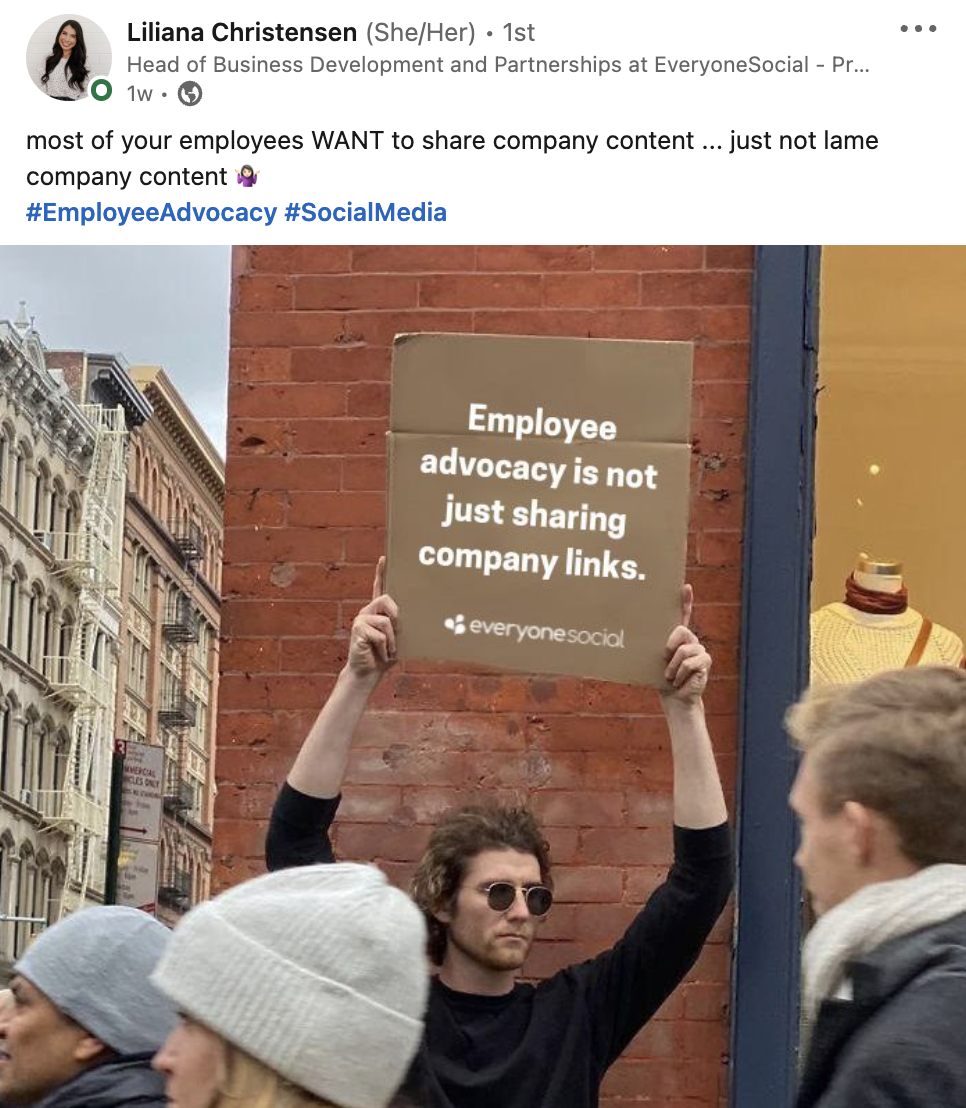 You might share a company blog post or an industry article, but you can personalize the content by including your thoughts on it, sharing a relevant experience you've had, or even adding a bit of humor — anything that reveals your personality.
Pro tip: Pictures and text perform better than links. (Think about it: LinkedIn wants to keep users on site.) You can definitely share links, but it's a good idea to mix it up and post a variety of content. The LinkedIn algorithm will reward you.
3. Use an employee advocacy tool like EveryoneSocial.
Not sure what to share on LinkedIn? Enter EveryoneSocial.
Our pure-play advocacy solution is a library of content. You can share a post to your social media with just one click, and you have the choice of writing your own caption or using the suggested share copy.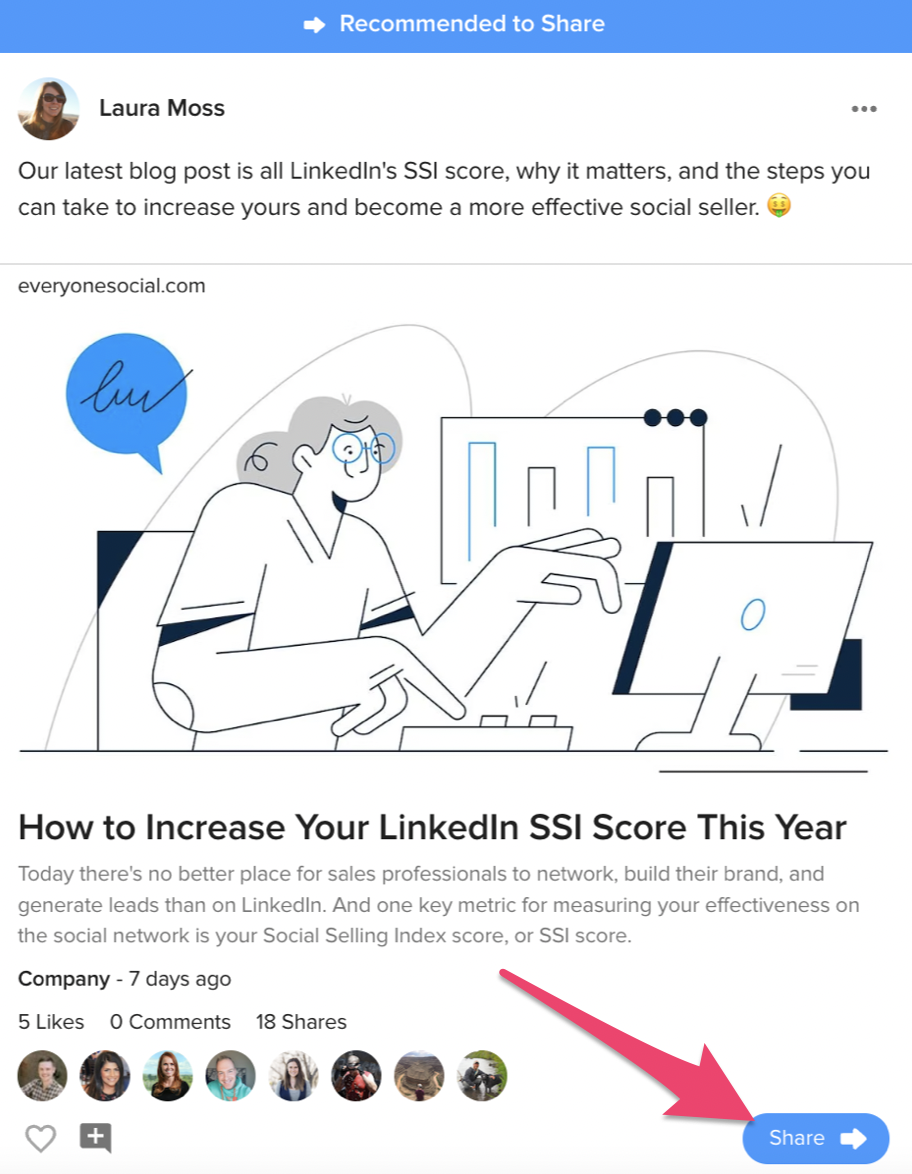 And our Smart Scheduler feature will even schedule content to be posted on your behalf!
Plus, with new integrations inside of Salesloft and Outreach, social sharing can live right where you already spend most of your day, so social sharing will never be out of sight or out of mind! 💡
Pro tip: Give your followers more of the content they like. EveryoneSocial makes it a breeze to see which of your posts people find most engaging, as well as who's engaging with your content.
Let's Get Sharing — And Selling!
While social sharing might not be as instantly gratifying as getting that signed DocuSign in your inbox, it's a strategic way to influence your deals and increase your pipeline — as well as generate up to 48% larger deals. 🤯
After all, an active LinkedIn profile is one that people — including prospective customers — want to engage with.
Happy Sharing! 💰
Want to see all the ways EveryoneSocial can supercharge your social selling efforts? Book a demo!