You know plenty of brand evangelists. Odds are, you probably are one yourself.
Maybe you once had a phenomenal customer service experience and can't help but share the story whenever someone mentions that company.
Maybe, after years of purchasing the same brand of athletic shoes, you recommend them to everyone at your gym.
Maybe you work for an organization where you feel valued and respected — and hey, the benefits are pretty nice, too — so you encourage people to apply for jobs there.
In all of these scenarios, you believe in a product, service, or company so strongly that you promote the brand of your own accord. In other words, you're a brand evangelist.
Let's take a look at what exactly brand evangelists are, what makes them so effective, and how your company can transform its employees into powerful brand evangelists.
What's a Brand Evangelist?
A brand evangelist is someone who's such a fan of or believer in a particular company's product or service that they talk about it every chance they get. It's essentially word-of-mouth marketing.
But sometimes brand evangelism goes even deeper than that. Often, something about the company — its values, policies, or culture — truly resonates with an individual's own identity.
This is brand evangelism at its most powerful because the people evangelizing on your company's behalf see themselves as an extension of the brand itself.
And if those people are also employees? 😮 That's incredibly influential.
Employees have a vested interest in their employer doing well. After all, it's how they pay the bills.
But when someone is also a brand evangelist for their employer — promoting not just its products, but also the company and its values — it's a different thing entirely. It tells the world that this is an organization that not only makes quality products, but also supports its people and treats them well. And hey, it's also probably a place they'd like to work, too.
Let's dive a little deeper. 👇
Why Are Brand Evangelists So Effective?
Brand evangelists engage in the most influential type of marketing, word of mouth, which is powerful because it's authentic and personal.
After all, we trust the opinions and recommendations of friends, family, colleagues — even strangers who've left product reviews online — far more than brands themselves.
And we talk about brands a lot, casually mentioning them to one another about 90 times per week.
We're especially likely to discuss brands and make product recommendations to each other online. In fact, 58% of consumers share positive brand experiences on social media and turn to social networks to ask others for their opinions on brands.
In turn, 71% of consumers say that social media posts influence their purchasing decisions.
It's no surprise then that, on average, each brand evangelist produces about three new customers. That means that 100 brand evangelists create around 300 new customers for a company. 🤯
Why Are Employee Evangelists Particularly Influential?
No one knows a brand better than its employees.
They're intimately acquainted not only with a company's products and services, but also its inner workings. So when an employee enthusiastically recommends a brand, it's a powerful thing.
Their familiarity with the brand also enables employee evangelists to expertly articulate information about the company's products, culture, mission, and values in a way that a regular brand evangelist can't.
This is important because 41% of people say that employee statements about a brand are the most credible information source.
Plus, when employees are your brand evangelists, it positively impacts your employer brand, which has a plethora of benefits, including easier hiring, better employee retention, cost savings, and more.
Need a little more convincing? Take a look at these stats:
65% of companies say employee brand evangelists heighten brand name recognition.
When employees share brand content on social media, the posts have ten times greater reach and are 25 times more likely to be shared.
Empower Employees to Be Brand Evangelists
Now that you understand just how effective employee brand evangelists can be, let's outline the steps your organization can take to transform its workers into its biggest fans.
1. Foster a culture people want to be part of.
The first step to getting employees to become brand evangelists is to ensure they're empowered in the workplace and proud to be associated with your company.
There are numerous ways to improve company culture — and reap the many benefits of doing so — but these are the two underlying principles to keep in mind:
Define the brand's mission and values and implement those in every aspect of the company.
Encourage employees to provide feedback about the company, its products and services, and their personal work experiences. And incorporate that feedback into operations.
2. Hire brand evangelists.
If you want your employees to be brand evangelists, then seek out people who already love your brand and its products.
The best way to do this is to foster a strong employer brand that attracts such people to your company.
Not sure how to do that? Here's how to get everyone involved in improving employer brand.
3. Encourage employees to use the product.
Your people must truly know and enjoy your product or service if they're going to become brand evangelists, so make your product available for use.
At Zendesk, for example, employees use Zendesk software to support their own customers.
At Postscript, employees can use the product for their own ecommerce stores. Plus, they receive a monthly stipend to try out their customers' products.
And here at EveryoneSocial, our entire team uses our advocacy platform to share content, expand our networks, and build our own personal brands.
4. Provide social media training.
As we discussed previously, social media plays an important role in educating people about brands and providing product recommendations. But you can't expect employees to take to social media and sing your company's praises if they don't know how to use these channels — or if they're intimidated by them.
Employees with social media training are three times more likely to share brand content via an advocacy tool like EveryoneSocial.
Plus, they share twice as much content as those who haven't received training and generate 50% more clicks.
What exactly do employees want to learn about social media? Our Employee Influencer Impact Report has the answers.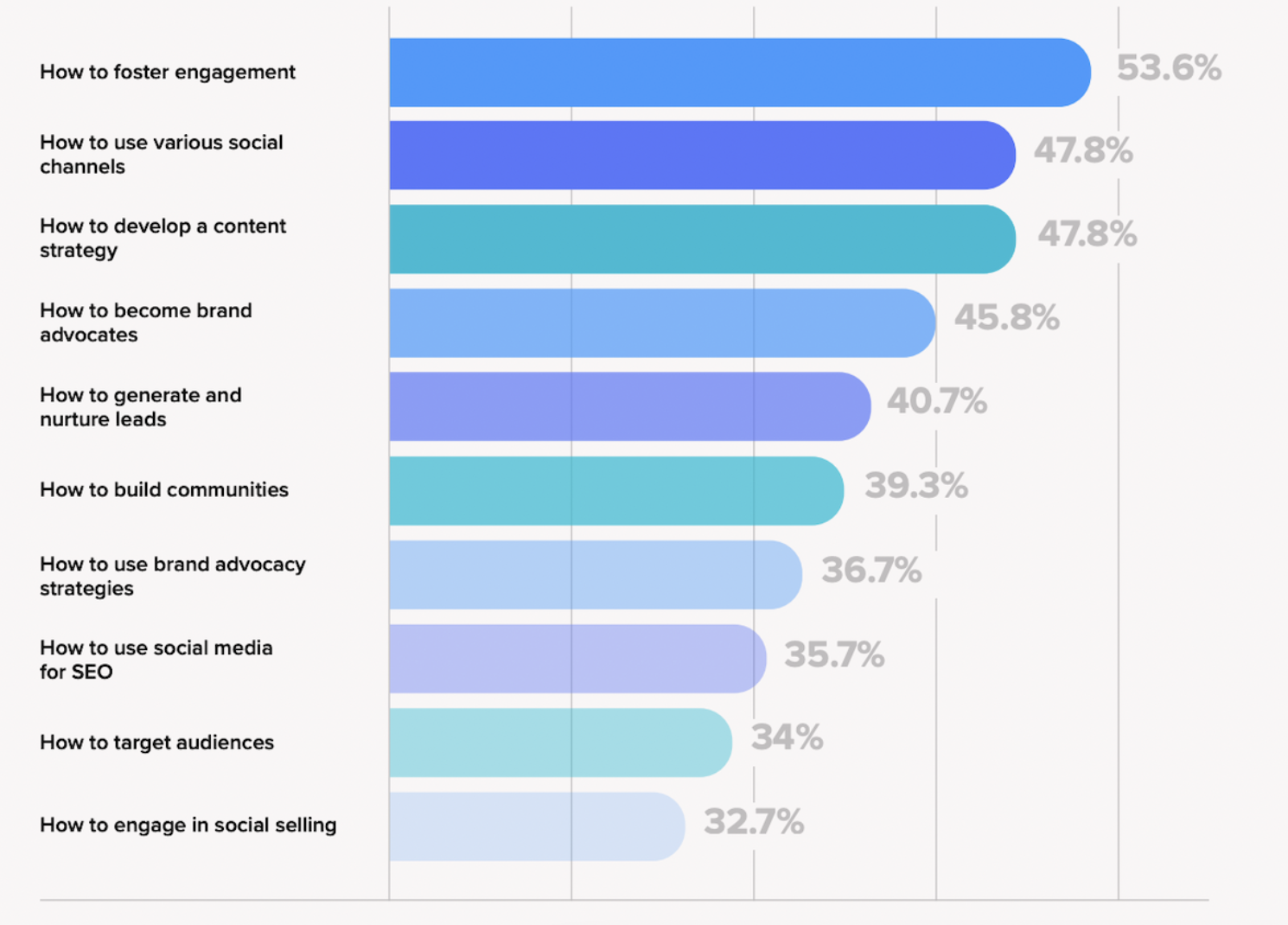 5. Encourage authenticity.
The reason brand evangelists are so influential is because they're real. They're not paid to recommend a product at checkout, write a product review, or post user-generated content — they do it because they want to.
So if you want your employees to become your best brand evangelists, you must give them the authority and voice to speak for the brand.
This can be unnerving for some companies, especially in highly regulated industries like healthcare and finance, but the best employee evangelists are the ones who have the freedom to evangelize on behalf of the brand in their own words.
Also, keep in mind that you shouldn't mandate participation in your advocacy program!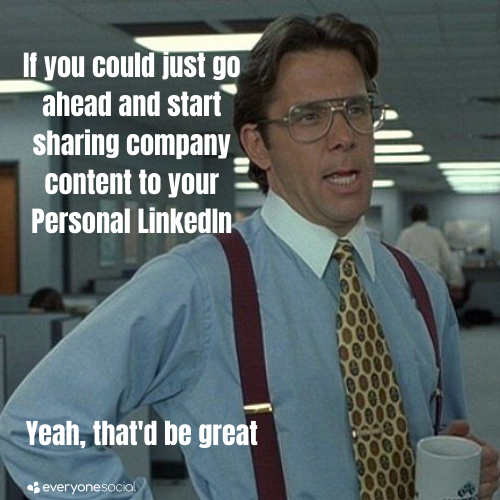 And if you need a few safeguards in place, EveryoneSocial has you covered with its disclosure feature that lets you add required disclosures or hashtags to employee-shared content.
6. Let your most enthusiastic brand evangelists lead the way.
Not every employee is going to be a brand evangelist, and not every employee is going to jump at the chance to become an influencer.
But we know that 98% of employees use at least one social media network and that 50% of them already post about their company there.
So use surveys, interviews, or social listening tools to identify the people who are already posting about the company on LinkedIn, tweeting about it, and writing company reviews.
These people are your biggest fans, so let them know you appreciate their contributions and invite them to participate in brand evangelism efforts or even help kickstart your official advocacy program.
"These people typically have a lot of followers at the company and beyond, and if you start with them, you get everybody else on board because you've already got the trendsetters," says Korn Ferry's Sarah Jensen Clayton.
Supercharge Brand Evangelism with EveryoneSocial
If you truly want your people to become brand evangelists, give them the tool they need for success: a pure-play advocacy solution.