Imagine having an army of passionate brand ambassadors and industry experts who can promote your message on social media, engage with your target audience, and increase your brand's visibility. Employee advocacy can make this a reality — if it's executed correctly.
As a former program admin, I've had both successes and failures with employee advocacy programs. The successes came from the lessons I learned when I had to start from scratch and relaunch the program, and I want to help you avoid the mistakes I made.
So whether you're just starting out, already running an advocacy program, or considering a relaunch, this blog is for you.
What I Got Right and Wrong
First, let's outline those mistakes I mentioned. Then we'll discuss what worked well my second time around, as well as what I've learned as a customer success manager at EveryoneSocial, where I work with clients every day to maximize the benefits of their programs. 
Mistakes: 
I didn't

involve leadership

. 

I focused too much on the benefits for the company, and not enough on the benefits for the employees. 

I thought that if we simply asked employees to get involved, they would. 

I didn't provide valuable industry and thought leadership content. 

I wasn't keeping the program top of mind. 
As for what worked, here's what I got right the second time around.
Executive involvement

Communicating the WHY

Keeping the program top of mind

A content strategy with a healthy mix of content

User recognition and gamification

Measuring and communicating success
Insider Tips for Running a Successful Advocacy Program
Ready to delve deeper to ensure your employee advocacy program is a success? Let's go! 👇
1. Get executive involvement.
Your employee advocacy platform can significantly enhance brand awareness, generate revenue, attract top talent, and more.
So why wouldn't executives want to get employees involved and participate themselves?
Here are some ideas that worked for me, as well as numerous EveryoneSocial customers:
Encourage executives to promote the employee advocacy platform during team meetings and town halls. Even a quick shout-out from the CEO or inclusion in the CMO's marketing update can lead to increased platform usage.

Ask executives to encourage their departments to sign up and use the platform. Their support can make a significant impact, especially when it comes directly from them.

Executives lead by example and actively engage on social media themselves. This sets a powerful precedent.

Here's why

Incorporate executives' social posts into your content strategy, enabling employees to easily engage with their content.

Create an executive-only group in EveryoneSocial with exclusive content to help build their social presence with ready-to-share content
Need some help convincing leaders of employee influencers' value? Check out this blog. 
Note: These tips can apply to getting executives, leadership, team leads, etc. involved. Any top-down approach can help drive success.
2. Communicate the why.
One of the biggest mistakes you can make as an admin is not communicating the why of employee advocacy.
I didn't do this super well during my first program launch and it showed. We had the false idea in our heads that if we simply asked employees to use the platform, they would.
So the important questions you need to have answers for are the following:
Why should the company want to invest in an advocacy program?

Why should employees care about participating? In other words, what's in it for them?
Don't worry — I've got the answers to those questions. Here are just some of the many benefits gleaned from an active employee advocacy program:
Company benefits
Greater brand awareness

Increased brand trust

Higher-quality leads, increased pipeline, and more deals won

Reduced paid media spend

Better brand positioning that helps the company stand out from the competition

Stronger recruitment pipeline

Higher

employee engagement
Employee benefits
Build professional and

personal brand

Improved knowledge

Establish themselves as an

expert

in their field/industry

Build trusted professional relationships

Create new career opportunities

Expand professional development opportunities 
Be sure to include these why's in your internal communications from time to time as a refresh to keep users motivated. 
Need a little more data to arm yourself with? Here are 38 eye-popping employee advocacy stats you can share to back up the benefits. 
3. Keep the Program Top of Mind
How frustrating is it when you come across employees who say they didn't know about your advocacy program — or that they forgot about it entirely? 🤦‍♀️
On the other hand, you also don't want to bombard your people with reminders about your advocacy program.
Finding the right balance of communication is important to avoid overwhelming people. Here's what we recommend, along with some successful strategies + a cool customer idea.
My advice: Put EveryoneSocial everywhere.
Be sure to cover the basics: Send weekly content emails, share posts on Slack/Teams, and mark posts as important in EveryoneSocial. These simple actions allow users to stay updated without needing to log into the platform every day.
Another thing I did that worked well was to include shareable post links in regular internal communications, such as marketing, sales, and HR newsletters. If you have internal newsletters, consider adding links to the latest content for users to share.
You can also set up automatic content emails to send from EveryoneSocial, which will deliver shareable content — that users haven't yet engaged with — directly tho their inboxes. Check out an example below.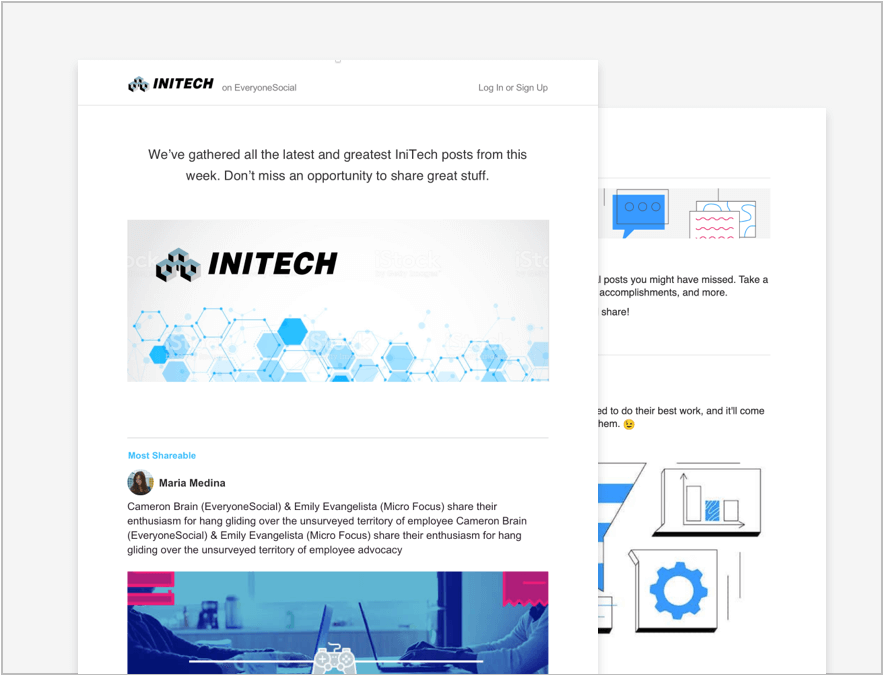 Here's another great idea I got from another program admin: Send a weekly calendar invite to all users, reminding them to log into EveryoneSocial and share.
You can also suggest that other team leads do this and let them decide if they want to add advocacy invites it to their team's calendars. I know this won't fly for every company and may require some approvals, but it can't hurt to ask if this is something you can do to help drive activity.
Lastly, keep the program fresh by hosting an annual training refresh or reminding users about EveryoneSocial's recurring user training.
Incorporate other social workshops throughout the year to make people feel equipped and comfortable sharing on social media.
Related: Did you know EveryoneSocial offers social workshops? Register for Employee Advocacy Hour.
4. Develop a content strategy.
You may not want to hear this, but employees should be sharing 30% branded content and 70% everything else. In other words, you need a content strategy.
I know it can be tempting to share all company content all the time in your advocacy program, but you need to mix it up a bit. Employees should be seen as experts at the company and in their field/industry, and the content they share should be varied and authentic.
Providing employees with helpful third-party news to share from EveryoneSocial can help your people be seen as trusted advisors in the space. Plus, it makes the sharing of company content more effective when it's backed up by those industry pieces. 
In addition to company and industry content, it can also be beneficial to include professional development articles, as well as more fun content that users' networks may find engaging. 
Remember, you don't always need to link to something. Video and image content performs very well on platforms like LinkedIn.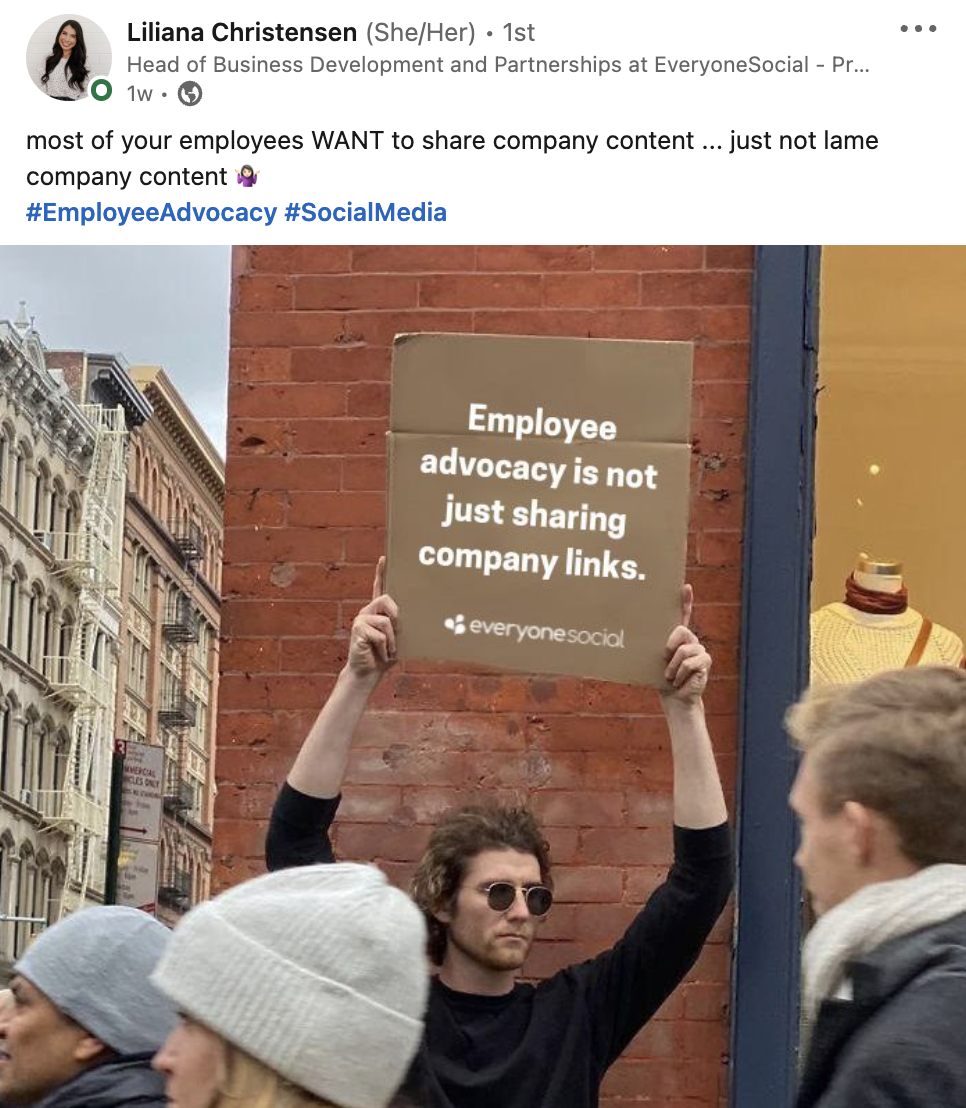 Check out this blog to learn more about how the LinkedIn algorithm works. 
Don't feel like the work has to fall on you to get all this content into the platform though. Recruit moderators to help with adding vertical, regional, product, and other types of content.
Do you find yourself getting requests from team members to add their content into your program? Consider bringing them on as group moderators, or, at a minimum, ask them to submit the content themselves. Adding their content to the platform allows employees to easily share it on social media, which will help drive more traffic to that content.
Another great place to source content is from your employees who are active on social media outside of your advocacy program. Identify these potential power users and encourage them to add posts into EveryoneSocial, so other employees can share that content as well.
A user-generated content contest is a great way to get more people contributing content to your program.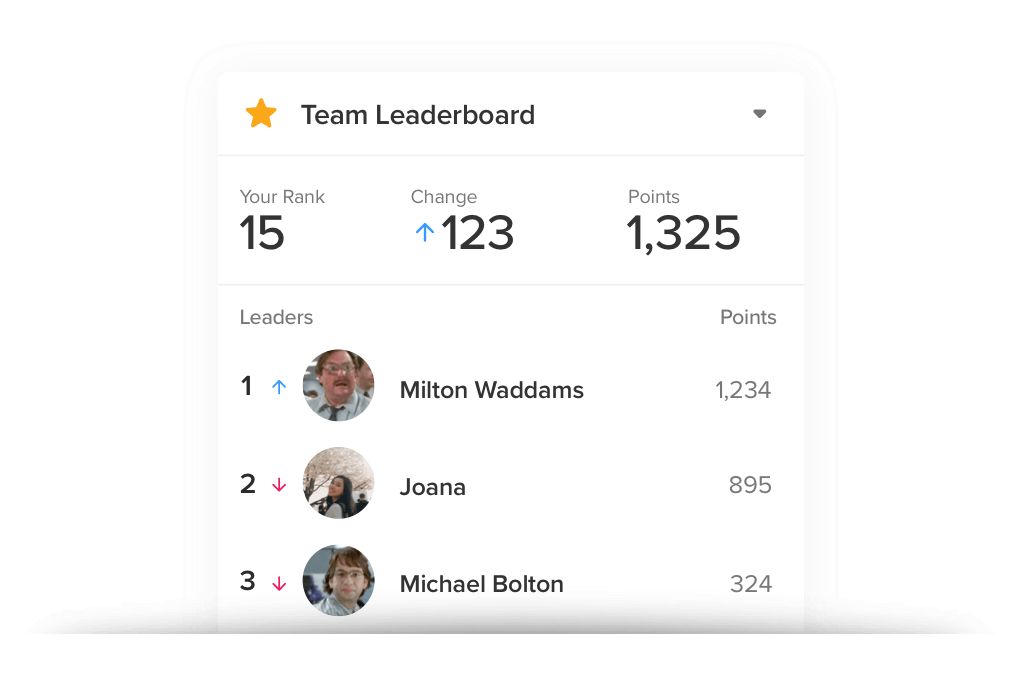 Keep it simple: Have users submit content for approval, and, if their posts are approved, they earn points on the leaderboard. Randomly select a winner from those who participate. You can even offer additional raffle entries if other users share their post. 
The number one piece of feedback we get from users across our customer base? More content!
Need help getting more content into your program? Learn more about EveryoneSocial's Managed Services offering. 
5. Tap into the power of recognition and gamification.
Now that you've laid the foundation for users to want to use the platform — after all, leadership is encouraging it and they understand the benefits — how can we add additional fun and motivation to your program?
Here are a couple of ideas that I've had great success with:
Give recognition: Recognize top users regularly. Consider sending a content email at the end of each month or quarter highlighting the top users. Perhaps you can even get leadership or team leads to give shoutouts on company or team calls.
Take advantage of amification: Run leaderboard competitions. Even when there's no prize, users love it! Be sure to highlight winners at the end. 
Here are some tips that have worked well for me — and have proved to work well for our customers, too!
Keep the contest as simple as possible.

Avoid having the winner simply be the person with the most leaderboard points. We all know there are those super go-getters that others feel they'll never be able to compete with, and this can make others lose motivation to even try. However, if it's an even playing field (i.e., anyone who qualifies is entered into a drawing to win prizes + top 3 get a prize), then you'll often get more participation. 

Set clear start and end dates for the contest.

Announce the winners at the end and highlight them.
In the interest of being transparent, I'll admit that I ran a contest or two that I didn't think people cared too much about. That's why I dragged out announcing winners. So I was pleasantly surprised by the number of people who reached out to me to find out who'd won. 
Pro-tip: Do you have execs on the top of the leaderboard? Run a "Beat the Executive" contest. I stole this idea from a customer, but users loved it and so did their execs! 
6. Measure and communicate success.
What are your goals and how are you measuring success?
It's so important to align your key metrics with your goals. Track user activity and results like clicks, engagements, and impressions within EveryoneSocial. Luckily, we make this very easy.
And shift pieces of your strategy if you aren't hitting your desired goals. For example, if you want to drive more engagement on LinkedIn shares, try incorporating more videos, GIFs or image-heavy content into your platform that users will want to share to their personal LinkedIn accounts.
Take your tracking a step further with URL tracking by setting up parameters to allow you to see even more activity in your analytics tool like form fills, event registrations, leads, booked business, and more. 
Don't be shy about sharing results and success stories internally. Sharing is a great way to prove value to leadership and to show users their efforts are paying off. 
I shared results with leadership quarterly and included results in content emails (the same one giving a shout-out to top users that quarter). Users love to see how their shares help drive results. 
Keep an eye on your top-performing content, too. I was able to share insights with our content team about posts that performed well to help them determine content topics for upcoming blogs, as well as generate ideas about new content to create.
For example, if your users share an industry news topic that generates a lot of clicks or engagements, maybe the content team can piggyback off that topic and organize a webinar or blog around it. 
Also, regularly ask your users if they have any success stories to share and broadcast those internally. 
Here are a couple of examples of success stories we've heard from customers.
An account manager at a manufacturing company recently made a single social share that

generated $136,000 in revenue

. 🤯

One of our program admins from the marketing department at a travel tech company shared a post that led to a former co-worker in their network seeing that content, reaching out to learn more, and then purchasing the product. 🎉
It's amazing what just one share can do!
You can find these stories by asking your top users about their experience with your program, social selling, or just being active on social media in general. Sharing testimonials from your actual employees can be extremely impactful to get more employees active on social media and help you prove the program's value to leadership. 
More Expert Tips
If you made it this far, thanks for reading along. I hope you found value in learning more from my personal experience running a successful employee advocacy program on EveryoneSocial. 
Want more tips and advice?
Check out this webinar
covering all of these topics and more.