If you want to use LinkedIn — the world's top professional network with more than 900 million users — effectively, you need to understand the LinkedIn algorithm.
People across the globe rely on LinkedIn to network, share thoughts, market themselves and their businesses, and find and apply for jobs.
And the users whose posts garner the most reach and engagement are those who know how to provide the LinkedIn algorithm with content it'll reward.
Let's take a look at how exactly the LinkedIn algorithm works and the steps you can take to ensure your posts and shares get the attention they deserve.
What is the LinkedIn Algorithm?
The LinkedIn algorithm is a set of rules and signals that controls what content is seen by users on the professional networking site.
It's designed to fill each user's newsfeed with content that's as interesting and relevant to them as possible.
Why? Because the social network's goal is to keep users on the platform and engaging with content.
This aim affects how the LinkedIn algorithm prioritizes what posts people will see in their feeds.
How Does the LinkedIn Algorithm Work?
Posts don't appear in LinkedIn users' feeds chronologically — what you see in your feed and in what order is all influenced by the LinkedIn algorithm.
The algorithm learns what kind of content appeals to you based on how you engage with it, and it also filters out content that it deems to be low-quality, inappropriate, or spam.
When it comes to content distribution, LinkedIn has a three-step process, and understanding it will help you craft content that'll be shared widely. 
1. The Initial Sort
Just as the Sorting Hat places First Years into one of four houses upon their arrival at Hogwarts, the LinkedIn algorithm immediately places your post into one of three categories as soon as you share it:
Spam: Content marked as spam doesn't make it to any users' feeds. Posts that the LinkedIn algorithm is likely to flag as spam often contain one or more of the following:

Bad grammar
Numerous hashtags, especially ones that attempt to garner engagement like #follow, #comment, and #like
Multiple links to websites outside LinkedIn
Numerous people tagged

Low-quality: If content is marked as being low-quality, it'll undergo additional screening. Posts that the LinkedIn algorithm might consider not quite up to par are those that are:

Poorly written
Too broad or general to interest many users
Tag people who aren't likely to engage with the post, such as well-known LinkedIn influencers.

High-quality: The LinkedIn algorithm gives this content the immediate go-ahead. What makes them stand out as high-quality? They're characterized by the following:

Well written and easy to read
Uses strong keywords
Encourages engagement by asking a question
Contains three or fewer hashtags
Tags only people who are likely to respond
2. The Golden Hour Test
Once your post makes it through the spam filter, the LinkedIn algorithm shares it with a small group of your followers for about an hour to gauge its popularity.
If your content generates discussion and accrues likes and shares during this "golden hour," the algorithm will display your post in more people's feeds.
However, if users don't engage with your content — or worse, hide it from their feed or report it as spam — the algorithm won't share it any further.
3. The Ongoing Engagement Evaluation
Let's say your content performs well during that first hour. Now that the LinkedIn algorithm knows people like your post, the algorithm will send it to more users' feeds.
How does the LinkedIn algorithm determine whom to share your content with? It uses three ranking signals:
How closely you're connected: if you've worked together before and how often you interact on the platform
Relevance to the user: how likely a user is to be interested in a post based on the people, pages, groups, companies, and hashtags they follow
Likelihood of engagement: how likely a user is to engage with a post based on their past behavior and how much engagement the post has garnered already
Tips to Increase Reach and Engagement on LinkedIn
Now that you understand how the LinkedIn algorithm works, let's dive into the steps you can take to ensure your posts don't only easily bypass the spam filter, but also get shared widely.
1. Share relevant, high-quality content.
As we detailed above, the very first thing the LinkedIn algorithm does is determine if your content is high-quality, low-quality, or spam. As a reminder, here are some tips to ensure your post sails right through that initial filter:
Write in a clear, engaging fashion with good grammar
Use strong keywords
Avoid external website links 
Encourage engagement by asking questions
Don't include more than three hashtags
Tag only people who are likely to respond
That's what the LinkedIn algorithm looks for in terms of quality, but what about relevance?
To LinkedIn, relevance means engagement, which translates into users spending more time on the platform. So give LinkedIn what it wants. (Luckily, this is what your followers want, too.)
How can you be sure your content is relevant?
Consider your expertise, product, or niche. What do you have to offer that people can't get anywhere else? What content would best serve your audience and your industry?
Look at your analytics to see what types of posts perform best, both in terms of topic and format (images, articles, videos, etc.)
Consult customer research or analytics from your other social networks to determine what interests your audience.
2. Experiment with content formats — and go easy on the links.
Remember that LinkedIn's goal is to keep users on its platform, so the LinkedIn algorithm is going to deprioritize content that takes people off the site (aka external website links).
If you want to include a link, add it as a comment to your post instead.
It's also a good idea to experiment with different types of content to see what your audience responds to.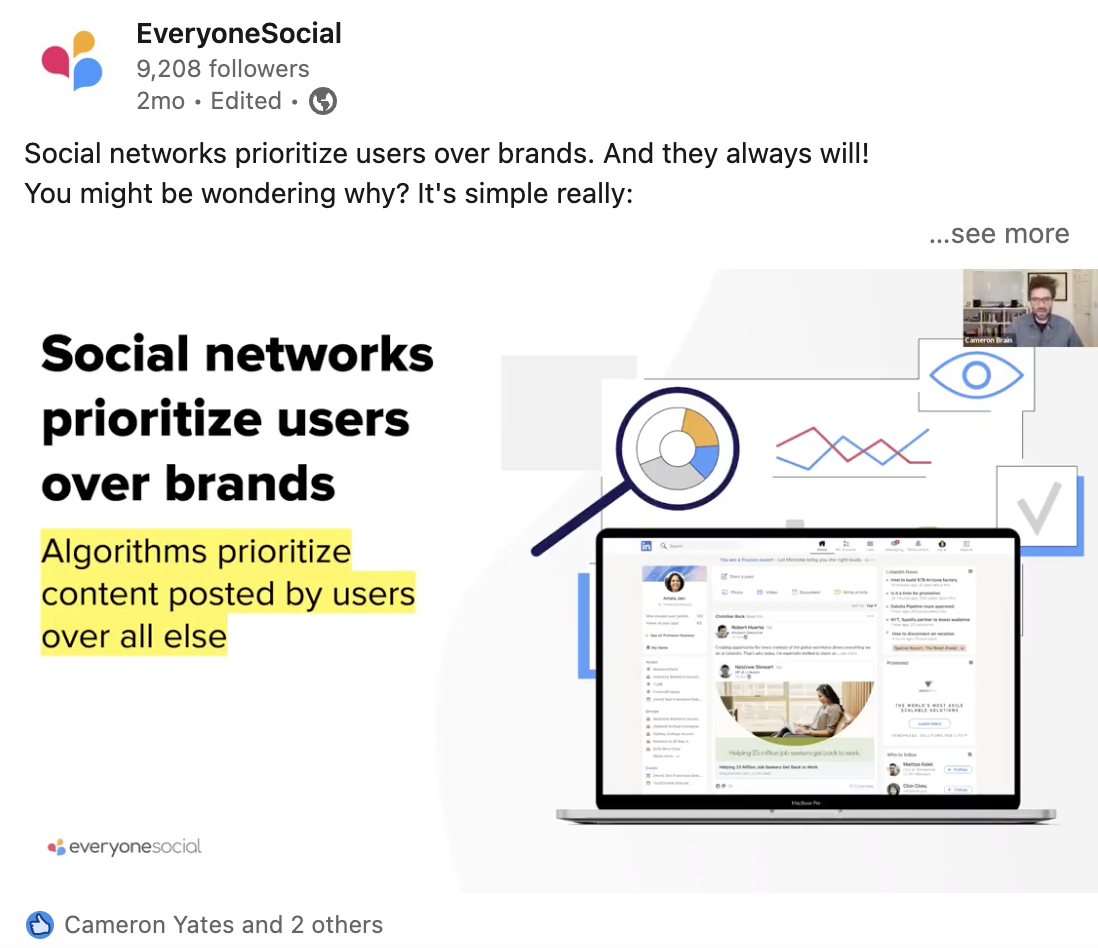 Here are a couple of stats to keep in mind when it comes to your LinkedIn content:
Videos get three times the average engagement rate of text posts.
Posts without external links receive six times more reach than those that contain links.
3. Activate your employees.
If you're a brand or company looking to expand your reach and impact on LinkedIn, it's essential to tap into the power of your employee influencers.
Why? Because the LinkedIn algorithm prioritizes user's content over companies' posts.
So if you want to ensure that company content is distributed widely on LinkedIn and getting engagement, then your brand page can't be the only one sharing it. Real people need to be sharing it. And who better than those LinkedIn users who know your company best?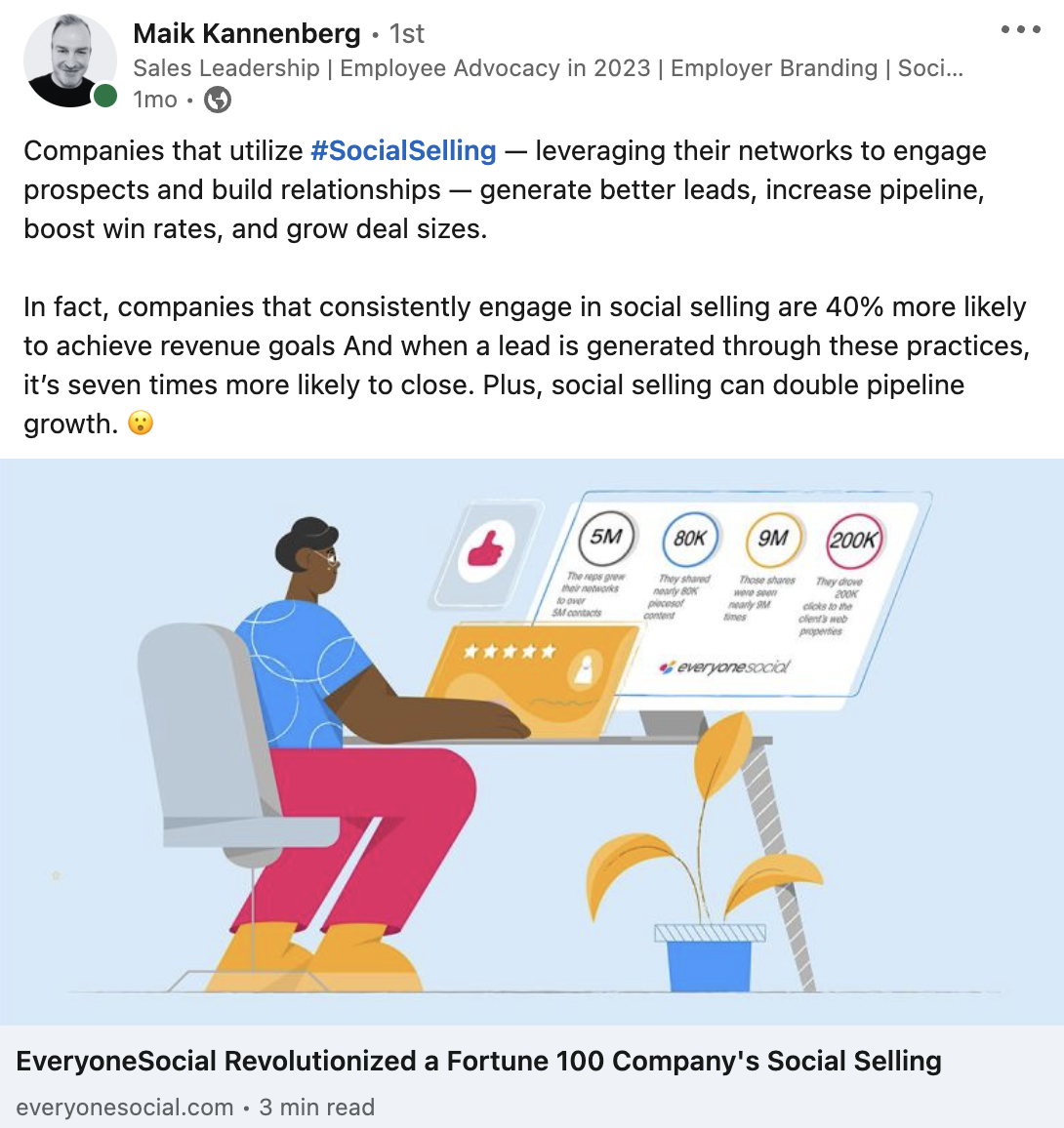 The LinkedIn algorithm favors employees' posts over the brand's. And also, other users are more likely to trust content shared by real people. It's a win-win.
You can activate your employee influencers in just four simple steps. Want to learn more? Book a demo and we'll show you how it's done.
4. Post at the right time.
If you want to ensure maximum reach and engagement, you need to post on LinkedIn when your audience is most active.
Unfortunately, I can't tell you the best time to post on LinkedIn for your audience because that depends on a variety of factors including location, time zones, daily habits, and more.
If you Google "What's the best time to post on LinkedIn," you'll get answers. Lots of them.
According to HubSpot, the best times are Wednesdays, Saturdays, and Sundays between 6 – 9 p.m., 3 – 6 p.m., or 12 – 3 p.m. However, Oberlo's research found that the best time to post on LinkedIn is Tuesday from 10 a.m. to noon.
The best way to determine when you should post on LinkedIn is to conduct your own research. Look at how your posts perform on the network, as well as on other social platforms. And look at your customer research to see what you already know about them, such as a common time zone.
5. Don't post and ghost.
Speaking of timing, it's also important that when you make a LinkedIn post, you don't just call it a day and close out the tab or exit the LinkedIn app.
Remember how important that first hour is for a new post?
During this golden hour, interact with other LinkedIn posts to encourage users' to do the same with your content.
Also, keep an eye on your post and quickly respond to any comments it receives. Now is the time to get that engagement and show the LinkedIn algorithm that this is a post worth sharing more widely.
6. Invite engagement.
The LinkedIn algorithm favors posts that are generating lots of engagement, and luckily there are ways to encourage engagement with your posts.
Consider format. While the LinkedIn algorithm doesn't prioritize videos over photos, we do know that videos are five times as likely to generate engagement compared with other types of content.
Ask a question. Encourage comments and discussions by asking a specific question or requesting that people share their opinions on the topic you've posted about.
Tag people in the post or comments. However, be careful to tag only those people who are likely to respond. Don't just tag a celebrity and expect them to join the conversation.
Use the EveryoneSocial "Engage" feature. Need engagement? No problem. In our advocacy platform, you can easily ask users to engage with content on any platform, including LinkedIn. You can even mark specific posts as important, pin them to the top of users' EveryoneSocial feeds, and send push notifications.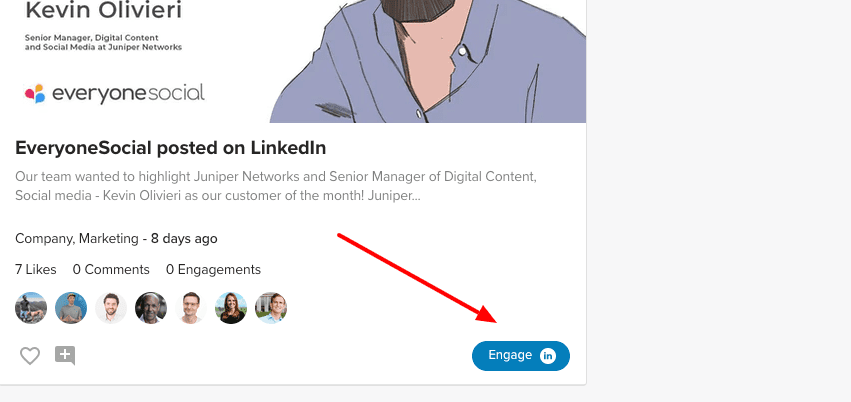 7. But don't beg for engagement.
It's one thing to take advantage of EveryoneSocial's "Engage" feature within your organization, but it's an entirely different thing to include a callout like "Please like or comment" within the LinkedIn post itself.
Yes, it can come off as a bit desperate, but LinkedIn has also stated that it won't promote posts that "ask or encourage the community to engage with content via likes or reactions posted with the exclusive intent of boosting reach on the platform."
If your post includes such language, the LinkedIn algorithm is likely to immediately classify it as low-quality, decreasing the likelihood it'll get shared widely at all.
8. Improve your SSI score.
LinkedIn's Social Selling Index score, or SSI, score is a metric that takes into account the size and engagement of a user's network, the level of their personal brand, and their ability to find and engage with the right prospects.
It's scored from 0-100, and every LinkedIn user has one. (Click here to find yours.)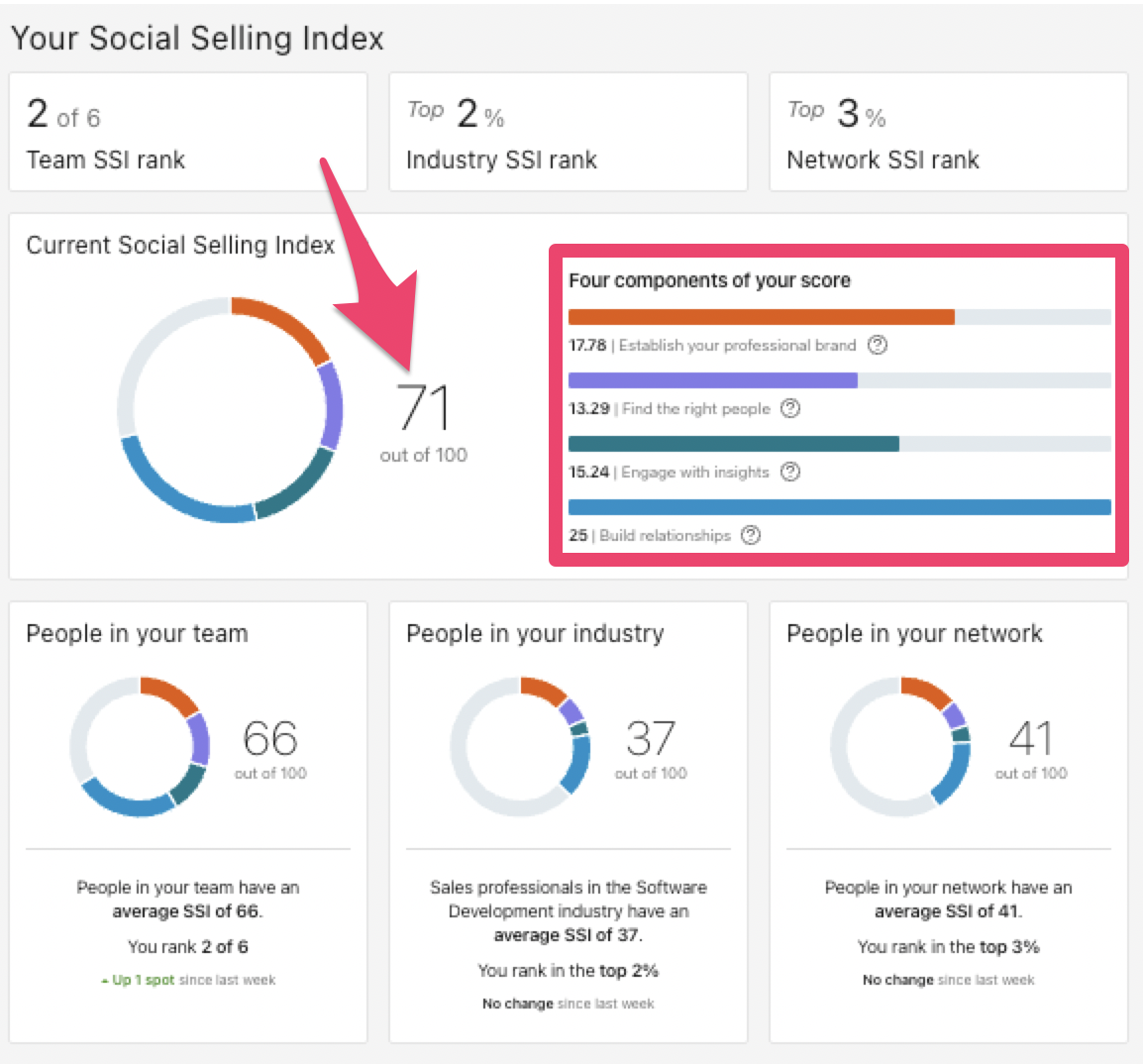 The higher your SSI score, the more visibility and reach your posts will receive. Why? Because the LinkedIn algorithm rewards users with high SSI scores by pushing their content to the top of their audience's feeds.
Could your score use some help? We've got you covered with this guide to improving your LinkedIn SSI score.
Make the LinkedIn Algorithm Work for You
After reading all this, you're no doubt an expert on the LinkedIn algorithm, how it works, and the steps you can take to ensure your posts are shared widely on the platform.
But there are more steps you can take to improve your presence on the network, including optimizing your profile and developing a strong LinkedIn content strategy.
And, of course, if you have a company LinkedIn page that needs help, you need to activate your people. 👇